Marriott Hotels, Marriott International's flagship brand, is putting a whole new "POV" on the guest experience by providing GoPro HERO4 cameras at 17 Caribbean and Latin American resorts and hotels. The exclusive offer allows guests to test drive a GoPro HERO4, the most advanced GoPro yet and capture and share all of their adventures and experiences.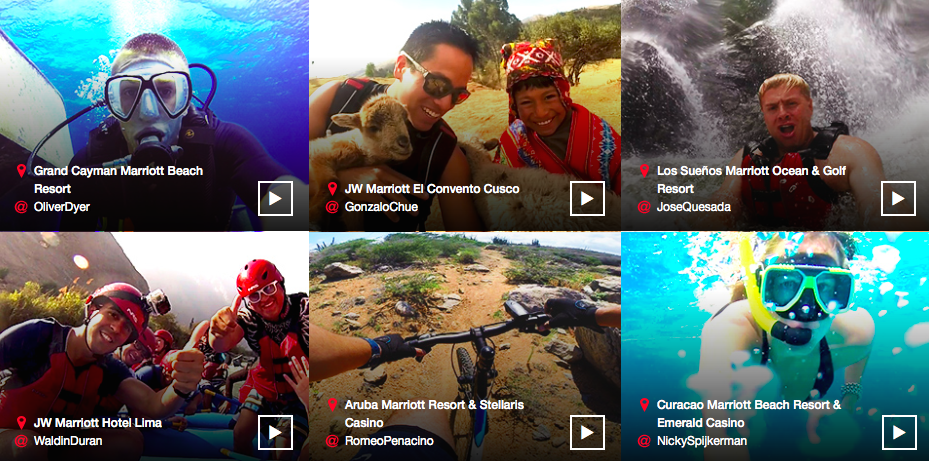 Watch GoPro + Marriott video on Youtube.
"We live in a digital and social age. Through this program at Marriott Hotels, we're giving guests a fun way to tell their own travel story using the versatile and memory making GoPro technology and immediately share their content with friends and family," said Craig S. Smith, President of the Caribbean and Latin America at Marriott International.  "Next generation travelers are looking for ways to create and share their experiences and Marriott has made it a priority to constantly introduce innovation into our hotels that is engaging and fits their digital lifestyle."
"The Marriott Hotels brand continually demonstrates leadership in bringing new travel-enhancing experiences to their guests and the GoPro HERO4 cameras are the perfect device for their guests to capture their Caribbean and Latin American vacations," said GoPro Senior Vice President of Marketing, Paul Crandell. "Resort destinations in tropical locations are where passionate people go to enjoy amazing new experiences and we can't wait to see the GoPro photos and videos that Marriott guests create during their stay."
Guests are encouraged to submit their GoPro photo and video content across social platforms using the hashtags #GoPro, #travelbrilliantly and #viajegenial for the chance to be featured on the Marriott Hotels' website, www.travelbrilliantly.com/gopro. The submitted content will be curated to share across Marriott International's social media channels and the in-room entertainment system at our participating hotels. To celebrate the launch of the program, guests' content will also be selected from social media channels by Marriott Hotels to win prizes such as vacation stays, Marriott Rewards points and GoPro cameras.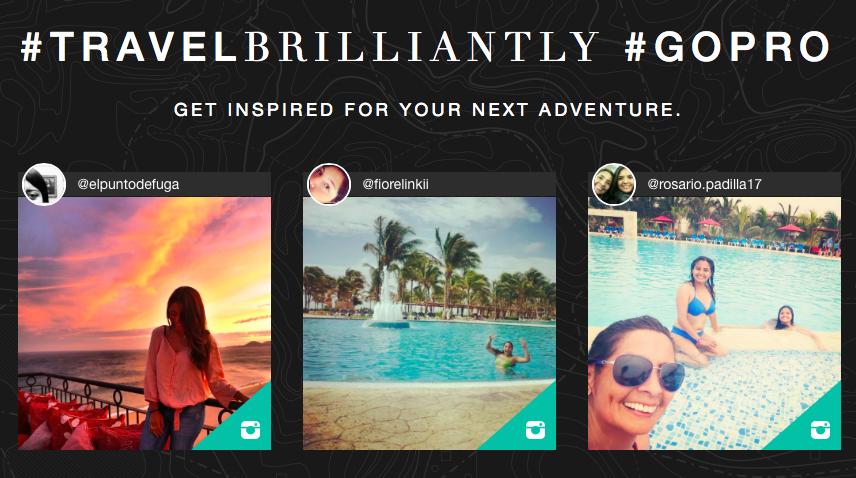 Participating properties across the Caribbean and Latin America include: 
Aruba Marriott Resort & Stellaris Casino
CasaMagna Marriott Cancun Resort
CasaMagna Marriott Puerto Vallarta Resort & Spa
Costa Rica Marriott Hotel San Jose
Curacao Marriott Beach Resort & Emerald Casino
Frenchman's Reef & Morning Star Marriott Beach Resort
Grand Cayman Marriott Beach Resort
JW Marriott Cancun Resort & Spa
JW Marriott Guanacaste Resort
JW Marriott Hotel Lima
JW Marriott Hotel Quito
JW Marriott Hotel Rio de Janeiro
JW Marriott El Convento Cusco
JW Marriott Panama Golf & Beach Resort
Los Sueños Marriott Ocean & Golf Resort
San Juan Marriott Resort & Stellaris Casino
St. Kitts Marriott Resort & The Royal Beach Casino
About Marriott Hotels?
With 500 hotels and resorts in nearly 60 countries around the world, Marriott Hotels is evolving travel through every aspect of the guest's stay, enabling the next generation to Travel Brilliantly. Boldly transforming itself for mobile and global travelers who blend work and play, Marriott leads the industry with innovations, including the Greatroom Lobby, Future of Meetings and Mobile Guest Services that elevates style & design and technology. All Marriott hotels participate in the award winning Marriott Rewards frequent travel program that allows members to earn hotel points or airline miles for every dollar spent during each stay. For more information, visit www.MarriottHotels.com. To join the ongoing Marriott conversation, like Marriott Hotels on Facebook (Facebook.com/Marriott) and follow on Twitter (Twitter.com/Marriott, @Marriott).
Comments