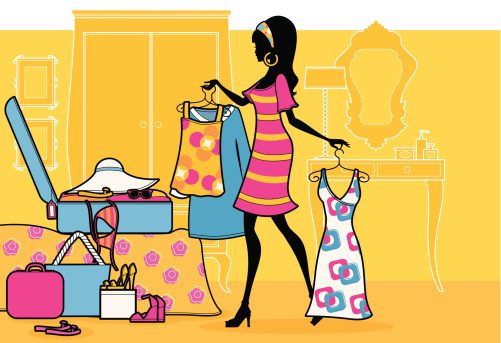 Choosing a travel-friendly wardrobe can sometimes be a difficult task.  If you grab everything that you want to wear, you end up over-packing and becoming a victim of those dreaded baggage fees.  (I hate those fees).  So how do you pack fashionably for the weekend without packing everything including the kitchen sink?  Strategic packing doesn't have to be a daunting task.  By simply following 7 unforgettable packing tips, you can ensure that you're fashionably fly by plane, train or automobile this weekend.  Discover 7-TSA friendly packing tips for any fashionably traveler below.
Stick to Three Colors
By ensuring your entire travel wardrobe matches (including shoes!), you'll have infinitely more combinations of clothing to choose from.
Choose Multi-Functional
A sarong is a perfect example of multi-functional travel gear. It can double as a blanket, skirt, towel, beach accessory, privacy curtain, scarf, and more. There are also many clothing choices (mostly for women) that can be worn multiple ways to suit differing climate or style requirements.
Shoes
Shoes are the most heavy items in your bag and take up the most space, however they are also the most important to pull off a great look. Here are shoes one should never leave home without.  A pair of black ankle boots. Always en vogue, will transition from night to day and compliment a wide range of hemlines shorts or pants.  A wedge sandal or shoe, compliments a wide range of leg shapes and ages, elongates the leg is comfortable for walking and gives much needed height for many looks.
· A nude colored pump is classic in style and the color will compliment many outfits for both night and day.
Clothing
Choose clothing from one designer that you like for a cohesive look in the same color palate and separates to pull off multiple looks with a combination of a few items.
Choose to pack either a blazer or a sweater jacket for cold nights. It should be a dark, light or metallic color. A jacket sweater can be worn belted as a blouse or dress over shorts or open as a jacket clearly the more flexible of the two.
White shirts can be worn causally buttoned down and tied or formally buttoned up with a broach at the neck or as a jacket for a more bohemian look.
Jewelry
Choose custom jewelry that can be flexible. For example, worn as a belt, necklace or even wrapped around your wrist as a bracelet.
Fly Quick-Dry
You'll probably end up having to hand-wash something at some point. (See my note on Ziploc bags below for how to make this easy.) Your travel wardrobe should be comprised largely of items that can air-dry (inside) in less than 24 hours, ideally overnight. Quick-dry clothing has the added benefit of being light-weight.
Dividers and Separate Compartments
Things get lost in a big shell of a bag with no way to separate or organize your belongings. Even simple functions like elasticized mesh along the sides and separate zippered compartments will help you to easily find what you need, when you need it. Have you considered the Emme bag?
Luggage
Your luggage is your home on the road (or at least in-transit). If you're traveling at a fast pace you might never have a chance to unpack. Thus, your luggage is a very important help — or hindrance — to your trip. Choose luggage that suits your needs without being too big. If you intend on bringing back loads of souvenirs, then pack a second bag that can be filled and checked separately on your return. Co- mingling lots of souvenirs with your luggage only confuse and elongate the re-packing process every time you move on.
Comments