If you've ever found yourself in a panic because your smartphone is anxiously in need of battery support, then the Samsung Universal Battery Pack is for you! Last month, I was gifted the battery pack to test out against it's competitors and I must say, it's one of the most convenient & necessary smartphone accessories that anyone could have. Capable of charging a tablet or smartphone, this versatile charger can store up to 9000mAh of battery life, providing over 1 full charge for your tablet, 2 to 3 full charges on smartphones and even more on basic cell phones. Take your battery pack with you in a backpack, purse or briefcase to keep your device's battery at full while you're away from an outlet!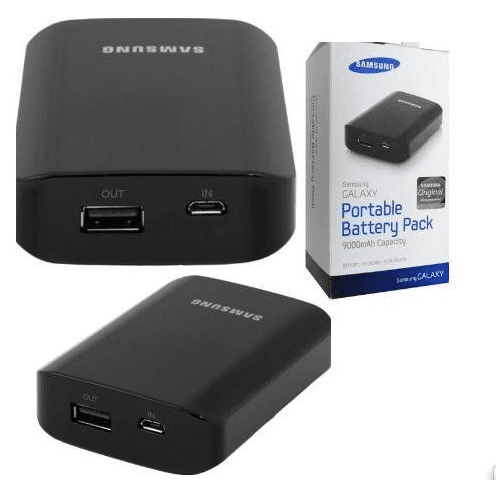 The Samsung Galaxy Portable Battery Pack is easy to use. Simply charge it with any Micro-USB charger (such as the one that came with your smartphone). When you're ready to use the battery charging pack, turn it on, connect the cable between it and your mobile device, and begin charging. The color-coded LEDs help you track your charging status at a glance.
It's truly one of those smartphone accessories that'll keep you with peace of mind while out on a full length day away from an outlet.
The Universal Battery Pack provides 2 to 3 full charges on your Samsung smartphone and more than 1 full charge for your Samsung tablet. And because it's universal, any smartphone using a USB port can benefit from using it. As a matter of fact, it's compatible with USB-chargeable cell phones, smartphones, tablets, e-readers, media players and more! Talk about an accessory that can instantly make you a hero? Samsung Universal Battery Pack is it!
For more information on the Samsung Galaxy Battery Pack or to grab one for yourself visit VerizonWireless.com.
Comments