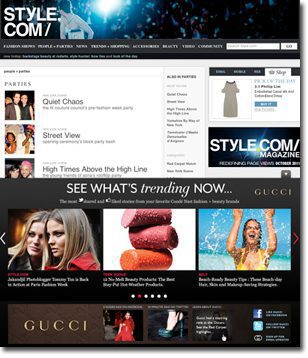 If you're a fan of the popular  W, Style.com, Glamour, Self, Teen Vogue and Lucky Magazines – well Conde' Nast has yet another treat for you.  Starting tomorrow – Condé Nast is getting more social with the launch of Social Sidekick, a web tool that will aggregate the most shared pieces from some of its many brands.
Sidekick will be seen on these sites with a title "What's Trending Now!" and when users click it, the most shared stories on Twitter, Facebook and other sites will be displayed. That's right…no longer will you have to search for the hottest news from your favorite magazines, Sidekick will bring it directly to you when you need it most.
Sidekick will also feature huge advertising partners like Gucci and more.  Advertising sponsors will be able to update content real-time in order to coincide with the trending topics in Conde's editorial, as well as drive traffic through the Sidekick to its own social media presence, website and/or e-commerce offerings.   When it comes down to it "engagement" is the name of the game and with Sidekick's social agenda – you'll soon see a variety of the most overshared stories in fashion and entertainment along with personalized ad content coming to a social network screen near you….
WOULD YOU RELY ON A PUBLISHER TO TELL YOU WHAT'S "HAUTE" OR STICK WITH THE INPUT OF YOUR FAMILY & FRIENDS?