In an attempt to simplify my life, I figured I'd start first by simplifying my bag. (Which makes sense considering the fact that the majority of my life's contents were totted around for the last three months in a 8lbs hobo bag.)
You could imagine my excitement, when Case Mate delivered one of their fashionable Kayla clutch crossbody designs to my front door. When it comes to downsizing, this clutch is the sheer definition of the word. Measuring at just under 5 inches long and 3 inches wide this fashionable clutch offers the convenience of mobility with with the option of fashionable colorblock style.
Designed to wear on the wrist or cross body with the detachable metallic chain, it's as versatile as you want it to be. An outer pouch with a magnetic closure secures your device, and makes it easily accessible in a flash. The zip-around compartment fits the essentials for a night out, including credit card slots, ID holder and coin pouch. I was able to fit three credit cards, my ID, metrocard, a set of keys and my favorite lipgloss within the clutch. (Sidenote: The zipper is pretty strong too! I managed to over stuff the clutch without the worry of over extending the zipper.)
Although the universal Kayla Clutch Combo fits most devices, including all iPhones, BlackBerrys, HTC phones and other popular devices, I found it a bit tight-fitting to squeeze my iPhone 4s inside the slot while encased in a phone case of its own. (Sidenote: A naked phone slips in and out of the Kayla Clutch phone pocket a lot easier, for quicker access.)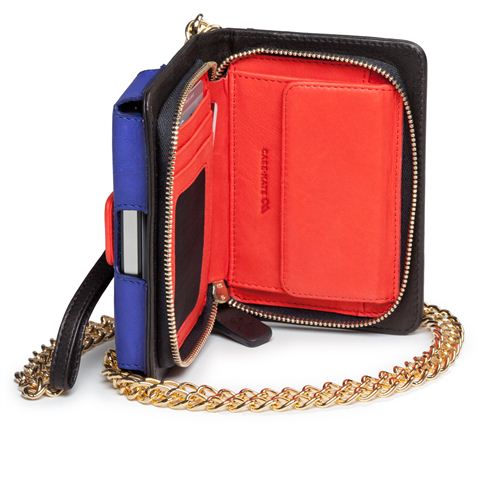 I loved the thick cross body chain, it fit easily across my body (relieving my shoulders) and when positioned in front I always had immediate access to my phone & clutch contents with ease.
With a variety of colorblock colors and prices starting at $50, you may want to invest in more than one Kayla clutch to mix and match within your entire wardrobe…it's worth it! Available at Case-Mate.com.