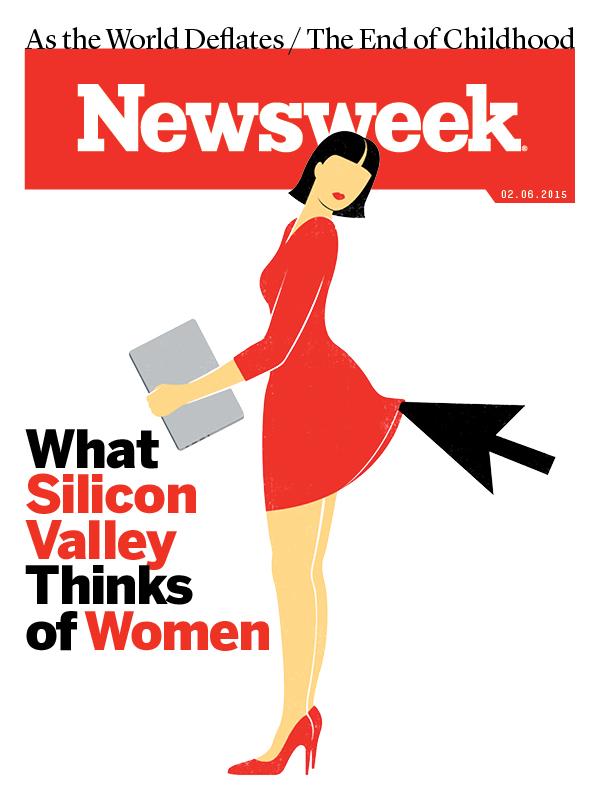 An article that shines light on the dark side of Silicon Valley may have just caused more harm than good.  In the latest issue of the widely read Newsweek magazine, a cover illustration has kicked up a firestorm of critics and negative shares.  Although the article cover insights intrigue and will more than likely affect newsstand sales, it overcasts the content which highlights glass ceilings, gang-bang interviews and more.  Check out an excerpt below:
A recent report on women entrepreneurs by the Kauffman Foundation identified the chief challenges to female entrepreneurship. Researchers interviewed 350 female entrepreneurs, and most cited "lack of available advisers" at the top of their list. Female professional attrition is only one reason for the scarcity of mentors for younger women. Another is that women who stay in the game beyond their late 30s may be less subject to sexual harassment than their younger counterparts, but they are sidelined by virulent ageism in the industry that especially—but not solely—afflicts women.

Younger women, setting out on careers in tech, are furious. One group wrote a scathing "Open Letter to Tech" last year complaining about regular "rape-y emails" and professional exclusion.

Shanley Kane is a young tech industry observer and founder of Model View Culture, an acid-penned, widely read website on which she routinely exposes and excoriates the white brogrammer establishment. In an interview with MIT Technology Review in December, she said venture capitalists talk about the need to get 10-year-old girls into science in order to bring up the numbers of women they will fund, but don't fund the ones already in the industry. "We are not getting hired, and we are not getting promoted, and we are being systematically driven out of the industry," she said.

Asked what women should do, Kane wasn't encouraging: "I don't have a lot of advice. There's not a whole lot you can do to keep your career from being crushed by misogyny."
Read more from the original Newsweek article here.
What do you think about sexism in the technology community?  How do you interpret this cover illustration? Does it help convey the content message or is it Newsweek's "cheeky" and "cheap" strategy for more magazine sales?  Share your thoughts below…
Comments