The weather outside is frightful, (uh Sandy, Nemo and Mother Nature is still being disrespectful with pending snow fall.) but that doesn't have to stop you from getting a head start on your spring cleaning projects.  One major way to get rid of a lot of clutter is to recycle your old electronics with the Best Buy Electronics Recycling Program.
If you're a electronics hoarder like myself, then you're more than likely in possession of various junk drawers & bins filled with gadgets, smartphones, wires and do-dads (yes, do-dads too).  I keep everything in my desk drawer from old smartphones, video cams, disk drives, wires – you name it, it's in there!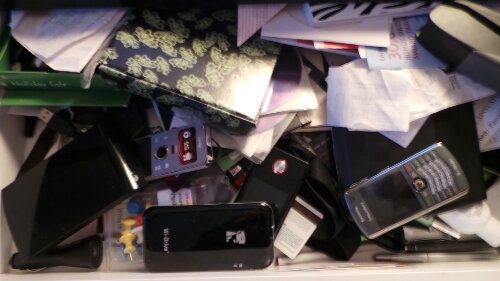 How do you get rid of your old electronics?  After attempting to sell online via eBay or Craigslist, if your gadgets are so obsolete that you can't get rid of them for a profit, why not do the planet some good by recycling them?  This is where the Best Buy Recycling program comes in…
Best Buy Electronics Recycling Program
Did You Know:  Best Buy recycles 387 pounds of electronics each minute stores are open.
Believe it or not, technology is the fastest growing waste stream on the planet. As one of the world's largest retailer of consumer electronics, Best Buy wants to be part of the solution.  Best Buy will recycle just about any electronics, including TVs, DVD players, computer monitors, audio and video cables, cell phones, and more.  No matter where you bought or how old it is, Best Buy will recycle it.  Every U.S. Best Buy store has free kiosks, just inside the door, for you to drop off ink and toner cartridges, rechargeable batteries, and cables to recycle with ease.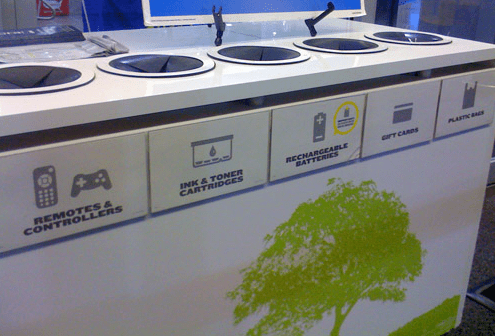 If you're looking to de-clutter your home, why not do your part in positively impacting the planet by recycling at the same time?  (I DID.)   Gather your gadgets and stop by your local Best Buy today.  For more information on the Best Buy Electronics Recycling Program click here.
Best Buy is always interested in making the most out of customer experiences.  Connect with Best Buy online, on Facebook and Twitter to be the first to discover all the cool deals and programs that they provide.  Have you recycled your old electronics using the Best Buy Electronics Recycling program?  We'd love to hear all about it!  Share your experience below…
Disclaimer: This site has been compensated in the form of a Best Buy Gift Card and/or received the product/service from Best Buy, however all statements and opinions are my own.
Comments