Starwood Preferred Guest® (SPG®), the award-winning loyalty program from Starwood Hotels & Resorts Worldwide, Inc., is giving sharing the "LOVE" in anticipation of the US Open series next month!  SPG is offering the opportunity of getting in on the action to play with the pros and gain exclusive access to court side seats for SPG members.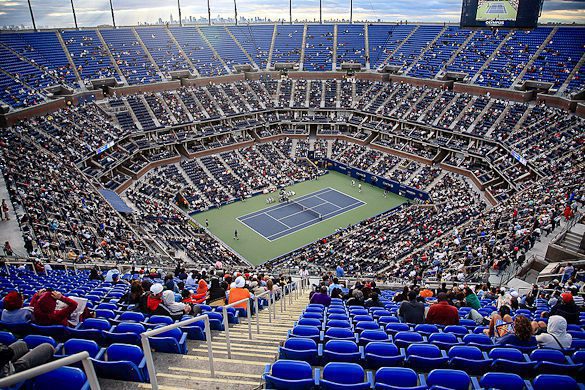 Starting this week,  SPG members now have access to the 2014 US Open SPG Moments schedule, which features opportunities such as a private VIP clinic with legendary brothers John and Patrick McEnroe and more!  This offer is available only to Starwood Preferred Guest members and tickets will be available on a first-come, first-served basis – so if you're interested, I suggest calling in as soon as possible once the sale starts to make sure you get a seat since space is limited and I think these will go quickly.
SPG is offering elite US Open packages between August 25 and September 8 at the USTA Billie Jean King National Tennis Center. Members can bid Starpoints® on once-in-a-lifetime experiences including:
· Private tennis clinic with John and Patrick McEnroe
· SPG Luxury Suite access to watch Annual Arthur Ashe Kids' Day Presented by Hess at the USTA Billie Jean King National Tennis Center with tennis icons Novak Djokovic and Rafael Nadal along with scheduled performances by an array of musicians
· Luxury suite and courtside seats to key matches
· Behind-the-scenes tours of Arthur Ashe Stadium
· Breakfast for two in the Player's Dining Room at Arthur Ashe Stadium
· VIP access to watch matches from the SPG Luxury Suite at center court with the finest in catered food and beverages
· One-hour training session with a USTA teaching pro on legendary Arthur Ashe Stadium Court
In addition, Westin Hotels – official sponsor of the 2014 US Open – will offer exclusive access and giveaways that include a two-night stay at the Westin Grand Central with tickets to the August 30 day session, a five night stay at the Westin Grand Central through Tennis Channel's US Open Sweepstakes, and a special "Westin Night" onSeptember 2 with Heavenly® Bed giveaways accompanied by seat upgrades. Additionally, Westin and SPG will be providing special favors for all SPG Members as part of the SPG Luxury Suite gift bag. 
For more information and to get in on the US Open "Love" visit starwoodshotels.com or connect with them on Facebook and Twitter today.
Comments