Apple isn't just for anybody, it's apparently for everybody!  First AT&T, then Verizon & Sprint and now pre-paid wireless carrier Cricket Wireless!  If you've ever wondered who's going to win the battle of the unlimited data & calling plans, check out more details of just how much signing with Cricket will cost you!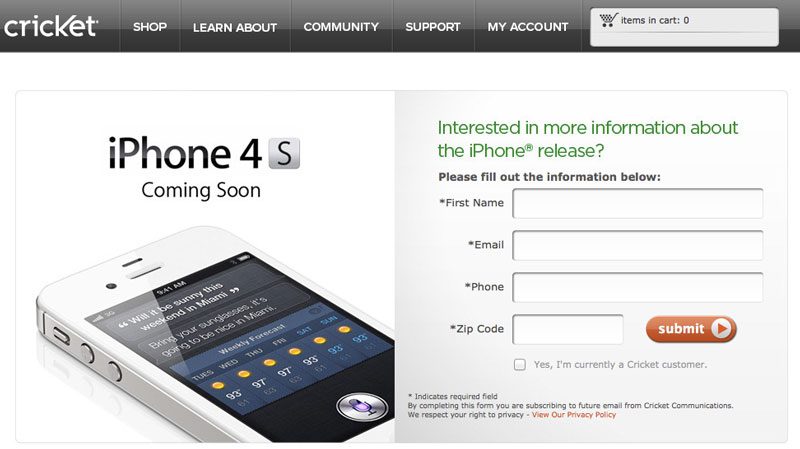 FastCompany.com reports: Cricket Wireless has just become the first carrier to sell the iPhone in the U.S. as part of a pre-paid plan. Starting June 22, for $55 buyers of the iPhone 4 and iPhone 4S will have access to unlimited talk, texting, and data. The cost of the Cricket iPhone models are pegged at $150 less than the unlocked iPhone models sold by Apple, making it a sweeter deal for U.S. buyers reluctant to commit to one cellular network. While the Cricket pre-paid plan for the iPhone is a first for the U.S., pre-paid phones are much more common in international markets, which account for 60% of Apple's sales. Leap Wireless, which owns and sells phones though Cricket, has been selling phones of all kinds on pre-paid plans for about 10 years now, using a flat-rate, pre-paid, unlimited access model. Cricket also sells contractless access to broadband.  Customers will be able to buy both the iPhone 4S and iPhone 4 in Cricket company-owned stores and select dealers in nearly 60 markets. The iPhone will also be available for sale on the company's official website, and over the phone at 800-853-7682.
Let's just hope that Cricket doesn't brand their version of the iPhone with their logo like they have other phones. Either way, you're sure to see that you may not be as cool as you thought you were – since it's guaranteed that almost everyone will have a new iPhone now…
What do you think?  Are you one cell phone bill from leaving your current provider? Would you leave your carrier for Cricket Wireless? Sound off below!