With all the advantages that mobile devices offer there's know wonder that social media will continue to explode in the years to come.  We reach for our smart phones to send email, text, snap photos, and check social media several times a day.  Looking at "The Everyday Life of Today's Connected Consumer" infograph, we are connected all day everyday with a constant stream data being generated, shared, saved, processed, activated, forwarded, posted, linked, and liked.   
Mobile first is the new normal.  Fastcompany.com has noted that by 2015 mobile Internet usage will exceed wired Internet usage.  Businesses will undoubtedly take advantage of this with better services, engagement, and incentives.  Social media and mobile devices are codependent and will continue to rely on each other for the best digital experience.
User Behavior
We have become comfortable with our mobile devices multitasking and roaming the web while also listening to music, posting photos to Instagram and Pinterest, updating our status, and tweeting.  No longer are we buying items online via our desktop computer, the trend is moving forward to mobile transactions and financial exchanges at lightning speed.  With the advent of PayPal people are starting to buy gifts through social networks and setup storefronts for themselves.   Also, we are getting smarter with our online purchases – meaning, the power of digital tools is helping us make better purchasing decisions right at our fingertips.  Price comparison has a whole new meaning now and retailers know this.  There are so many apps available to find product availability, which retailer has the best price, best time to buy, and whether it is available online or in-store for pickup.  Mobile users are now setting the standard of how businesses market their products.
What Media Will Dominate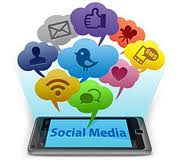 Media that makes engagement and communication easy, especially be integrating social media platforms and apps.  Users of social media have high expectations and limited patience.  Content that is available anytime, anyplace, on-demand is what we expect.
Rohit Bhargava calls it the shoptimization of social media, apps that make shopping easier, quicker, and more convenient.  Just look at the apps ShopSavvy, Wish Want Wear, Key Ring, and Macy's in-store GPS.  We all want to shop and share what we bought or what great item we found.  Retail and software giants are integrating the purchase, exposure, and sharing of items into integrating applications that you can tweet, Instagram, post to Facebook, and ask for advice from your followers.
Banking is another area that is poised to explode in the coming years.  As we get more comfortable with banking via a desktop computer online and now via apps, banks are now letting us scan check deposits with our phone without ever having to physically deposit the check.  That's right use your banking app to scan your checks and it instantly post to your account.
Cloud Services – Smart phones, tablets, and cloud services are converging to create an easy, on-demand access to shared software applications for consumers without the need for more space and memory on your mobile device.
Near Field Communications – A set of standards for smart phones to establish radio communications with each other by tapping them together to exchange information or transactions.  The new iPhone 5 does not currently have this service, but I predict with new models of most popular smart phones will have this feature.