You don't have to hang out under the tents of Lincoln Center for New York Fashion Week to spot the latest styles & fashion collections. Filled with fashion editors, bloggers, celebrities and, of course, models, hotels & brands will be celebrating with parties, panels, shopping and specialty drinks all week long. If you know me, then you know I'm a "No Fuss" kinda gal. I just don't do large crowds & chaos well…lol. Sure I'll make my way at a few of my favorite shows & presentations – but more than likely I'll be taking it smooth, easy and have the D&D team handle NYFW this season. (After traveling for 23 days straight – I think I deserve it.) So if you're looking for me, here are a few of my places you might find me to relax, relate & rub shoulders with the tastemakers of New York Fashion Week.
MERCEDES-BENZ STAR LOUNGE IN LINCOLN CENTER. Known as the "sanctuary" within the tents of Lincoln Center. This invite-only hospitality suite is a haven for designers & celebrities to relax & reflect from the hustle and bustle of fashion week shows. In addition to hosting the Star Lounge, Mercedes Benz will also host a "Fit for Fashion" event on Friday, September 7th at 4pm in the lobby of Lincoln Center by the G-Class display. This invite-only media event, hosted by Joey Gonzalez of Barry's Bootcamp along with special appearances by Supermodel Joan Smalls and Olympic Gold Medalist Alex Morgan, celebrates the brand's most iconic SUV – the G-Class. Whether cruising the cobblestone streets of SoHo or going seriously off-road, its sculpted, muscular body and hand-crafted interior make it fit for fashion….are you? Mercedes-Benz is partnering with Barry's Bootcamp to show you how. Rounding off the NYFW kick-off is an invite-only party to toast Carine Roitfeld's CR FASHION BOOK on Saturday, September 8th at 9pm. Throughout the evening, a fleet of G-Class vehicles, the stars of Mercedes- Benz Fashion Week, will be showcased in front of The Frick Collection as well as used to transport VIP guests. Mercedes-Benz will have advance copies of CR FASHION BOOK in the Star Lounge for a sneak peek before the big reveal on Thursday, September 13th.
MANDARIN ORIENTAL, NEW YORK 80 Columbus Circle, at 60th Street, (866) 801-8880; Mandarinoriental.com/newyork. In MObar on the 35th floor of the hotel will be the "HTC Lounge: Media Headquarters for Fashion Week," where fashion bloggers, editors and journalists can charge their phones, enjoy free Wi-Fi and snacks, and watch footage of runway shows above the scrum of photographers and editors on the streets below. There will also be an invitation-only designer Q. and A. series with Carly Cushnie and Michelle Ochs (Sunday), Yuna Yang (Tuesday), and Kate and Laura Mulleavy of Rodarte (Sept. 13). Can't make it to the lounge? You can follow along on Twitter using the hashtags #MOFashion and #HTCMADE.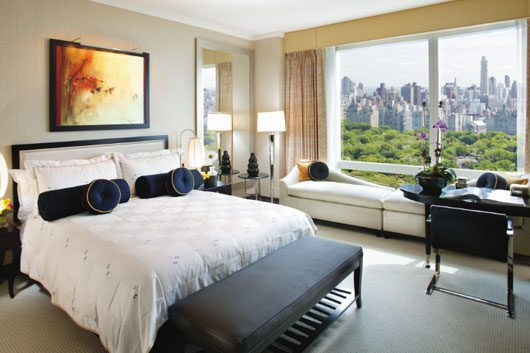 THE EMPIRE HOTEL,  44 West 63rd Street, (212) 265-7400; Empirehotelnyc.com.? During New York Fashion Week, the Empire will enable would-be models to get free makeovers inspired by the latest runway looks at the Allure Lounge Colored by Maybelline New York (updates @AllureLounge), Thursday through Sept. 13, 10 a.m. to 4 p.m. on the 63rd Street side of the Empire Hotel, off of the lobby. (Members of the news media and V.I.P.'s have their own lounge, Allure Upstairs). The public lounge will have live streams of fashion shows, free samples and refreshments. Maybelline makeup artists will offer touch-ups, the Ricardo Rojas Salon will give women "high fashion" ponytails, SkinMedica will offer skin consultations and Bioxidea will provide hand treatments. There will be iPads located throughout the lounge to allow guests to shop online with the hotel's partners. And at a fragrance bar, visitors who make a purchase from certain designers on Macys.com or Sephora.com will receive a gift.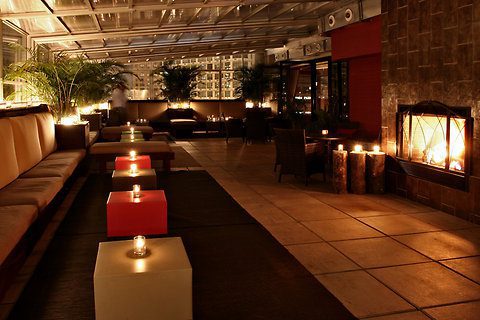 DREAM NEW YORK, 210 West 55th Street, (866) 437-3266; Dreamny.com.?Beginning Thursday in the hotel's Ava penthouse lounge, the makeup artist Ramy will host a nightly "beauty therapy bar" where guests can sample products and have their brows shaped free. HUDSON HOTEL?356 West 58th Street, (212) 554-6000; Hudsonhotel.com.?With its intimate rooftop and proximity to Lincoln Center, the Hudson is bound to lure its share of fashion plates. For instance, on Wednesday there will be a street-style runway show put together by 20 fashion directors, editors and bloggers, including people from Vogue, W magazine, Bloomingdale's, Complex magazine, Vice magazine, Selectism/Highsnobiety.
Will you be in the heart of New York Fashion Week excitement or are you planning to check out a few of the NYFW VIP suites & lounges?