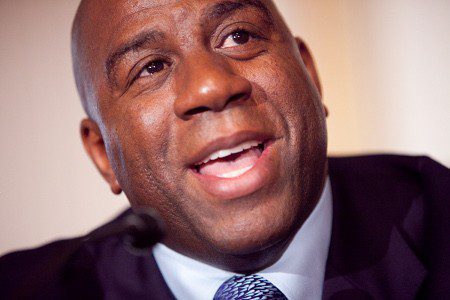 Tech Start Ups REJOICE!  There's a little magic coming your way in the form of cash dollars!
Legendary NBA star for the Lakers and—Michigan State alum, Earvin "Magic" Johnson has announced he has joined a tech start-up VC group, Detroit Venture Partners, and will be infusing millions of his own personal dollars into Detroit-based tech start-ups.
Detroit Venture Partners primarily incubates and funds early-stage companies working on mobile apps, cloud computing, and social networking.
Johnson joins the owner of the Cleveland Cavaliers (and Quicken Loans founder), Dan Gilbert, and Linkner, who founded ePrize, as one of the partners in Detroit Venture Partners.
While the companies that built Detroit continue to build cars somewhere else—and occasionally take a government bailout—these are some corporate citizens at least trying to do something for a city on the verge of a major comeback.
Are you a tech startup?  Have a great idea?  Maybe you should take a second look at Detroit and Magic Johnson…it could put dollars in your pocket!