If you've fallen in love with the Amazon Fire phone commercials featuring two progressive and entrepreneurial kids – then you're not alone.  Yeah, the phone boasts great features and benefits similar to comparable devices such as LG G3 and Samsung S5.  But did you know that this phone takes the shopping experience to a whole other level?  Shopaholics rejoice, this smartphone is for you!
Amazon is no stranger to the mobile device market. Aside from the Amazon apps and Kindle apps, Amazon also has the Kindle Fire HDX, which succeeded the Kindle Fire HD and Kindle Fire.  It's important to note its tablet efforts, because many of the features found on Amazon's tablets are also on the Fire Phone. However, the Fire Phone is loaded with things you won't find on Amazon's tablets, and as for it's mobile shopping interface, after using the Amazon Fire smartphone, you may never want to shop on another mobile device ever again.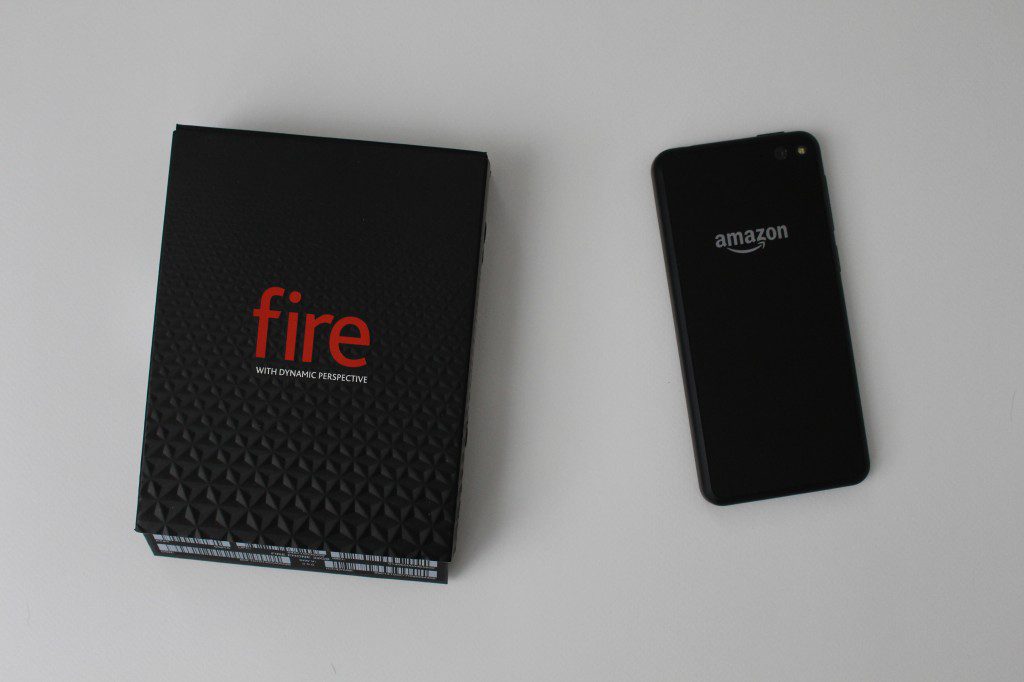 The Amazon Fire phone is sure to be a serious shopping necessity for shopaholics everywhere.
Amazon Fire Phone Camera
The back is layered with glass, emblazoned with the Amazon logo, along with a 13MP camera and an LED flash. The camera up front is a 2.1MP shooter, and both cameras are capable of recording 1080p video at 30FPS.  There are also cameras on each corner of the phone that enable Dynamic Perspective, a software feature that gives the display a 3D effect when you tilt the phone.  The rear camera is also capable of recording 1080p video at 30FPS. It's also quick to adjust exposure if you move from a bright scene to a dark one, and vice versa.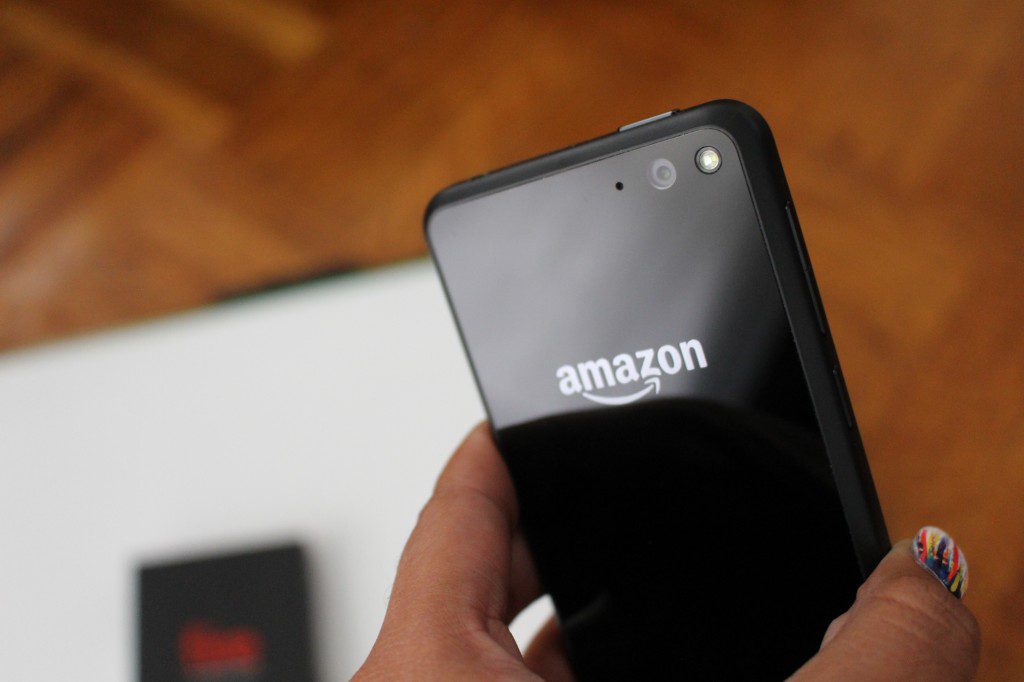 Amazon Fire Phone Display
The Fire Phone reminds me very much of the Nexus 4 due to its glass front and back, and its soft plastic edges. It feels like a nice device, but it doesn't quite have the same high-end, premium feel of the HTC One M8 or iPhone 5S, for example.  The display measures 4.7 inches with a resolution of 1280 x 720.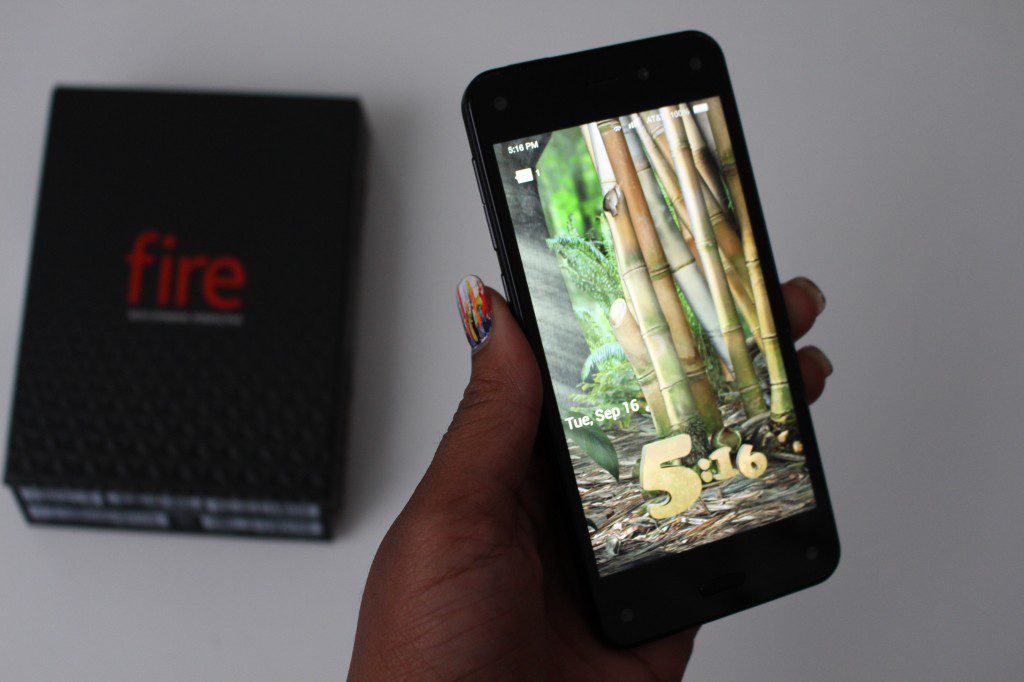 Amazon Fire Phone Firefly
To use Firefly, you open the app and it fires up the camera. Point your camera at anything, like a set of headphones or even a pair of shoes, and it will attempt to link it to a product page on Amazon.  Firefly doesn't just work on physical, tangible items that you can identify with the camera. When the app is fired up, it can also recognize music, movies and TV shows. As long as the phone can hear sound from your radio or TV, and it can pair it with something in Amazon's store, it will be recognized.
For example, if you're watching an episode of Sex And The City and you point the phone toward the TV and allow Firefly to see and hear the TV, it will tell you what you're watching along with a link to buy or watch episodes of Sex And The City on Amazon Prime.
If you love perusing the latest issues of Vogue, Essence or InStyle for Fall fashions, this is where Firefly becomes "clutch".  Simply point the camera at any item seen in the magazine (I have my eye on a new Kate Spade bag) and voila! Instant buying options beamed right to your smartphone.
 Looking to buy that MUST HAVE items of the season?  Just point your camera and let Firefly find it for you!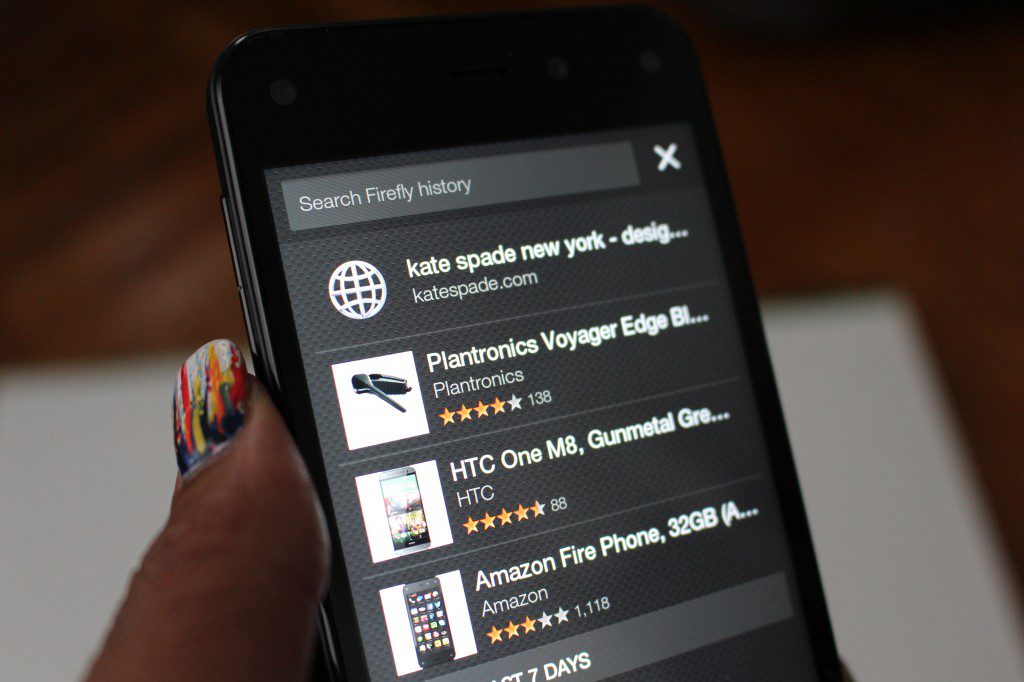 Instantly shop for thousands of products from the comfort of your Amazon Fire device, exclusively from AT&T.
The same goes for music. If you're itching to find the name of a song you're listening to, simply open up the Firefly app and place your phone near the sound source. If it's in Amazon's massive library, the song will pop up with an accompanying link to download or listen to the song.
Firefly is useful, in a sense, because you can identify a lot of things you don't recognize. If you've ever encountered an object, song or movie and wondered, "What on earth is this?" there's a good chance that Firefly could identify it for you.
You can find the Amazon Fire Phone for as low as $0 down from AT&T today.  Want to learn more?  Visit ATT.com today. 
Comments