Ready to go around the world in food?  Breakfast in Brisbane, lunch in Serbia, and dessert in New York — these are just some of the countries you can visit if you want to taste the world's most expensive dishes. Sushi wrapped in 24-Karat gold leaves, truffle salad, and 'bacon bling' — these are just some of the outrageously expensive meals you can try.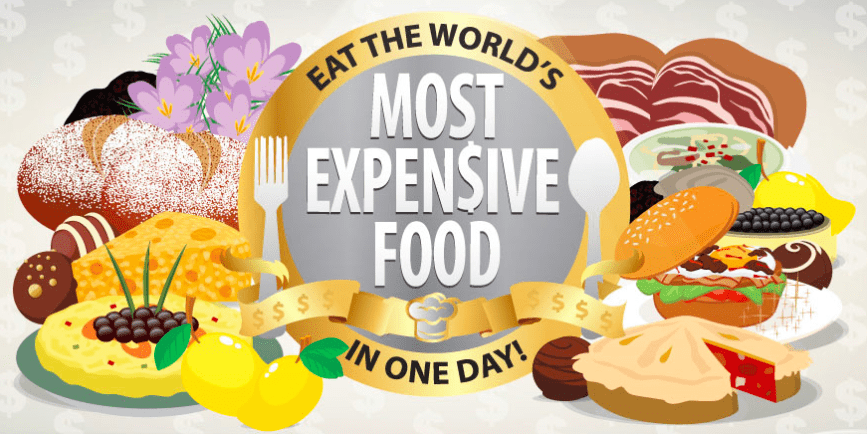 There's another reason why a dish can be very expensive: the chef sprinkled some diamonds, luxury pearls, or gold as a side attraction, such as the spoon, plate, goblet, or a decor. I thought it's cheating. You can always make anything the most expensive by throwing in some diamonds, the most expensive toilet for instance.
Still, some dishes are easy to imagine why they're expensive: the ingredients are either rare or take a lot of time and effort to source. What makes Wagyu beef literally a cut above the rest? The cow where the beef comes from is massaged and fed on beer every single day of its short bovine life. Saffron, a most prized spice, requires 75,000 filaments to make a pound!
The infographic will help you answer these questions:  Where do you have to go to taste the most expensive dessert?  Which exquisite meal makes a visit to Santa Monica, CA worthwhile?  Which country bakes bread loafs that sell for $35 per pound?  How much can a slice of 1937 royal wedding cake cost? A lot!

Comments