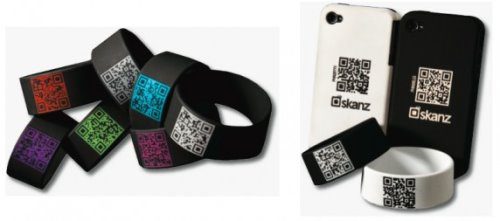 If you attended CE Week last month in New York, then there's no way that you could've missed the cool new bands sweeping the geek fashion scene…from the new social media platform Skanz.
Skanz is a new social networking platform that gives an instant exchange of business contact information between two users via QR codes that you wear on your wrist.
Silicone bands are encrypted with the QR Socialprint and worn on your wrist. Smartphones are basically a gateway through which users can scan each other's Socialprint and swap information like phone numbers, email addresses and social media (Facebook, LinkedIn, Twitter). Compatible with most smartphones. Moreover, a free QR code Reader Skanz App is available for Android and iPhone.

I guess this will be the last time I order business cards…I'm just waiting for the first round of QR Code jewelry…(*snickers*)
www.Skanz.com