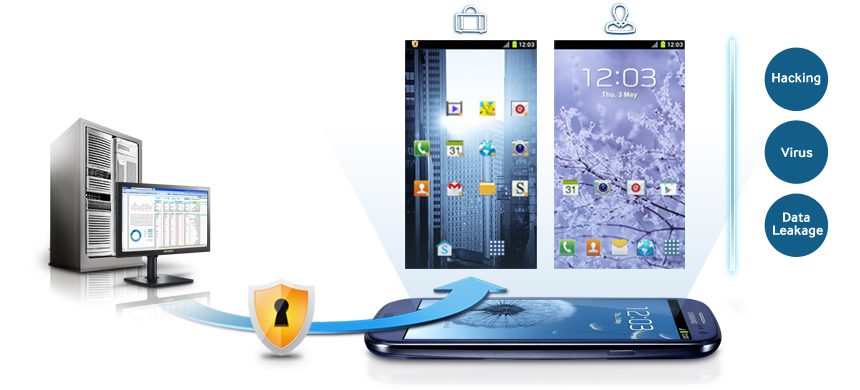 As smartphones became more reliable for getting tasks done (in the early 2000's), we saw them show up at offices.   As email became the main form of communication, smartphones became a way of life. Enhanced voicemail and email capabilities are now standard features that we expect from every smartphone.
When social media networks like Facebook and Twitter came along,  your work phone became personalized with easy app installation. With a rise of BYOD (Bring Your Own Device), it became difficult to distinguish between work related and personal content on your phone.
How can a company be reassured that enterprise information is handled securely without completely limiting employee control and invading their privacy on their smartphone? With rising popularity, Samsung took measures to help ensure enterprise security is an option on their smartphones. Last week they introduced Samsung KNOX
What is Samsung KNOX?
Offering various levels of security, Samsung KNOX is an application offered by Samsung  to ensure enterprise security on smartphones that are used for both professional use and personal enjoyment. With features such as Platform Security, Application Security and Mobile Device Management; companies can feel safer about their confidential data being secure. Here's a bit more on those features: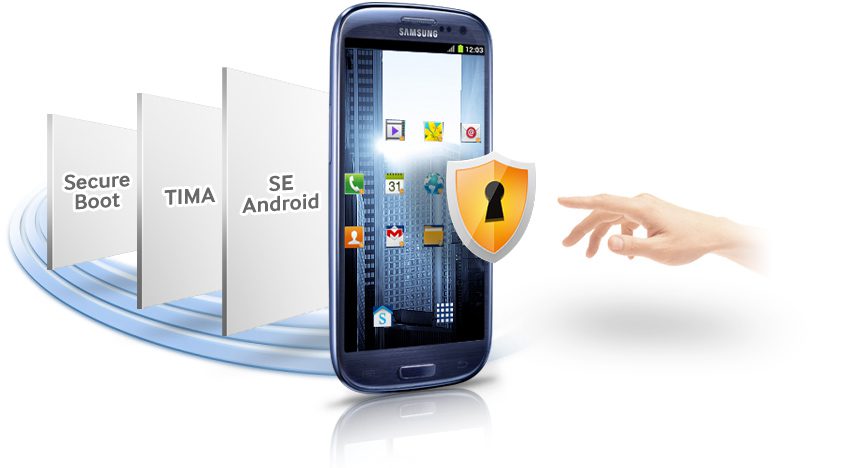 Platform Security
Part of the platform security is Secure Boot which verifies that authorized software runs the device. Some say that Android isn't the safest operating system. That's where Security Enhanced Android comes in. Along with SE Android, provides an enhanced mechanism to enforce the separation of information based on confidentiality and integrity requirements. It isolates applications and data into different domains so that reduces threats of tampering and bypassing of application security mechanisms and also minimizes the amount of damage that can be caused by malicious or flawed applications.
Application Security
KNOX container provides security for enterprise data by isolating enterprise applications and encrypting enterprise data both at rest and in motion. Using KNOX container, the device has an isolated environment with all the apps, widgets, launchers, etc. Everything that is in the KNOX container is separated from the content outside the container which helps with control data leakage. There's an encrypted file system used by KNOX container that is separate from the applications outside the container.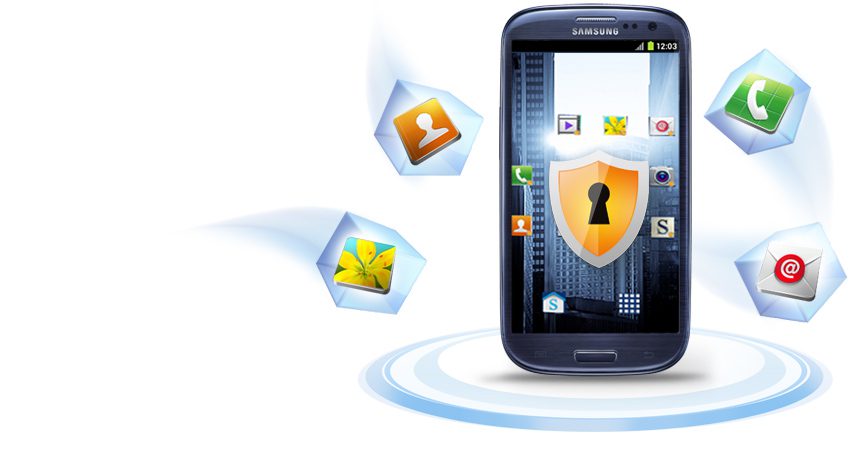 How Does Samsung KNOX Work For All Parts Of An Enterprise?
Samsung KNOX helps those IT departments where employees are part of a BYOD work environment. Working from the ground up, applications and data are protected with the features mentioned earlier such as Mobile Device Management and Virtual Private Network.
Samsung KNOX is beneficial for employees because it offers them a simple to transition from work mode to personal mode without much worry.
 What Samsung Smartphones Work With Samsung KNOX and SAFE?
Tech sites who tested the software at Mobile World Congress said it was easy to switch between work and personal profiles.
With Samsung launching KNOX as a part of its SAFE (Samsung For Enterprise) program, they are setting new ground for mobile company which has conquered many consumers. Samsung wants to be looked at as an option for companies when purchasing phones for employees. What Samsung does not want is to be considered a "work-phone" like Blackberry. With many people already owning a Samsung Galaxy S III or a Samsung Galaxy Note II, I can't help but wonder if some companies will trust in Samsung's solutions for enterprise security and allow or enhance BYOD to work strategies.
Do you think Samsung will attract more enterprise customers with KNOX? Do you think the Google Android operating system can be controlled and secure enough for confidential enterprise data?
Comments