Thank you to Fooz Kids for providing me with an All-In-One pack to review. The opinions I've expressed here are solely my own and represent my honest viewpoint.
If you're a parent, aunt, uncle or concerned adult that wants to engage your surrounding inquisitive children in understanding the power of the internet but apprehensive about the dangers that could happen in a click, then you'll definitely appreciate Fooz Kids.  Fooz kids is downloadable application that allows children to play games, find activities and crafts, browse the web, watch videos on some of their already favorite websites.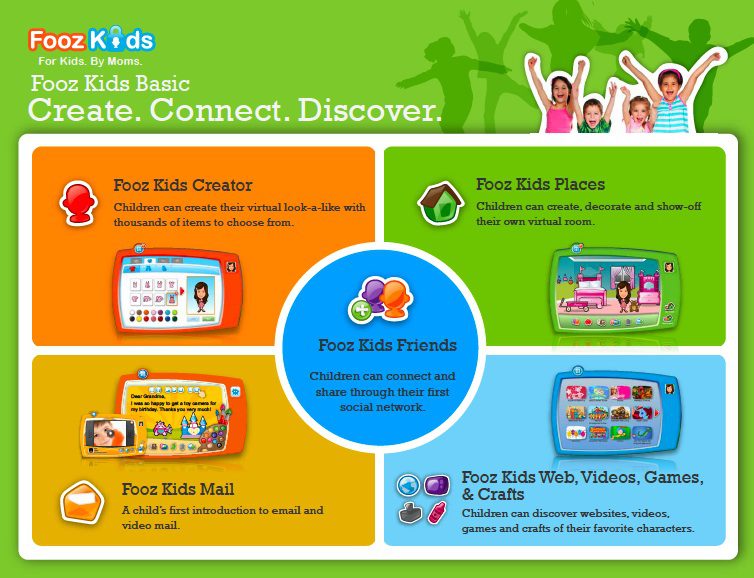 Fooz Kids is a downloadable Adobe Air application that allows children to create, connect, discover and learn through hundreds of kid-safe apps and games.  Kids can create their own avatar or look alike and make friends with other Fooz Kids friends online. They can play games, create crafts, and watch videos of their favorite shows like Arthur and Spongebob Square Pants. Kids can also create their own virtual room, and create Fooz Kids Mail, which is an introduction to email and video mail.

Fooz Kids is available in 36 different languages across 56 regions and is compatible for both Windows and Mac OS X operating systems as well as Android tablets.

CREATE:
Fooz Kids Creator – Allows children to create a virtual look-alike.
Fooz Kids Places – A virtual room that children can personalize.
Fooz Kids Mall – Thousands of virtual goods for children to personalize their avatar.
Fooz Kids Books – Helps children create art-inspired stories.
CONNECT:
Fooz Kids Friends – A kid-safe, parent-managed friend list for connecting safely with friends and family.
Fooz Kids Mail – A kid-safe, parent-managed, e-mail solution just for kids.
Fooz Kids Cloud – Allows children to store and share their favorite pictures, videos and music for free.
DISCOVER:
Fooz Kids Web – Allows children to browse hundreds of websites of their favorite characters.
Fooz Kids Videos – Allows children to watch hundreds of family-friendly videos.
Fooz Kids Games – Allows children of all ages to play hundreds of interactive games.
Fooz Kids Crafts – Hundreds of coloring pages and simple crafts for children to make.
LEARN:
Fooz Kids University – An interactive app that encourages skill set development through common core state standardized math curriculum for grades Pre-K through 5th. Provides parents with a report card, insight & analytics, and recommendations.
Fooz Kids Treasure Box – Learn and earn platform that motivate children to complete activities and lessons by rewarding them with redeemable items.
Once you download the application directly to your computer desktop your child cannot accidentally wander onto other "not-so-safe" websites. Worried about accidentally logging out of Fooz Kids?  Don't worry, you need to enter a password for your child to close the program. This is perfect, especially if your child is likes to discover everything by clicking around the desktop like crazy! One of the best featured about Fooz Kids is the parental dashboard. You can keep an eye on everything that the kids are up to – from when they last logged in to how long they were online.
Fooz Kids is a great application for my nieces and nephews to use while auntie is "busy" simply because everything is self contained within one application, without leaving the page. The bright, colorful menu is filled with pictures just in case they can't read everything, the explained pictures shows what to do next in the menu. And for the uber-inquisitive kids, no need to worry about them opening up another window in the browser and discovering inappropriate site content — EVERYTHING they need is available to them on Fooz Kids.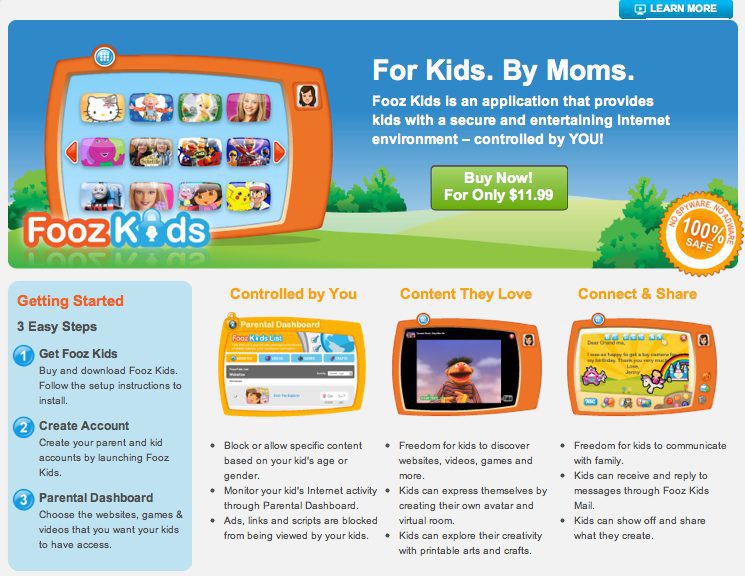 Interested in a peace of mind for your favorite kid's internet exploration?  Sign up for Fooz Kids today at FoozKids.com.
Please click here to learn more about Fooz Kids. I was selected for this sponsorship by the Clever Girls Collective. All opinions are my own. #cleverfooz