Have you ever noticed random blemishes, skin texture changes or wrinkles that seem to appear out of nowhere?  I've definitely noticed a few unwanted dark spots on my face that seemed to have appeared overnight? (…and with upcoming on-camera appearances to look forward to, they have also completely freaked me out!)  A couple of weeks ago, I was introduced to the FaceFX light treatment.  As a girl interested in all things tech, I wanted to look into the science & technology behind this beauty treatment to determine if using this product could work for me.
The Face FX Skin Rejuvenation and Anti-Aging Light Treatment relies on Home Fractional (HF) Technology – a safe and effective manner to provide stimulation of heat and light energy to the multiple layers of your skin, without high levels of discomfort, making it a pain-free alternative to Botox or surgery.  The Active HF targets the top layer of your skin to address fine lines and pores, leading to texture improvements. The Deep HF penetrates deeper into the skin to address larger wrinkles and discolored spots. By fractionating the energy FaceFX is able to penetrate deeper into the skin without high levels of discomfort and create clearer & healthier looking skin.
Personally, after use – my skin felt a little warmer & I had slight redness (but felt no discomfort at all).  My areas of concern were primarily my eyes (working 24hours a day has it's disadvantages…) and fading a few random dark spots along my forehead.  Since I currently don't have wrinkles (Thank God!) I've been using Silk'n FaceFX as a preventative treatment along my eye area and corrective treatment along my forehead.  I'm just under two weeks of using the product, therefore I haven't noticed a huge difference in my skin's appearance yet.  However, I'll share the before/after photos of another Silk'n user for you to see the difference in results for yourself.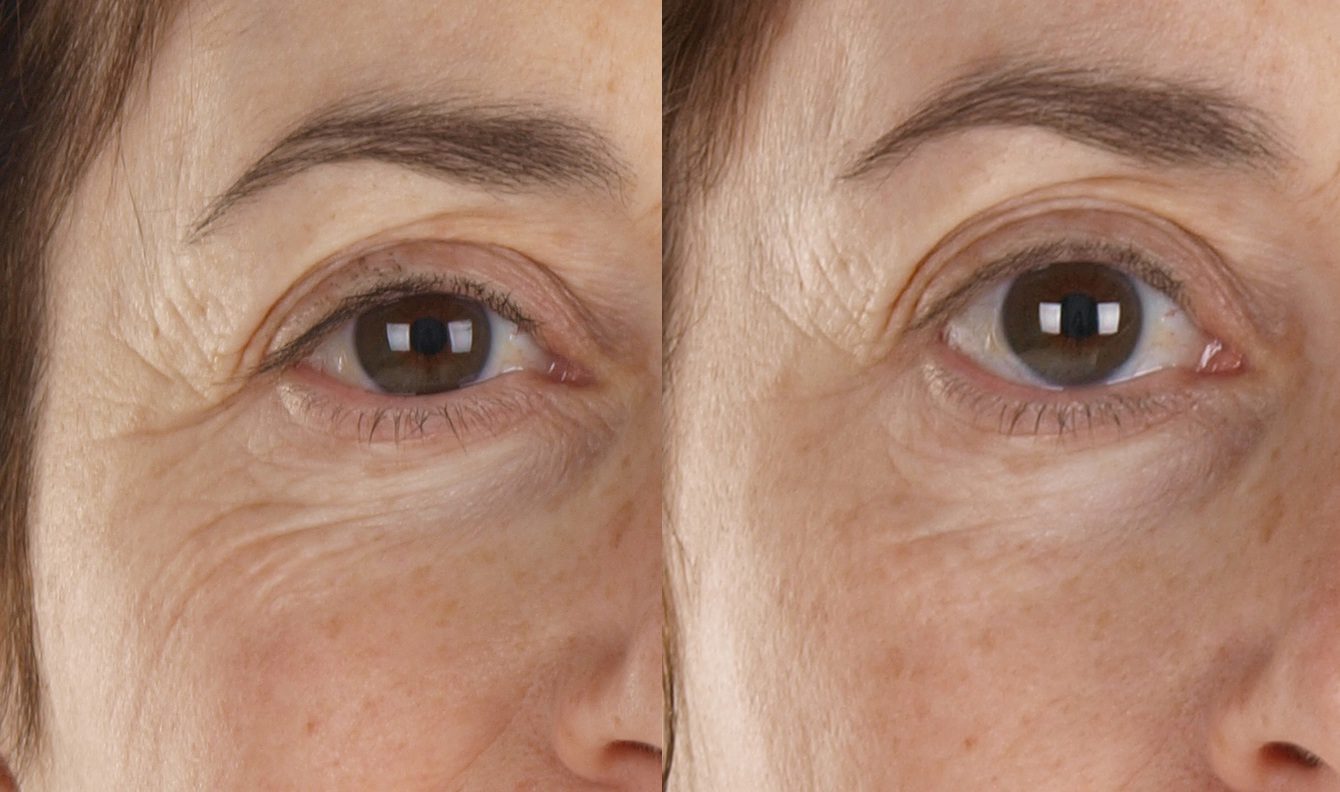 Beauty Benefits: FaceFx improvise skin texture, reduces fine lines and wrinkles, fades the appearance of dark skin patches and reduces pore size.
Simple to Use and Quick Results: With FaceFX you can expect noticeable results within 3-7 weeks after treatment.  (Note: For the first month, users are advised to use FaceFX 3 times a week and once a week thereafter for maintenance. Each treatment session should be 15-20 minutes.)
Ideal for Spa Addicts and Beauty Buffs: Anyone who wants a more natural youthful appearance and is tired of the expense of high-end facial creams, professional laser treatments and/or facials, FaceFX is the solution! The cost-savings of not having to purchase additional creams or make up, are significant.
Privacy and Convenience: The exciting benefits of FaceFX technology can be enjoyed in the convenience and privacy of your home, whenever the time is right for you.
Interested in trying out Silk'n FaceFX for yourself? D&D readers can receive a 20% discount on any of Silk'n FaceFX products – just visit http://www.silkn.com/ and use the DISCOUNT CODE: NYNY upon checkout.  See what others have to say about Silk'n FaceFX and connect with other users on Facebook at http://www.facebook.com/SilknProducts.
*Disclosure* This is a sponsored post in conjunction with Single Edition Media.  Silk'n FaceFX has provided this site with a product for review, however all opinions are 100% own of DivasandDorks.com