It's the most wonderful time of the year! The time where all the hottest smart phones are up for grabs to become the ultimate holiday gifts for you, your friends and family. Verizon's Droid Bionic offers the style, speed & computer know how small enough for your purse or pocket.
Unboxing
DROID BIONIC's sexy gun metal-like packaging with the DROID eye placed squarely in the center is totally reminiscent of a Terminator movie (sans Arnold Swartsenegger). The smart phone's accessories include a microUSB cable, wall charger and easy to read user guide.
Basics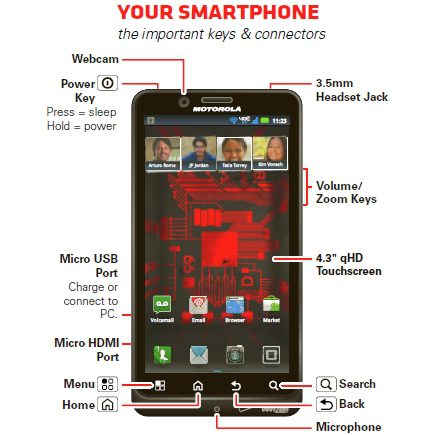 Battery life
This depends on how much your have a need for speed. If you use the DROID BIONIC a lot then you may have a battery problem on your hands, however If you switch LTE off and just use 3G/CDMA, talking – it should last you at least 9-10 hours (talk time).
Specs
Featuring a 4.3" qHD display with Gorilla Glass, dual-core 1GHz processor, 1GB of RAM, 8-megapixel auto-focus camera, front-facing camera, 1080p HD video recording, 802.11 b/g/n Wi-Fi, Bluetooth 2.1 with EDR, aGPS, 16GB onboard memory, 16GB microSD card preloaded, HDMI-out, and a 1,735 mAh battery. Supplementing its bountiful hardware, we can't forget that this is a 4G LTE enabled device that's able to deliver lightning fast data speeds.
Verizon 4G LTE + dual-core processor = DROID BIONIC
Verizon has had 4G LTE phones, and it's had dual-core phones, but this is the phone that has both. Looking for speed unlike anything else? Verizon 4G LTE is definitely for you! Download movies in minutes, songs and photos in seconds. Verizon 4G LTE isn't just fast, it's lightning fast.
The Experience
With the brightest screen I've ever seen, the DROID BIONIC makes it extremely usable no matter if you're hanging out in the sun or bright, bright light. Personally, I enjoyed using Twitter on this phone, watching YouTube videos and photos. Call quality is excellent, and I already mentioned how fast the unit is…overall it was a great user experience.
The Camera
Focus…it was a little slow on finding it's focus but with 1080p video it works well for an elite smart phone device.
Overall, this is a great device….I won't lie, I even updated this site using the DROID BIONIC and using the internet on this phone is amazing! If you're a fan of DROID – this is definitely the phone for you.