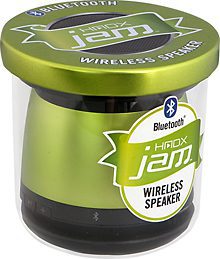 If you're checking out the beach or any outdoor summertime activity this holiday weekend, the HMDX Jam Speaker should definitely be on your gadget "go-to" list!  Unlike other bluetooth speakers, the HMDX Jam Speaker gives you quality sound in a sleek compact speaker that you can fit in your purse or bag & carry it anywhere on the go.  The HMDX Jam connects wirelessly up to 30-feet away and works with all Bluetooth-enabled smartphones, tablets and laptops/desktops including iPhone, iPad & iPod.  The rechargeable, lithium-ion battery delivers up to four hours of wireless play.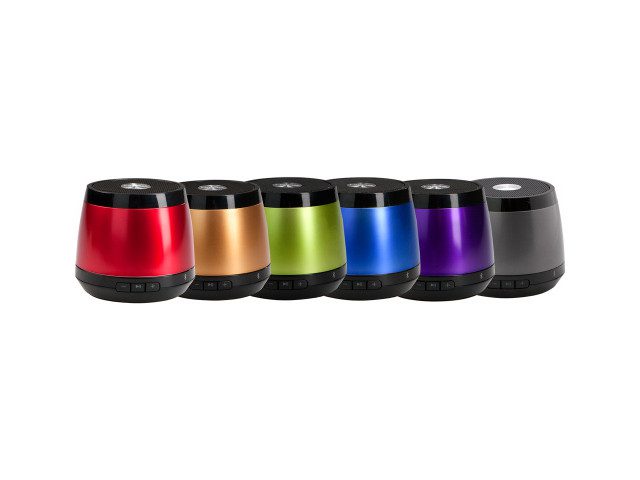 HMDX Jam is available in six "flavors" — Strawberry, Grape, Blueberry, Blackberry, Apricot and Apple — and is available nationwide, virtually anywhere portable electronics are sold, including Amazon, Bed Bath & Beyond, Best Buy, Kohl's, and more.
Simply charge the device (3 hours are required for a full charge) via the micro USB chord through the computer and you're ready for quality sound, no matter where you are!  Using the Line in audio jack, you can watch movies from the pool or beach for up to 12 hours OR use the bluetooth connectivity for up to 4 hours of music.
I love packing my small HMDX Jam while traveling – you never know when you need your soundtrack while on the go.
The small size and sweet sound of the HMDX Jam Bluetooth Wireless Speaker makes it perfect for almost any setting, from the kitchen to the bedroom, the college student's dorm room, the office, the boat and beyond!  HMDX Jam is the perfect travel companion to bring your music with you.  The tapered cylinder-shaped HMDX Jam comes fresh-packed and sealed in a distinctive clear jar, topped with a metal lid, and featuring vibrant, fruit-inspired colors.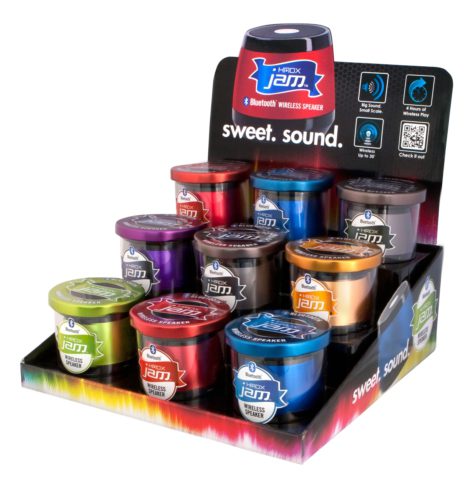 How'd you like to win your own HMDX Jam Speaker?  Tell us where you'd enjoy summertime fun with the HMDX Jam Speaker below and you could win!
One winner selected will win a HMDX Jam Speaker (valued at $39.99) CONTEST ENDS 7/11/12
:: UPDATE ::  We want to share our love of wireless fun on the go with more!  We're now selecting TWO winners for an HMDX Jam Speaker ($39.99 each) CONTEST ENDS 7/13/12.  ENTER BELOW!