In a world of over sharing, texting can sometimes be your primary source of communicating to others.   That's why I've created the 'Ten Text Commandments' that will keep you on the straight and narrow during today's text-heavy times.  Discover how I've laid down the law commandments on how to (and how not to) text below.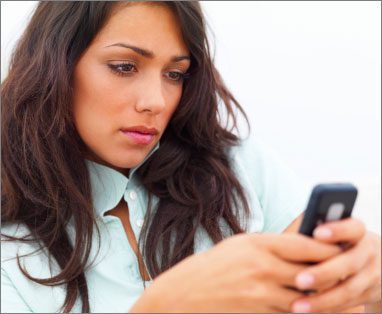 Texting is one of the quickest and easiest ways to communicate these days. In our text-heavy society, many of us have fallen prey to the faux pas of texting. These 10 Text Commandments will save you from future "spellcheck" or butt-dialing disasters and keep you on the path to righteousness, no matter if you're exchanging messages with sinners or saints….
ONE: "THOU SHALT HAVE NO OTHER TEXT MESSAGES BEFORE ME."
When it comes to having multiple text conversations, please limit your texts to one person at a time (unless it's a mandatory conference text). Can you imagine "sexting" your boo and texting your mom at the same time? One wrong press of the send button could have you explaining a lot more than you'd like to.
TWO: "THOU SHALT NOT ASK HEAVY QUESTIONS VIA TEXT."
Asking YES or NO questions and for quick updates is what texting is intended for. Texting should not be used for asking things like, say, all-out opinions about the financial crisis going on in America. C'mon people, keep it short and simple and you're sure to get a considerate response. Call or meet in person for those important questions/conversations.
THREE: "THOU SHALT NOT TEXT THE WRONG NAME IN VAIN."
Don't you hate it when you receive an abnormally random text message only to find out that it was actually intended for another person? This is usually followed by a series of awkward responses that lead to a downward spiral which all could've been avoided with a little double-checking before pressing send.
FOUR: "REMEMBER THE SABBATH DAY, TO KEEP IT HOLY…BY NOT TEXTING IN CHURCH OR OTHER EQUALLY SACRED SITUATIONS."
I'm not the only one who's taken a quick glance at my phone during church service, but full-on text messaging is a bit much. I'm sure God isn't BBMing you, so put the phone away. The pastor, choir and congregation will thank you. This goes for similar situations like weddings, funerals, all other celebrations of religious sacraments, business meetings…. Be present and be respectful!
FIVE: "HONOR THY FATHER AND THY MOTHER…BY CALLING THEM, NOT TEXTING THEM."
We know it's taking parents a while to get acclimated to this new communication age, but that doesn't mean you can't help ease them into it. For now, give them a call once and a while instead of sending an impersonal text. Trust me, they'll appreciate it and it won't take them one full hour to tap a response out to you!
SIX: "THOU SHALT NOT BUTT-DIAL (OR BUTT-TEXT)."
How many times have you left your phone in your purse (or back pocket) and it magically sent off text messages to the most random contacts in your phone (an old boyfriend, that random guy you met at the bar and totally blew off…). Lock your phone AT ALL TIMES and you'll avoid the accidental jkaohdf gmekalisn messages or "pocket sound" calls in the future.
SEVEN: "THOU SHALT NOT COMMIT ADULTERY VIA SEXTING."
Yeah, we know. There's nothing wrong with harmless flirting, but when messages get a little too hot and heavy and/or when photos are involved (hi, Scarlett Johannson) that's when your text-messaging privileges have gone too far and you've committed one of the original texting sins.
EIGHT: "THOU SHALT NOT TEXT TOO OFTEN."
There's texting too often and then there's outright texting Turrets. Stop that! There's a 10-text maximum per 10-minute window (and that's being generous). If you break that rule, practice this one tip—text it and forget it. (Get lost in the world wide web if you're keystroke happy, or just shut down your phone completely for the next 10 minutes until you cool off.)
NINE: "THOU SHALT NOT BE OVERBEARING WITH LOLS AND SMILEY FACES."
A little sarcasm via texting is healthy when flirting, but not every sarcastic (or non-sarcastic message) needs to be accompanied with an LOL or an emoticon.  If you've developed a nice rapport with your text recipient, they should have a good sense of your personality—if all else fails, try texting your sarcasm in italics to avoid the abbreviation and 
 overdose. Or, add a "haha." For some reason, it seems so much better than an LOL.
TEN: "THOU SHALT NOT COVET YOUR NEIGHBOR'S PHONE AND CHECK THEIR TEXTS."
We've all done it before (I hope it's not just me…). That moment right before curiosity kills the cat, you reach for that phone just to check and see who, what, when, where and why someone else has been texting…. Don't do it…just don't do it.
If you abide by these commandments, you're ensured a joyous lifetime filled with texting happiness. It may not technically lead you to the pearly gates, but at least it could leave you with a smart phone filled with interesting messages from guys named John, Peter or even Jesus. Who knows?
Comments