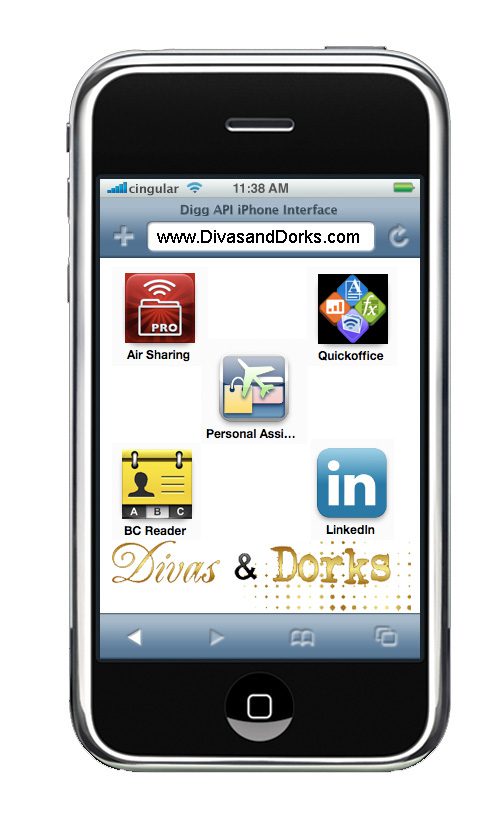 So you've got the new iPhone 4G or simply upgraded your 3G to OS4…now load up the top apps that compliment your lifestyle.  We've listed our top iPhone apps for Divas, Dorks, Ladies (and even you Tramps :))  I can attest that some of these apps are great, efficient and really, REALLY FUN!

DIVAS
SO you've got it all together, you love the fabulous life & you're looking for apps that celebrate the fun, fierce & fearless YOU!
MyStyle Fashion Assistant – "We love this app, which acts as your very own stylist. It keeps track of what you have, what you wear, what you want, and it allows you to mix and match it all. It even helps you plan for trips – it's the Ultimate Fashion Organizer!
iMakeup Artist: Everyday Looks – Want a natural looking glow or sun-kissed look?  Its all here!
Ru La La – Rue La La is a members-only emporium of style featuring the most wanted brands at private sale prices.
iVanity – Use your iPhone as a handy-dandy compact mirror.
Gucci – Experience the world of GUCCI and enjoy access to exclusive features only available to app users.  Be the first to know about upcoming collaborations, projects and collections through sneak peeks.  Collect music mega mixes and post images to your Facebook page.

DORKS
You're efficient, technical and need apps that can effectively coordinate your day to day lifestyle…these apps will make your life easier.
Air Sharing Pro – The most powerful way to view your documents on the go.  "Wish you could copy that new proposal to your iPhone & review it on the plane? Now you can."
QuickOffice Mobile – Create, Open & Edit Microsoft Office Files.  Email and view attachments, share files via email and transfer files via Wifi…its your entire office wrapped up in one app!
Pageonce Personal Finance – Monitor and review credit card transactions, bank accounts, investment portfolios and more!
Business Card Reader – Instantly lock your business contacts in your phone in one photo snap!
LinkedIn – Put your professional network at your fingertips and connect with over 70 million professionals worldwide.
LADIES
To the modern-day debutants, the Miss Americas to the Miss Galaxies of the world…you're feminine, you're delicate and YOU'RE A LADY. Allow these apps to perpetuate everything sparkly and lovely in your life.
Send eFlowers – Send beautiful flowers as a text or email attachment just to show how much you truly care.
Pink Glass OfficeMate – For all fans, everything pink.  Cutesy calculator reminds me of something girly chic…
Jillian Michael Fitness Motivation – You've seen Jillian Michaels help people shed hundreds of pounds on NBC's The Biggest Loser and Losing It with Jillian – now you can get the same hard-driving encouragement for your own workouts. For Free!
Pretty Planner – A pretty in pink, girly calendar to express your feminine style.
TextOne Pink – A simple and feminine smartphone to smartphone messaging application…with all pink lettering and design it's too cute.
TRAMPS
You know who you are! NUFF SAID! Let's these apps will do everything from help you find the closest bar to catching you a cab to avoid that awkward "morning after" walk of shame 😉
Sex Magic – Your ultimate guide to getting creative in the bedroom.  See various techniques relating to all the different types of sex.
Perfect Date – Perfect date is the ultimate secret weapon when it comes to dating for both men and women!
Sexy Dice – The pink love game dice are BACK…but this time it's on your phone.
Date em or Dump em – Get expert love advice from a panel of LOOOOVE Gurus…
Cab4Me – Download this app and instantly locate your area and lists local cab companies, payment methods, telephone numbers and instantly calls the cab at the press of a button.
DID YOU ENTER TO WIN AN APPLE iPAD?