There's no escaping the infamous do's by Ursula Stephen; Everyone has seen them. She is indeed the mastermind behind the most daring celebrity hairstyles right now. Divas and Dorks caught up to her during EssenceFest at the Motions Style Bar during a makeover giveaway. Excited to ask the creator of the most notorious hair styles about the inspiration and drive that has produced a buzz in the entertainment industry, I had to know how she got started.
Living in Atlanta I have many good friends that do hair. How did you get started doing hair?
–– "I did hair in high school, and when I graduated it was the only thing I was really interested in. I didn't know what else to do. It was the ONLY thing interesting to me. I thought, 'If I was a stylist mad people would love me'."
She was definitely right about that one.
So what did you do to get to the point you are at now? What would you tell these other aspiring ladies out here?
–-"I went to cosmotology school after high school in Brooklyn. I just surrounded myself with everything hair. I did everyone's hair. Sometimes for free just to prove to them that I was good. I always wanted more. I was always looking for a challenge." Her advice: Just that. Always want more, surround yourself with your talent, and continue looking for the next challenge.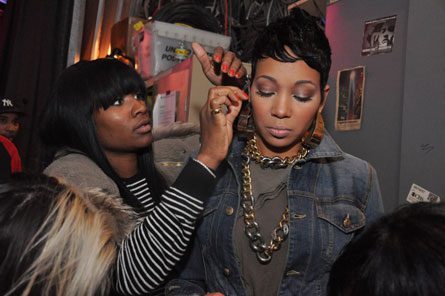 Ursula Stephen started with other celebrities like Remy Ma, Kandi Burruss, and Keyshia Cole. More recently she has worked with Kerry Washington, Jill Scott, Michelle Williams, and of course Rihanna. But when was her big break?
When did you realize you were that chick in the hair industry?
–(Laughs) -"Rihanna was definitely my big break."
——————————————————-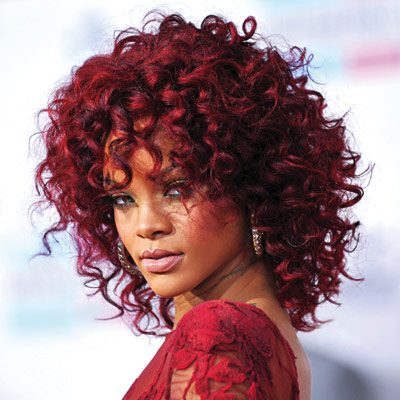 ——————————————————————————————————————————————————————————————
I have to know, was the vibrant red color your idea? Or Rihanna's?
–"I came up with the idea to do red hair a while before she finally decided to do it. At first she was a little hesitant, but one day she just came to me and said she wanted to do it. The shade of red she chose was a little brighter than I had expected… but it looked great!"
Ursula pointed out that Rihanna "trusts me completely" which allows for her to be creative and express herself.
I had to know: Which of your divas is the most technologically savvy? Or prone to always have the newest gadgets?
"Well all of them have their gadgets… but I would have to say that Kerry Washington is exceptionally smart. I will throw that out there; Most people wouldn't expect that. But she is extremely smart. Like blow your mind smart. She has worked alongside the president in the White House."
Special thanks to Ursula Stephen for taking the time to talk to Divas and Dorks, she is such a humble, talented individual!
Interested in winning a Motions StyleBar gift set filled with products, styling tools and more?  Comment below:  Which of Ursula's clients have the best versatile style, or who would you like to see push their style to the limits more often?
Check out some of Ursula's infamous celebrity styles in the gallery below…