As you've noticed, we can't help but enjoy seeing Rihanna photograph out an about, long hair, short hair – we don't care – cause these days it's all about her style & fashion. The Barbados diva was spotted in these Tom Ford Over the Knee Anaconda Boots.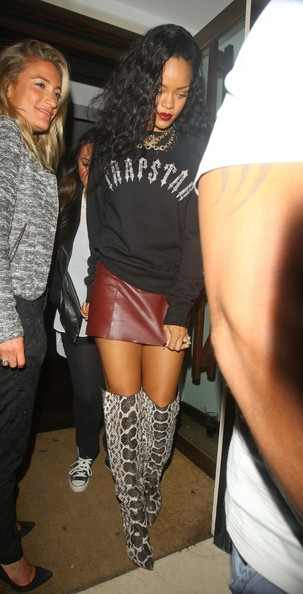 The Italian made shoe are genuine anaconda, a pointed toe she leading up to a 24 inch shaft with a dipped back at the top! The inside is lined with Leather an a leather sole is also featured on the shoe. All of this is resting on a 4 1/4″ inch stiletto heel with golden tip.


Rihanna is known for her fashion forward looks which is why we love this outfit with these Tom Ford Heels! A very edgy and exotic look with a tomboy edge. Now these particular shoe may be a bit much for some of you divas however an over the knee boots are a great option to rock in the fall if your not ready to part with your mini summer pieces just yet! If your going to add some over the knee boots to your wardrobe for a day time look, take some notes from Rihanna and go for separates, making sure the top is a little more casual and relaxed, a like a Crew neck sweater or a T- shirt pared with cardigan, fusing a daytime everyday outfit with a night time evening shoes.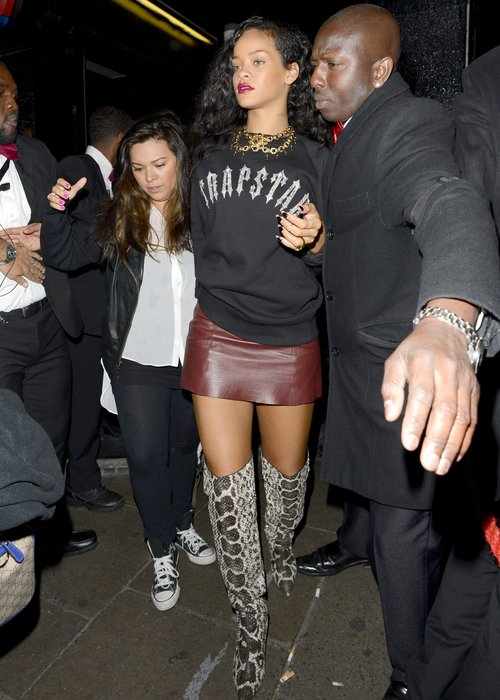 Ladies are you feeling this look by Rihanna? How would you rock over the knee boots, or would you even add them to your closet? Sound off below!
Images Courtesy: Fashion Bomb Daily