As a girl with few Christmas wishes, other than the wish that my family is healthy and safe and that everyone enjoys their holiday season with loved ones and well wishes.  I had no idea that I actually, really, truly had a gift wish list…that is, until Nichole of SugarRushTV actually asked me, "What's on your Christmas Wishlist"
My response swelled up inside of me and without even thinking, I tweeted "My Christmas Wish is a new MacBook Pro, Mary Jane Manolos (CLASSIC) and a Big LV Speedy Bag!!!"  Now you may wonder why those three gifts?  Once you look beyond the obvious labels that are attached to each of them, you're left with only common denominator that matters …QUALITY.
As recent as last week, while on a shopping quest to find a nice business suit, I came across the realization that my classic peeptoe leather pumps from Aldo had taken a beating so bad, that replacing them would be the only logical answer.  I searched high and low throughout NYC and New Jersey to find a classic pump that would perfectly accompany my perfect suit but alas, no such luck finding them in store…why? Because store racks (department & otherwise) are filled with the trendy platform pump-glittery-concoction of footwear that seems to be all the rage these days.  (I won't lie, I like a little excitement on my feet, but exciting feet + business suits don't mix!)  At my darkest moment, I realized all hope was lost until one moment while watching Sex And The City on my iPad 2 – I came across a scene that evoked such want and desire (again) that this time, I couldn't shake it or let it go…
Manolo Blahnik – Mary Jane Pumps
Urban shoe myth or not, nothing says style & classic wear than the mary jane show (nothing says expensive taste however, than Manolo Blahnik).  Out of my budget or not, my heart ached for these shoes last week (in a size 10) but no matter where I looked, I could not find them for less than $600.  The one reason that can capsulate my desire to own this shoe is this "Every accolade, award, and tribute is earned, attributing to the fact that the exceptional quality and craftsmanship of each Manolo Blahnik shoe endure the test of time and trends."  You heard right, "timeless" "classic" "need it".  Thus the reason, why we're here in the first place…my Christmas Wish List.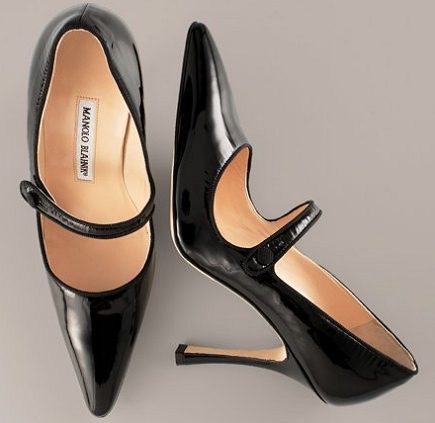 Found online at Neiman Marcus for $645, sure I could go the replica route for under $50 – but when it comes to a quality pair of pumps…nothing beats the original.  I'm sure there are some thrifty divas out there with tips on where I can find these pumps reasonably priced.  With this Christmas dilemma before me, how could I possibly worry about anything else on my list?  So I'm alerting my girls (and guys) that I need your help.  Have any ideas on where I can find my dream shoes?  It's the one thing that'll truly help make my Christmas Wish List come true…