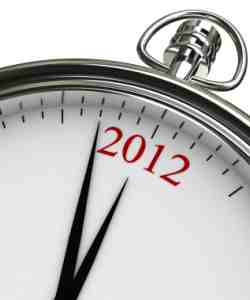 Can you believe in a few short days 2012 will be live and in full effect!  It's time to get your house, business and life  in order now before you're left behind. As an entrepreneur, I want to be organized and  ready to do business heading to the new year.   And as a small business owner, I do not get lots of time off. It is important for us to prioritize tasks to manage all that we juggle on a daily basis.
In order to get things started off right in the New Year; I've been checking out the Small Biz Lady herself – Melinda Emerson and she has an awesome list of things that you can do before 2012 that will make a huge difference in starting the new year off right.
Here are 12 Things To Do Before 2012:
Update Your Bio and Resume. As you head into the new year, take the time to reflect on your accomplishments this year.  Have you won any awards? Got some media attention? Landed any new Fortune 500 clients? Launched any new lines of business?  Any and all of these accomplishments should be reflected in your bio, resume and your social media profiles, especially on LinkedIn.
Update Your Website. In the new year make sure your website or blog has a new look. Even adding a new header graphic can make a big difference. Create new ways to engage your target customers. Add a new giveaway, checklist or coupon offer to your website. Make sure that you at least update the copyright signature to 2012.
Clean Out Your Inbox. Start 2012 fresh with no old emails.  If you haven't read it by now, it is simply not that important. And if you subscribed to anything you haven't been reading take this opportunity to unsubscribe.
Update Your Personal Theme Song.  For years I have used Golden by Jill Scott and I have decided to make a change in 2012, I'm now using For the Love of Money by the O'Jays. Be sure to pick a theme song that makes you feel good whenever you hear it. Have it handy so you can rock your theme music whenever you need to remind yourself why you started your business.
These were a few of my priority tasks that I personally need to iron up on right away.  What about you?
Looking for the remaining tasks?  Check them out at SucceedAsYourOwnBoss.com.