According to Fast Company, there are over half a million new businesses (530,000) created each month.  That's a whole lot of entrepreneurs!
I realized at an early age that the entrepreneur lifestyle was for me. In 3rd grade, I made the decision that there would be no one who could out match my hustle.  Almost 30 years and 5 businesses later, I've been recognized as a top leader among my career peers, featured in business magazines and held public speaking forums across the country on the art of the entrepreneur enterprise.
Let's face it, the entrepreneur life ain't for everyone, there are long hours, private ideation sessions, and plenty of research required to build a successful business – and then there are business secrets that'll help you avoid the mistakes of others and expedite your road to success. What's the secret to Divas And Dorks' success? Discover secret apps in my arsenal that fuels this successful business and discover why they're secret apps every entrepreneur needs to succeed below!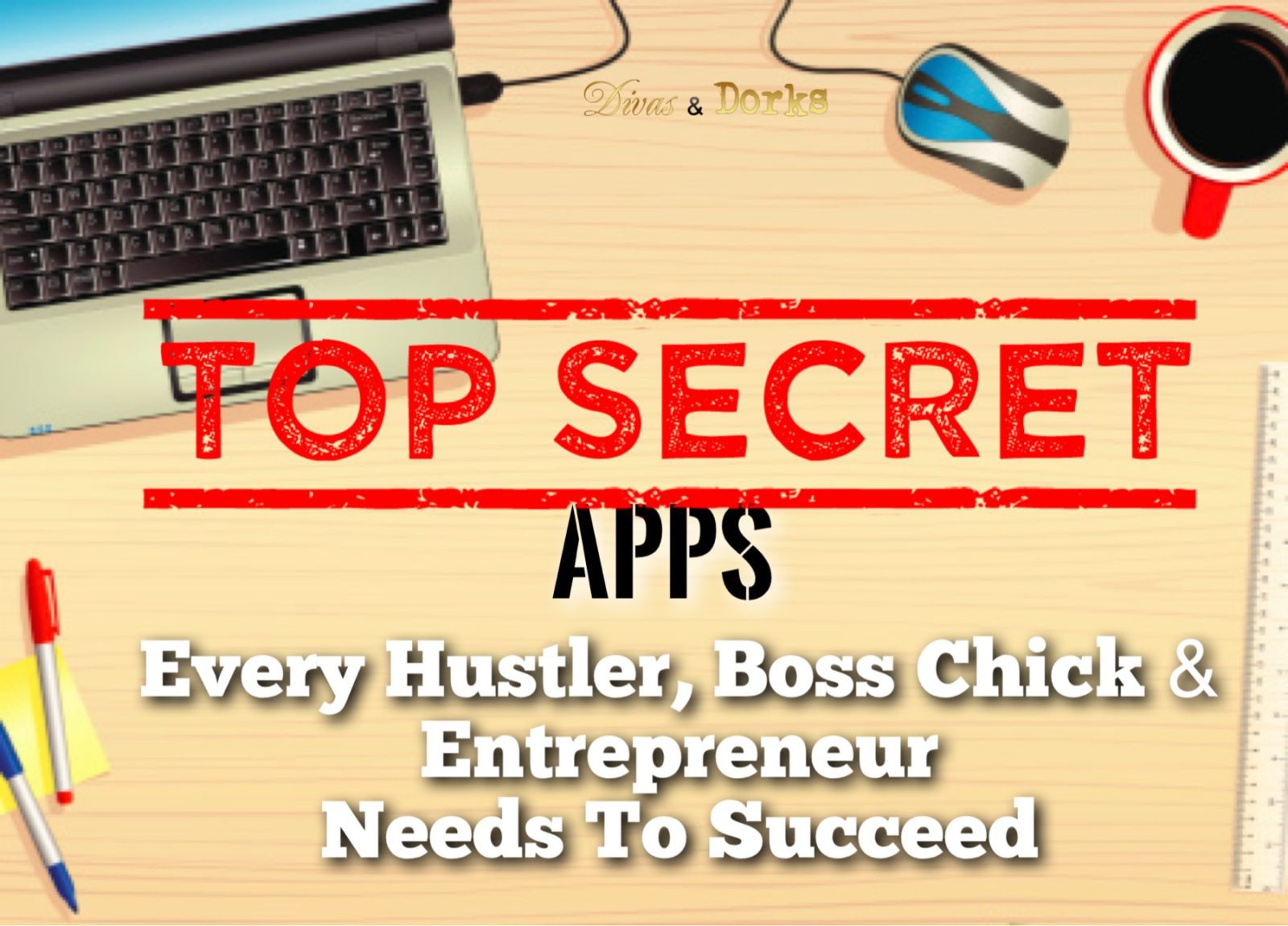 Pennies
Pennies Personal Money, Budget And Finance Manager:  If you can't keep your personal finances in order, how do you expect to get your business budget together? Budgeting shouldn't be hard work or boring. That's why in Pennies you won't find any charts, graphs or complicated diagrams. It's personal finance made easy, it's your money made simple. Should you spend or should you save? Pennies shows your spending and finance health with bold colours, helping you slow down or speed up to keep you on track. (Download Pennies App)
Shoeboxed
Shoeboxed: Get rid of your binders, folders and archaic filing systems and go digital (and green!) with Shoeboxed. Paper, receipts, business cards, forms, books = unnecessary clutter on my desk.  There were days in the past where I simply wanted to take it all and trash it in one swift sweep of my arm over the top of my desk. This gem of a tool let's you easily scan, take pictures using your mobile device, or even send them via snail mail anything and everything that you would like to save but not necessarily keep on your desk or in a drawer. (Download your free trial of Shoeboxed today)
Evernote
Evernote: Evernote is my lifesaver and enables me to work more productively. First, what I love about it is that it works both for my personal and business life, and helps me manage the operational pieces of both. Also, I use it on the go. Life is fast and busy for all of us, and Evernote lets me carry everything with me. Wherever I go, I have all the information, checklists, and notes I need. It's always there for me 24/7. (Download Evernote app)
Moleskine Timepage
Moleskine Timepage:  The most elegant calendar for your pocket and wrist, Timepage is a calendar designed to make every day more enjoyable and easy to navigate. Have all your calendars in one place, seamlessly integrated with weather forecasts, maps and contacts.  (I have six different calendars, so you know I need something simple and seamless that'll work for me!)  Even on the Apple watch, you can see your day-by-day schedule for the next week, discover the weather, see how long until your next event and travel details and wrist tap reminders…ALL ON YOUR WRIST! Genius! (Download Moleskine Timepage)
17Hats
17Hats:  What if there was a secret app that combines many of the apps you are likely using into a single flawless interface.  It's creators have built 17hats with the entrepreneur in mind.  They have given us a suite of functions to from from sales leads to research and information gathering via an online questionnaire on to a proposal to hand off to your potential client.  17Hats doesn't stop there – the ball continues rolling downhill to contract, invoicing and finally payment.  It's like a fortune 500 company CRM system but designed for the single DIY'er.  It also doesn't carry the big fortune 500 company price tag.  (Download your FREE trial of 17Hats)
Dropbox
Dropbox: Who doesn't have a Dropbox account? But did you know you can run your entire business, using The Cloud? What would happen if your hard-drives were to be damaged in an accident or natural disaster?  Would you be able to recover from lost data and time?  You really need an off-site backup system in order to safeguard yourself against that kind of vulnerability.  An automatic backup is by far the easiest. Don't make the mistake of buying storage space, computer storage and flash drives when Dropbox has everything you need and is as mobile as you!  (Upgrade for FREE Dropbox storage)
PDF Reader Pro
BONUS:  PDF Reader PRO Edition: There's no longer an excuse to delay the closing of a deal! This app allows you to electronically edit and sign documents easily and securely. It also records and stores each document's history, so you have automatic audit trails — saving you the time and trouble of backtracking in case the need arises. (Download PDF Reader PRO Edition)
These are just a few of my favorite apps that I can't manage my hustle without.  Why make the same mistakes and try and fail with other apps when these award winning apps can get you on the right path to entrepreneurial success?  These apps aren't just for business either, use them to manage family budgets, trip itineraries, photos, everyday receipts and more!  Being an entrepreneur isn't just a career move, it's a lifestyle!
Did I miss any other secret apps for entrepreneurs?  Share your favorite apps for entrepreneurs below!
Comments