What kind of phone do you have?  BlackBerry, iPhone, Droid?  The latest Nielsen study shows that certain ethnicities are prone or drawn to certian phones while others are not.  Here's the highlights of the recent study:
Thirty-six percent of Asians with smartphones have iPhones, while 31 percent of African-Americans with smartphones go for a BlackBerry.
Asians, Hispanics and African-Americans are purchasing smartphones at higher rates than "Whites"–45 percent of Asians and Hispanics and 33 percent of African-Americans are smartphone users, while only 27 percent of Whites are.
While 60 percent of Asians, 56 percent of Hispanics and 44 percent of African-Americans purchasing phones in the past six months bought smartphones, only 42 percent of caucasian users did the same.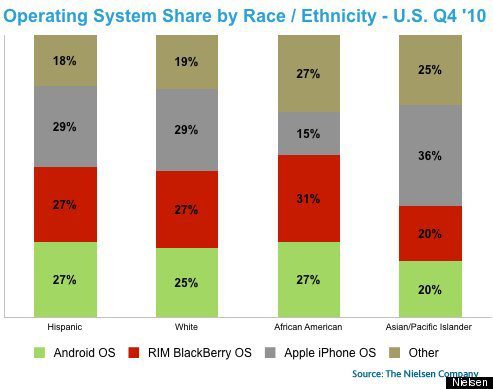 Wow.  Well since I'm bi-cellular (don't judge me)… I guess I fall into the non-black/non-asian category…just call me "Blasian" – it's exotic! LOL