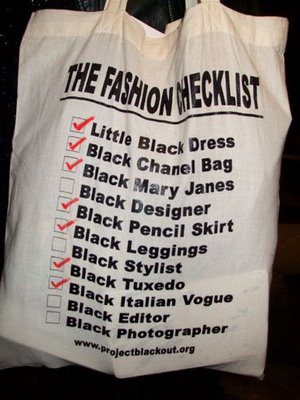 Fashion week is officially here and I'm excited! Not just because of the fashions and reconnecting with friends but also because I'm prepared and know what to expect.  See last September, I experienced Fashion Week and it almost killed me!  (No really, I got so sick and my body was completely shutting down on me….)  I literally had to take several months just to get back to normal!  Since I care about my readers so much and wouldn't wish that type of feeling on anyone, I've compiled a list of DO's and DON'TS to ensure that you have a healthy, happy New York Fashion Week!
—————————————————————————————————————————————————
1.  DO take plenty of vitamins.  Seasons change…and we're not just talking fashion.  Equip your body with immune strenthening vitamins like Vitamin C and B12 so you can't outwit, outplay and outlast fashion's elite.
2.  DON'T be a fashion victim.  Fashion week screams fashion and you can play it conservative with statement pieces of fashion but DON'T OVER DO IT.  I don't need to see anyone with an entire Louis Vuitton outfit with matching heels.  It's not THAT deep.
3.  DO stay hydrated.  Sorry, 8 bottles of Starbucks Frappuccino doesn't count.  Drink plenty of H2O and you can even mix it up with a healthy Jamba Juice.  (Ok, ok… a free bottle of Starbucks Frappuccino won't hurt once and a while….but DON'T OVER DO IT!)
4.  DON'T expect to survive in high heels all day.  Take a moment to sit out a dance or two in one of the many lounge areas of Lincoln Center…and if you can't find a seat (whip out a good ole pair of flats – you know the IN CASE OF EMERGENCY ones that you keep tucked in your bag.)
5.  DO double check all of your fashion show invitations are printed or barcode easily available on your phone.  You don't want to be the one fumbling and asked off to the side as you search for your credentials.
6.  DON'T arrive to shows late.  Some shows are overbooked and reach capacity very quickly.  The last thing you want is to be known as the person arguing with a PR rep saying "Don't you know who I am?  I have a ticket!"  – the response will be "NO…(and) We're at capacity.  Sorry!"
7.  DO have a phone charger and extra batteries handy.  You'd be surprised how quickly your phone dies after 127 Facebook updates, 223 Tweets and 1 Foursquare checkin.
8.  DON'T make a plan (other than to attend the shows.)  I'm sure you're wondering what I mean by PLAN.  Don't plan every minute during fashion week.  Trust me, things change and you have to be willing to "go with the flow" if you're expecting to make it out of fashion week with your sanity.
9.  DO keep plenty of business cards by your side.  Fashion week is a great place for networking, not just for those in the fashion industry either.  There are many brands involved such as Mercedes Benz, DHL, Starbucks and more as well as corporate representatives for those brands just waiting to network with you.  Be prepared.
10.  DON'T party so hard that you miss out on the shows.  There are plenty of after parties going on in the city but don't get caught up in the mix that you miss out on what's important.  THE FASHION!!!  (I know a girl that partied SO hard at last season's show that she was hungover and missed out on many of the shows….CRAZY!!)
HAPPY FASHION WEEK!!!!!!!