It's here, it's finally here…and you're not ready yet! The weather has finally shifted and swimsuit season is upon us.  If you're anything like me then right about now, you're hitting the gym (extra heavy) trying to make a last stitch effort to get your body in the shape it needs to be.  Just in case you're not all the way there yet, I found some great belly bustin swimsuits that'll make anybody's belly look good & beachtime ready.
Folded Bikini – An extra layer of fabric is extra forgiving, and since it's not skintight, you look more streamlined. I had to start with my favorite style first.  I'm not a fan of the color particularly – but the style and strategic concealment factors are winners for me.  The halter slightly pulls things up and out (lifts and separates) while the bikini bottoms rouged / folded skirt conceals.  Why not wear a swimsuit that works with (NOT AGAINST) your body?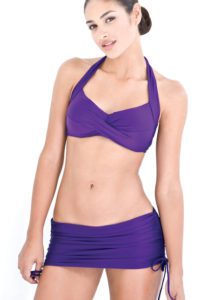 **BONUS** – A swimsuit with side-ties elongate and slenderize your legs for a sleeker look…
Beep V Cut – A plunging neckline directs eyes to your cleavage, (not your gut) while details like fringe or twists actually masks your belly bulge. Watch out for the big girls…This swimsuit is tricky, do not attempt if you have no curves at all (you may end up looking like spongebob square pants).  This suit definitely brings the eyes and attention up top, just make sure that you have a slight shape to compliment the plunging neckline, because if you don't…it won't be a pretty picture.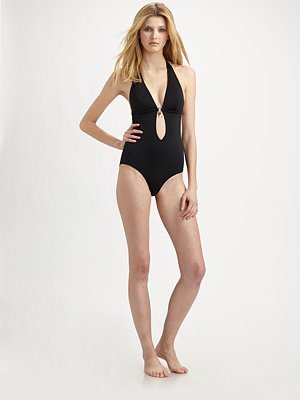 D&G Deep V One Piece Swimsuit
Cutout –  The nipped-in shape of the open areas creates the impression of an hourglass figure. The jury is still out on this one.  Several years ago I purchased as swimsuit like the one below, it's definitely not for the faint of heart (or big of chest.) This cutout swimsuit looks better of smaller chested full-figured girls and if you're not game enough to attempt this suit, the last suit below may fit your needs better.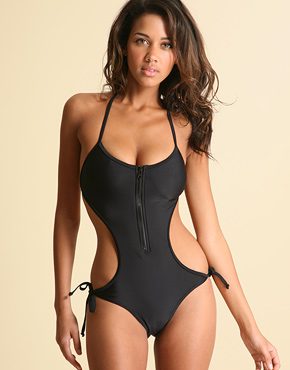 Tankini – It disguises your trouble area while still showing a little skin. I'm a fan of the tankini and have been a fan for years.  The tankini is great for feeling fully covered (Especially if you're self conscious of your belly) you can get that tan that you want without sacrificing and confining yourself to a t-shirt and pair shorts.  It's flirty, it's fit, it's the tankini!