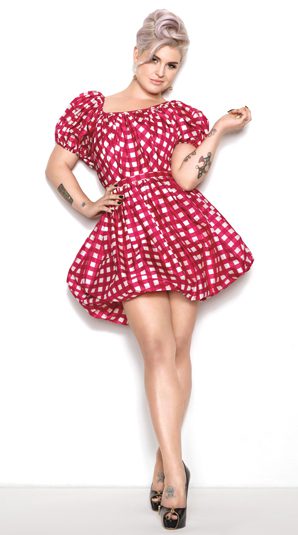 Kelly Osborne co-host of 'Fashion Police' on E!, daughter of rocker dad Ozzy & talk show mom Sharon Osbourne sat down with Glamour Magazine to discuss her body and style transformation – just in time to inspire you this Spring.  Check out what she had to share, plus details on how to transform your style by finding the right fashions for your body type…
I call myself an FFP: former fat person. And when you're an FFP, you will always see in yourself what people used to bully you for. I grew up on the road with my father—yes, Ozzy Osbourne—but I came from a very, very small village, where everyone called me Kelly Smelly With the Big Belly Whose Dad's on the Telly. It hurt so badly to be judged like that. Even now I don't consider myself skinny. But I have put a lot of hard work into my body over the years, and in the process, I've really learned to love myself. I want you to love yourself too, so here are my Dos & Don'ts for getting this kind of body confidence.
DON'T wish you looked like so-and-so
 Women are so unforgiving of themselves. We don't recognize our own beauty because we're too busy comparing ourselves to other people. No, we are not all Gisele Bündchen; we're not all Beyoncé. But I can tell you even the most beautiful girls in the world have felt insecure. And just seeing the pressure my friends Kim Kardashian and Kate Moss are under makes me never want to even be the prettiest woman in the room. There is no such thing as perfection.
Try this: Look in the mirror. Find one thing you like, whether it's that you have long eyelashes or beautiful hands. Start there. Think, "Well, I've got this, and a lot of other people don't." You've got to look at what you do have, the tiniest things.
DO shut up the judgey voices
 Especially your own. Yes, it's a challenge to find the positive sometimes. It takes me a moment to get there, I'm not going to lie.  Sometimes it's other people's voices you have to shut out. That's what happened with me and Christina Aguilera, which people don't understand. She called me fat for years. One night on 
Fashion Police
 I said, "F—k you. Now you're fat too." I didn't say I 
wasn't
 fat. I said, "Now you know how it feels." And I'm sorry, but I stand by that. I make a point on the show never to say anything about anybody that I wouldn't say directly to their face.
DON'T force yourself into a bikini
 I don't really like wearing bikinis. And if you don't either, don't make yourself. The first time I actually wore a bikini was two years ago! And who says you have to? I'm not good in the sun—my skin burns very quickly. If you want to be a little more covered up, go 1950s retro. Find a cute suit with a frilly skirt attached to it, and rock that. The thing is, you've got to get dressed and say to yourself, "If somebody else doesn't like it, f—k them." You feel great, so work it, own it, and love it.  Read More of Kelly's article
HERE
.
Find Dresses For Your Body Type 
With the once a year discovery that winter is gone and the sun is here to stay brings three thoughts…
1.  "Time to get this body swimsuit ready."
2.  "I better schedule a pedicure appointment immediately."
3.  "It's time to find more, fabulous everyday sundresses but which dress is right for me?"
It's on everyone's mind, so don't feel bad.  It's especially difficult to find the right dress that accentuates your body type.  Trust us, there are some dresses out there that doesn't belong on anyone's body and we're going to help you avoid that mistake by highlighting our D&D approved sundresses for most body types HERE.
Top Heavy ladies click HERE.
Tom Boy beauties click HERE.
Bottom Heavy babes click HERE.