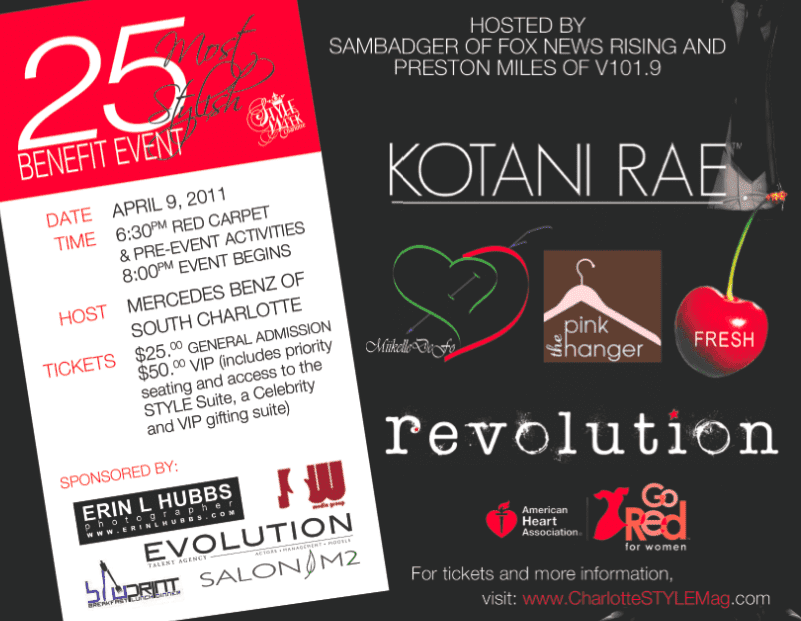 You know a city like Charlotte, North Carolina has to be buzzing with STYLE when the mayor declares a week celebrating all the style that the city has to offer!   As the inaugural Style Week Charlotte kicks off this week – we're proud to annouce our participation as participant of Style Week Charlotte's signature event "25 Most Stylish Benefit" this Saturday, April 9th at Mercedes Benz of South Charlotte.  The event will roll out the red carpet and include a runway show, celebrity gifting suite and more!  Proceeds will benefit The American Heart Association's Go Red for Women.
Divas and Dorks will be on the red carpet LIVE with celebrity arrivals, "Twinterviews" and more and you can join in the fun by  RSVP'ing for our TWEET UP HERE (#STYLISH25).
Discover Charlotte's Most Stylish Men and Women all in one night! This is the night you don't want to miss during Charlotte Style Week!
About 25 Most Stylish Benefit: The 25 Most Stylish celebrates people in the fashion, business and non profit industries, who are making a real impact in Charlotte.  A few past honorees include: Mike Minter (Former Carolina Panther) Arlene Goldstein (VP of Trends and Merchandising for Belk), Rachel Sutherland (Rachel Sutherland Communications, Former Style Editor, Charlotte Observer), Matt Carroll (Charlotte Bobcats), Morgan Fogarty (Fox Charlotte), Suzanne Stevens (Shop France / Former WSOC-TV Anchor) and T. Strong (Co-host of Paperdolls Radio).
Five of this year's 25 Most Stylish will be selected for the cover of the spring issue of Charlotte STYLE Magazine. Winners will be announced at Charlotte STYLE Magazine's Annual 25 Most Stylish Event, Presented by Mercedes Benz of South Charlotte on Saturday, April 9, 2011.  The event is included as part of STYLE Week Charlotte.
For More Information Visit: STYLE WEEK CHARLOTTE or CHARLOTTE STYLE MAGAZINE