Have you ever been on a road trip and second-guessed your decision to visit a McDonald's Drive Thru for breakfast?  I love a good fast-food drive in breakfast, but sometimes I'll admit to having fast-food remorse and wondering if I should've eaten healthier options instead.  McDonald's wants to clear up any questions you may have about it's food with their "Our Food, Your Questions" campaign.  If you've ever had a question about McDonald's breakfast eggs – or just want to know more about the origin of McDonald's food – check out the video below…
Why is the egg in the Egg McMuffin round? Is it sliced from a roll? Are the eggs even real? Prompted by a question from a McDonald's skeptic, Grant Imahara heads to Herbruck's Poultry Ranch, an egg supplier for McDonald's USA, to find the real story about McDonald's eggs. Watch and discover if McDonald's eggs are real.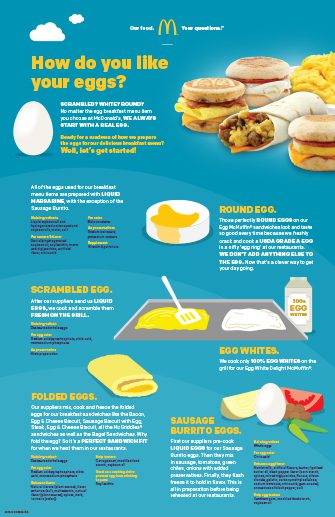 Are your eggs real?
http://McD.to/031yesp
Do you use freshly cracked eggs?
http://McD.to/037yesp
How are your eggs prepared?
http://McD.to/039yesp
.@McDonalds is still answering your questions about their food. Why are their fries so good? Does McDonalds use real potatoes in their fries and hash browns? Have more questions? Send to them and tag me.
Still have questions? McDonald's is here to help!
Comments