Elle has launched a shoppable trend guide on Facebook in the latest of several ecommerce initiatives within the magazine industry.
The guide, embedded as a tab on Elle's Facebook page, invites shoppers to navigate across six editorially chosen spring trends, including floral, nautical and ladylike.
Users can click "love," "want, "own" or "buy!" on each product page. By default, all interactions with the app are shared automatically on their Facebook Timeline — so even if users don't make a purchase, they can inadvertently draw curious friends in to interact with the app. Users can also click to buy each product on the retailer's website.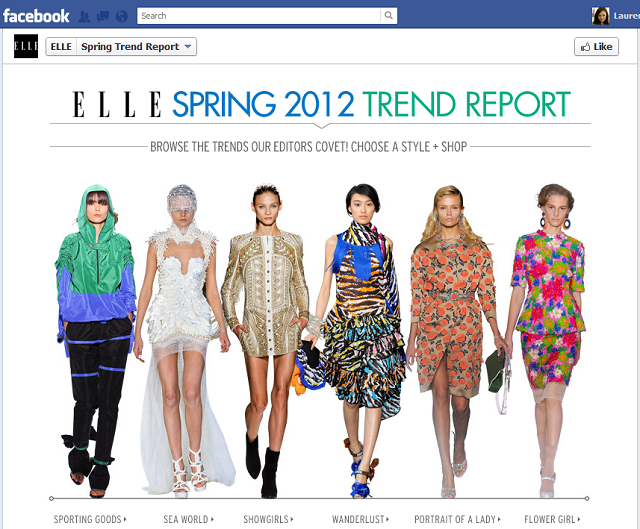 This makes it easy for users to interact, and allows Elle to turn those interactions into marketing promotions, as every action is shared with a user's friends.
Kevin O'Malley, chief revenue officer and publisher at Elle, said that the app is less about pushing sales and more about leveraging recommendations among friends.
So you can't do much shopping within the app, but your "LIKES" could influence potential sales & promotions in Elle magazine?  (*Goes to eBay Fashion app to get my shopping fix…*)  We'll see how this plays out and if your friends "LIKE" what they see on the Elle Facebook page…
Have you checked out Elle's Facebook page yet?  What do you think?