Thanks to Trop50 for sponsoring my writing about fabulous bloggers. This year Trop50 is granting 50 Fabulous Wishes. Click here to enter for a chance to win $1,000 to celebrate a friend with a refreshing attitude about looking and feeling fabulous!
Fab 5 Gorgeous Ladies of Blogging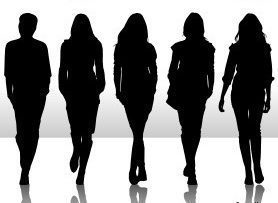 It's rare that I get a chance to talk about other bloggers on this site, but I've taken the time out to give honor where honor is due! As a NYC gal, I visit tons of NYC fashion and tech inspired blog sites daily – but the following fabulous bloggers and sites give me a great perspective of life beyond the concrete jungle.
"Entertainment Diva" (Atlanta, GA) TwanaTells – As a radio vet turned Blogging Diva, Twana promises "Da Truth and Nothing But Da Truth, So Help Me BLOG!" and she means it!  Her site is the go to site for celebrity news and gossip with the unique and colorful commentary that only Twana can give! Follow her @TwanaTells
"The City Grrl Out West" (Austin, TX) Grrlinthewrrld – My girl Catherine give you a look inside her world in Austin, TX from "Thrifting" to "Parties", she shows you how they do it best in the west. Check her out on Twitter @Grrlinthewrrld
"Oh So Gorgeous in Grey" (Baltimore, MD) – Ty Brown & I became Blog Sistas via Twitter before ever meeting in person!  Her site Gorgeous In Grey gives an in depth look at fashion & beauty from her unique perspective showing you that anyone at any age can be gorgeous in grey! Follow her @OhMyTy
"Diva of Designing" (Washington DC) – Artiatesia (ArtiatesiasDeal) is another Fabulous blogger online that takes designing to another level!  As the Creative Principal at ArtDeal Designs, a boutique design studio assisting Solopreneurs and Small Businesses with their web & graphic design needs her know how in tech definitely makes her someone you should know!  Follow her @ArtDeal
"Inspirational Diva" (Detroit, MI) – Krystal at It Magazine gives you a daily dose of inspiration that will keep you going throughout your day!  Her encouragement of inspiration to hope, dream & live keeps me checking out her site weekly and you should to! Follow her @itmagonlinellc
Don't forget to enter the 50 Fabulous Wishes contest for a chance to win $1,000 to celebrate a friend with a refreshing attitude about looking and feeling fabulous. I was selected for this Tropicana Trop50 sponsorship by the Clever Girls Collective, which endorses Blog With Integrity, as I do. I received compensation to use and facilitate my post.