As a busy gal on the go – it's easier than ever to find an excuse to avoid the gym.  Just today, I put my gym clothes on at 9am and can you believe by 8pm, I still haven't been to the gym?  With summer knocking on my door – it's now or never to get fit for bikini season.  So of course the timing couldn't be more perfect to find out about Gaiam TV!  What is Gaiam TV?  It's only the first streaming video subscription offering designed to reach those interested in health, wellness, yoga, fitness and personal development. With over 2,000 titles, Gaiam TV, it's like a netflix for health, wellness, yoga and fitness, delivering hundreds of hours of online yoga, Pilates and cardio classes. Gaiam TV viewers can practice with top instructors like Rodney Yee, Seane Corn, Jillian Michaels, Mari Winsor and Kathryn Budig.
As a huge fan of Jillian Michaels (yeah, I watched her work people out on TV as I sat down with a box of cookies – but this time, it's different…lol) you could imagine my excitement when I found out that I could check out a full assortment of Jillian Michaels workout sessions anytime I wanted!  Gaiam TV's yoga and fitness studios are flexible and simple to use. Viewers can customize workouts for weight loss, total body sculpting or increased energy and narrow down their options based on level, style, instructor and amount of available time. With Gaiam TV, viewers can easily search for videos, make playlists and preview selections. Plus, subscribers to Gaiam TV are offered the chance to rate and review Gaiam TV titles.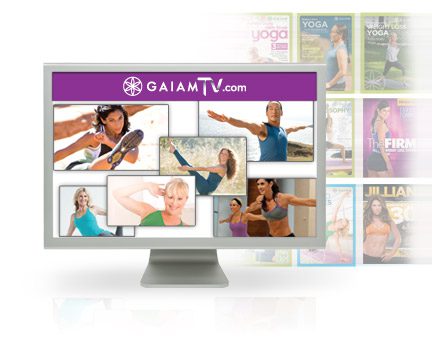 If you're still not convinced that Gaiam TV isn't perfect for you, don't worry  Gaiam TV offers a free 10-day trial to prospective subscribers. Gaiam TV's $9.95 per month subscription fee allows subscribers to stream unlimited content. The subscription to Gaiam TV is no strings attached; there is no commitment, and members can cancel at anytime.  Gaiam TV offers a Free 10-day Trial, No Strings Attached!
With instant access and 24/7 convenience, Gaiam TV's entire library of award-winning videos is available anytime, anywhere.  Streaming capabilities for Gaiam TV include personal computers, iPads and smartphones. It truly can't get any easier to workout whenever and wherever you want!