Everyone knows that New York Fashion Week is as fabulous as it gets…but it also does a number on your feet!  There's only so much walking (and sometimes) running your tippy toes can take.  This is where Dr. Scholl's For Her swoops in to save the day! Have you ever experienced Fabulitis?
Fabulitis:  Noun.  Discomfort caused by the decision to wear uncomfortable, yet fabulous shoes.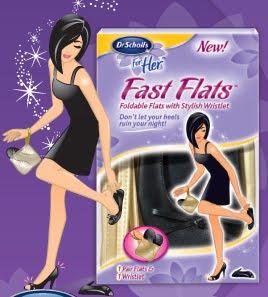 As the first and only full line of products designed specifically for women, Dr. Scholl's For Her is here to help.  From pedicure products to insoles for your favorite pair of heels, Dr. Scholl's For Her enables women to look and feel fabulous.
During New York Fashion Week – Dr. Scholl's has partnered with DivasandDorks.com to bring relief to fashionistas in need!
Catch us at Lincoln Center September 8th – 15th
The first 10 fashionistas to check in us and complete the phrase:
"Divas Drive In _____!"
will get their very own pair of Dr. Scholl's For Her FAST FLATS!  (Value $9.99)
(Click here for a HINT to complete phrase…)
These foldable and compact flats fit discreetly in your purse and include a stylish wristlet for easy portability on the go.  This spare pair is perfects for nights out, weddings, traveling through subways and running under the tents to catch the next runway show!
Disclosure:  Dr. Scholl's provided DivasandDorks.com products for use during this giveaway…