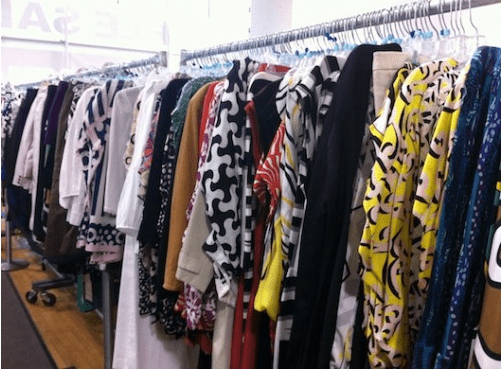 Looking for haute designer duds at reasonable prices in NYC is not as hard as you think!  With plenty of designer sample sales throughout New York City with slashed prices of up to 80% off – finding designer discounts will no longer be a problem, instead it'll be finding ways to keep your money in your pockets! Check out a few upcoming sample sales to look forward to next month below & an app that'll keep you on top of the NYC Sample Sale game…
RALPH LAUREN
Date: June 4th – 7th 2012
When/Where: Soiffer Haskin 317 West 33rd Street, NYC (Just west of 8th Avenue).
What to know: MEN'S & WOMEN'S, LUXURY, APPAREL & ACCESSORIES, Cruise, Spring and Summer Collections, CREDIT CARDS ONLY, (American Express, Visa or MasterCard), All Sales Final. No strollers allowed. No children under 12 will be admitted.
DIANE VON FURSTENBERG
Date: June 5th-June 9th
Diane von Furstenberg will be taking over 260 Fifth Avenue starting on Tuesday, June 5 and running through Saturday, June 9th.
When/Where: Tuesday, June 5 through Saturday, June 9. Tues 9am—6:30pm, Weds 10am—8pm, Thurs 10am—7pm, Fri 9am—5pm, Sat 10am—3pm. 260 Fifth Ave between 28th and 29th St
General discount: Up to 75% off. Tees were $40; pants, skirts, blouses, and sweaters were $80; dresses and jackets were $125; wrap dresses and vintage were $150; leathers were $250; and cocktail dresses and coats were $275.
What to know: Diehard DVF fans flock to this sale, so get ready for a really long line. Also, be prepared to squeeze through tiny aisles and possibly get stabbed by a hanger or two.
TORY BURCH
Date: June 12th – 16th 2012
When/Where: 261 W. 36th St (b/w 7th & 8th Ave), 2nd Floor.
What to know: This sale tends to draw large crowds (mob scenes at times and at one sale the NYPD had to restore order)… so be prepared to wait if you're planning to go on the first day.
 Looking for a way to have all your favorite sample sales, dates and locations at the tip of your fingers?  There's an app for that!  Why not download the ultimate app for all your sample sale shopping needs?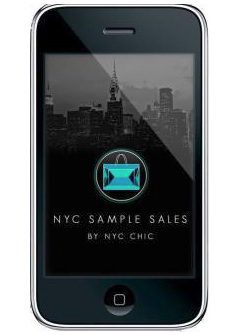 The NYC Sample Sales App
provides detailed info for dozens of samples sales in NYC and is one of the first apps to feature Apples's newest location awareness technology.  While walking the streets of NYC, a user can be immediately alerted to any sample sale within a 1one mile radius.  No longer will you have to scour the internet for the latest sample sale news, you can find it instantly with you smartphone device.