I know you've all seen the really cool and crazy runway looks that don't necessarily translate well into everyday life. No one wants to be a lack-luster attempt at fashion or better yet, a walking fashion faux pas. Not to worry, even the most eccentric trends can inspire a great looking outfit with a few minor alterations.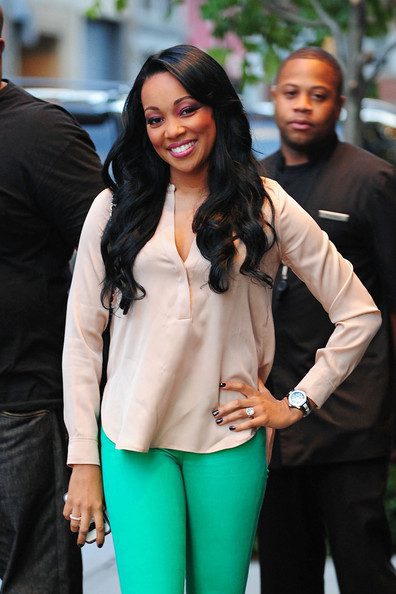 Monica stuns in a great pair of teal skinnies with an easy breezy blouse. The brilliant pop of color on bottom makes the songstress look fresh and chic. Using a pop of color to contrast with neutrals will give you a fresh look without "over-styling".  If you aren't quite comfortable wearing this brightly-paired look head to toe follow these three easy tips.
DO
Pair your colored jeans with great accessories; think a killer watch or a fab pair of heels. Chic accessories will compliment color contrasts while accentuating other neutral areas such as the feet, wrists, ears or neck.  Statement accessories work well, but be careful not to overpower your look with super busy pieces.  The fashion possibilities are endless!
DON'T
Avoid wearing this trend with overly complicated prints or textures. Too many patterns, colors and prints will have you looking less chic-ish & more clownish.  If you are trying this look for the first time, keep it simple until you are comfortable.
DO
Have fun pairing uncommon colors! Trends will come and go and shouldn't be over thought. The moment you feel over styled, start from scratch until you feel confortable in your look.  Try something once, if you like it great, if not move on!
J.Crew Toothpick mid-rise skinny jeans $125, Current/Elliott The Skinny low-rise stretch-corduroy jeans
$220, Joe's Jeans THE SKINNY COLORED JEAN $165
What Fall fashion trends are you excited to try this season?