Can you believe that we live in a day and time where the app highlighting one of Pop Music's Icon's is a best seller?  The "Michael Jackson Doctor Trial" smartphone app is the No. 1 seller among the Apple store's paid news apps. Launched Monday, the 99-cent app offers daily highlights, analysis and timelines of Dr. Conrad Murray's manslaughter trial, which started Tuesday.
The app is compatible with the iPhone, iPod touch, iPad and Android phones and tablets, and is the creation of Fox Television Stations Inc. The content is produced by Los Angeles Fox affiliate KTTV.
Prosecutors allege that Murray, Michael Jackson's personal physician, was negligent and caused the singer's death on June 25, 2009. Murray's defense team contends that Jackson took an extra dose of anesthetic while the doctor was in the bathroom.
The trial is the subject of across-the-board coverage on HLN, with Murray-related programming included in all HNL shows, including Morning Express with Robin Meade,Showbiz Tonight and Nancy Grace.
Yeeesh,  I can't be the only one that feels some sort of way about this one.  First, we're contributing to the hollywood propaganda and glorifying the misfortune of the Jackson family.  I understand the curiousity of it all but, it just think something like this should've been left in the capable hands of CNN or MSNBC and not your hand-held mobile device.
SCREENSHOTS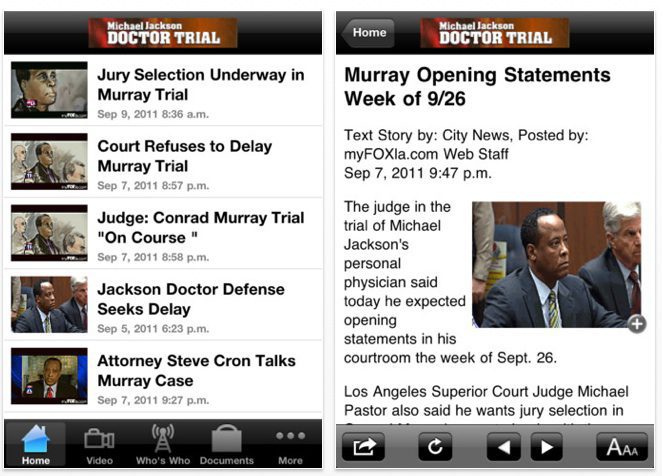 Would you download the $.99 cent app?