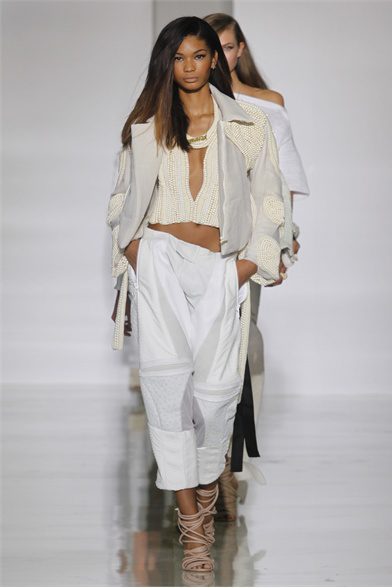 Flowing fabrics, leather and fur, beaded stilettos and matching "Yeezi" (taught me)  nameplates adorned the models throughout the anticipated release of Kanye West's Paris Fashion Week debut.  Featuring runway royalty with the likes of supermodels including Chanel Iman, Jourdan Dunn, Karlie Kloss, Abbey Lee Kershaw, Anais Mali and Izabel Goulart.  There were several high acclaimed pieces including this cream finale piece worn by model Chanel Iman.
The textures were accompanied by a host of different cuts , from daringly cut dresses and color-block pants to body-hugging tracksuits and high-end hoodies.
Going against the typical light, feathery drapes and colors of spring Mr. West presented a spring collection that consisted mostly of typically fall materials like leathers, furs, and heavy knit sweaters.
There's current speculation if the untitled line will be named "Yeezi" , "KW" or "DW"  one thing that's for sure is that the ready to wear designer line will spell W-I-N for the Hip Hop Phenom and be proven as a step in the right direction for this budding designer.  (We just need to know how soon we can get our hands on a fur backpack…)
For more looks, check out Vogue.it