If you're like me, your inbox was doomed from the start!  It's the time of year that any business you've ever shopped online before feels obligated to email you at once…and sometimes more than once in a day!  You've received hundreds of Black Friday, Small Business Saturday and Cyber Monday emails days (and maybe weeks) before the holiday weekend began and now you're anxious about ridding yourself of an overcrowded inbox, once and for all…
After a few failed attempts at organizing, deleting and unsubscribing to emails one by one, I've discovered how to delete sales emails and clean your Gmail inbox in three easy steps.
Step One:
From your Gmail inbox type IN:UNREAD Black Friday in the search box and press Enter.  (This will highlight all of the unread emails in your inbox.)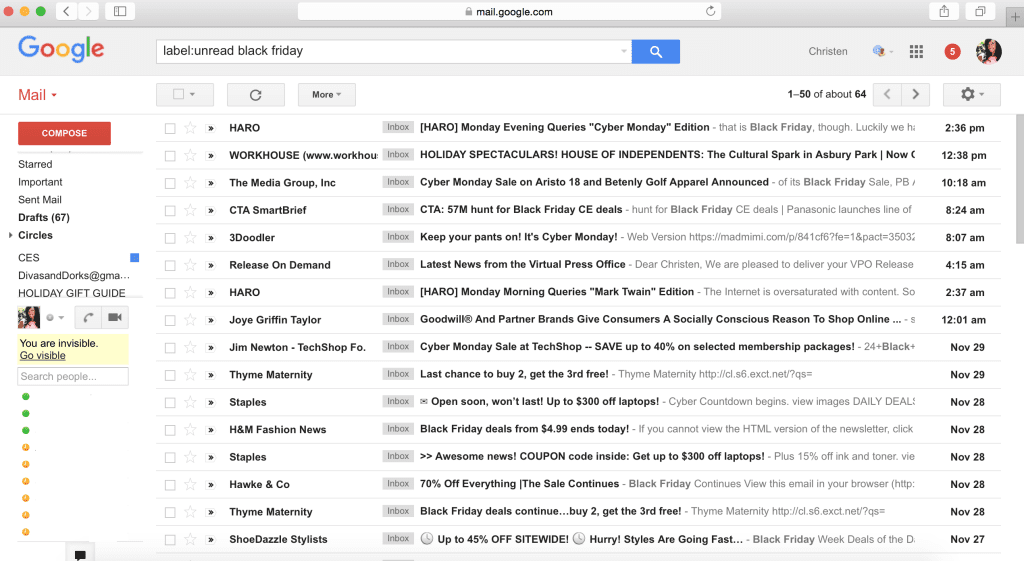 Step Two:
Click on the box in the upper-left corner of your inbox that lets you select different types of messages. Click the down arrow and choose ALL from the drop-down menu.  Google will then give you an option to select all messages — conversations via a link at the top of the page.  Click the link that says "Select all xx,xxx conversations in inbox" (This action will select all of the unread messages in your inbox – not just all of the unread messages on the current page.)
Step Three:
Now all of the unread messages in your inbox should be selected and highlighted.  Click the More button above your inbox, choose Mark as read. Lastly, click OK on the confirmation pop-up window to confirm your decision to mark each and every e-mail in your inbox as read.
Need to get rid of Cyber Monday emails? Repeat steps 1 – 3 by typing in IN:UNREAD Cyber Monday in the search box instead.  This eCleaning method is a quick and easy a way to clear the tens of hundreds (or thousands) of emails out of your inbox by marking them "as read" versus deleting or archiving all of them.  After all, who knows – you may need to access info from long lost emails and as long as they're present in your inbox, you can easily find them again using the search box tool.  (If you just want to get rid of them completely – choose delete and POOF….they're gone!
Have you been able to organize your post holiday shopping emails?  Share your best tips to organizing your inbox below!