If you've ever been warned about downloading a new Apple update, and have heard the suggestion to "Wait, until the bugs are worked out." chances are, you've been blessed with great tech advice. With the recent release of Apple iOS6 software update, there have been many praises for several app enhancements but just as the good comes to light, so does the bad. One of the major gripes Apple users are moaning about include the unreliable Apple map app. One notable expression was "Maps takes all the trust Apple has built up among its users over the years — trust that its products just work — and squanders nearly all of it in one go." – Mashable.com.
New York addresses seem to be completely wrong, turn by turn directions are slightly off and inspite of acquiring three navagation / map companies and having a few years to perfect the iOS map – it's still #NoBueno.
It's even been reported that there was a parody account poking fun at the new unreliable app…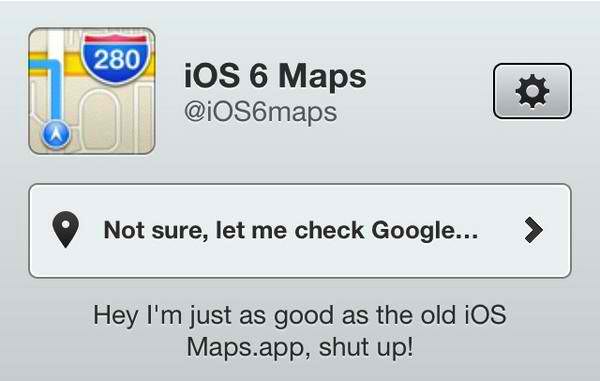 (the account has since been removed…)
You can't expect for Apple to get it right 100% of the time can you? After all, there are some great updates as listed in yesterday's post – however, some of my favorite discoveries include the new 'Do Not Disturb" feature, Phone call decline/ automatic text function and a variety of new emoticons added to the animated gallery. My least favorite has to be loosing Google Maps (and transit reliability) and the send read receipts option (this isn't BBM...).
Have you tried out the new iOS6 update and features? How long did it take to update? Which features did you try first? Which functions do you love?