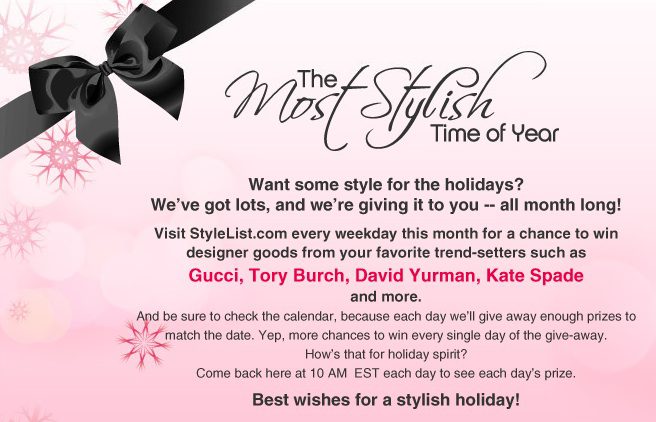 As we enter the 2010 holiday season, DivasandDorks.com, AOL and StyleList want to send some holiday cheer your way…and invite you to enter the most fabulous sweepstakes yet : "The Most Stylish Time of the Year!"
Each weekday this December, StyleList will be giving away luxurious and glamorous new prizes. The number of prizes we are giving away each day will correspond to the date (8 prizes on December 8th, for example). On Dec. 31, we're celebrating with our biggest day yet – yes, they will be giving away way more than 31 prizes! In total, you have a chance to win one of 445 high end, chic prizes, during the month of December!
Want a sneek peek?  On Dec. 2, StyleList be giving away 2 pairs of Christian Louboutin platform pumps – these pumps are the perfect dancing shoes for holiday parties!
On Dec. 6, we'll be giving away 6 Gucci purses. Seriously.
On Dec. 15, we'll be giving away 15 DVF Wrap Dresses. Her wrap dresses have become iconic, and we want 15 of our readers to have one in their closets!
This sweepstakes just launched this morning with a fabulous Fendi Peekaboo purse as our first prize. Each weekday, the prize will change over at 10am EST, so check back every day at that time to see that day's prize & enter again!
Click the image above to enter or just go to StyleList.com for your chance to win!  Check back daily!!!