Tis the season to look fabulous! With all of the upcoming family gatherings and holiday parties for Christmas and New Years, I've put together 3 of my favorite Holiday Party looks that are sure to make you the best dressed employee at the Holiday party, the most stylish cousin at the family get together and the sexiest woman bringing in the New Year.
When celebrating the holiday with family, I always want to look cute and comfortable so this year I will be wearing my favorite denim top from Avenue at $34.50.
Just like Plaid, denim shirts are back in style and I love the way mine fits (Not too small, not too big).
I will be pairing my denim shirt with my Vibrant Flame Minnie Pant from J Crew ($79.50). They are unbelievable comfortable. I can dress them up or down. I love them so much I bought them in Black, Navy and Khaki as well.
My shoe pick also comes from J Crew. Ill be wearing the Glitterati Ballet Flat ($158) that are comfy with a touch of sparkle!
———————————————————————————————————————————————
Unfortunately I am not apart of Corporate America but I have tons of friends who are preparing for their office Holiday Party and if I am not mistaken, it takes place after work. That's why I chose the Bubbled Career Navy dress with the camel bow skinny belt from Rackety Rack at $120. Its perfect to wear to work and head right over to the party after work hours. I love all of the beautiful drapes and folds. I would pair this dress with some Opaque tights with matching black pumps from Steve Madden at $99.95.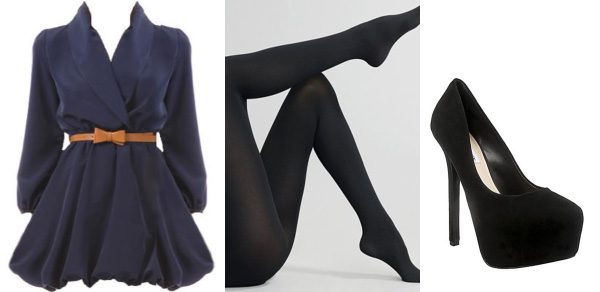 If you are planning to attend a formal Holiday party, here are two dresses that will definitely make you stand out in the room. My first choice is the Swing Dress from ASOS Curve ($136.35). Its soft, feminine and flows so beautifully. Another great option is the Samantha Sequin Party Dress by one of my favorite designers Monif C ($228). You can never go wrong with Sequin, it is a definite show stopper. I would pair this form fitting glamorous dress with a nude Louboutin Pump. What looks do you have your eyes set on for the upcoming Holiday parties?
———————————————————————————————————————————————