On the heels of New York Fashion Week, fashion's most exclusive event, Old Navy is throwing the year's most inclusive fashion show. On Friday, September 14 from 4-8pm ET, Old Navy is inviting women of all shapes and sizes to model Rockstar Skinny Jeans at The Fit for Fall Fashion Show for All in New York's Bryant Park.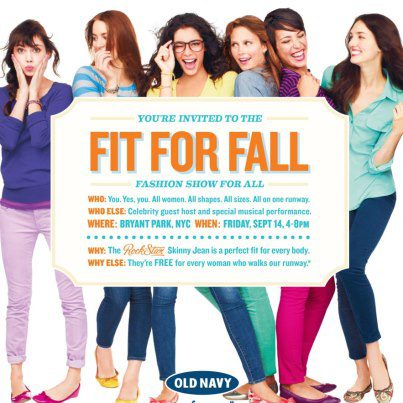 Everyone who struts their stuff on the jean-shaped runway will walk away with a free pair of Rockstar jeans. (The colored denim line, available in 31 shades, retails for $34.50.)
"Our Rockstar skinny jeans offer the perfect fit for every body, and we're inviting everybody to rock them on our runway," saidMichelle DeMartini, senior vice president, Old Navy Adult Merchandising and Brand Licensing. "We're doing a fashion show the Old Navy way, bringing the fun to all and turning our customers into models."
Can't make it to NYC on Friday?  On Thursday, September 13, select stores in Atlanta,Chicago, Dallas, Los Angeles, Miami, San Francisco andToronto will be shooting "model funfolios." Shoppers in Rockstar denim can pose in front of a green screen that will digitally transport their image onto a runway for a true model shot. Customers should connect with local stores for details.  Fans across the country can also follow the fashion show action live during a social media takeover of Old Navy's Facebook (Facebook.com/OldNavy) and Twitter channels (@OldNavy) with #fitforfall.