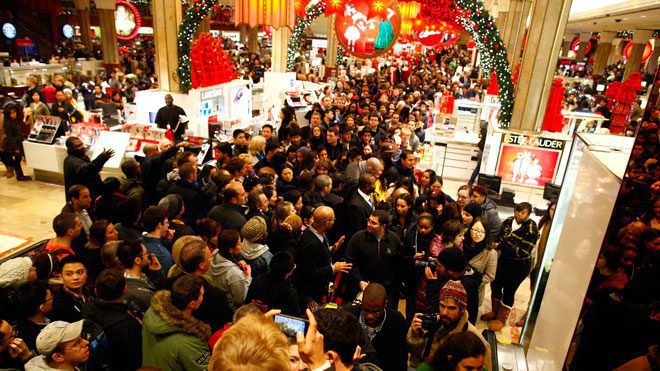 Black Friday Shopping is single-handedly the biggest shopping day of the year!  It's no wonder why major retailers are doing their best to wrangle shoppers in with tempting deals available as early as Thanksgiving day.  After searching through countless circulars, frequent shopper emails and my favorite destination for all things Black Friday Shopping (TheBlackFriday.com) I found some of the best black Friday shopping deals from Best Buy, Target and more worth every moment of camping out and waiting in line for below.

Known as one of the premier shopping destinations for Black Friday shoppers – Best Buy is where the hardcore shoppers camp out for the exclusive deals.  Shoppers won't have too much time to be thankful on Thanksgiving with family since the lines for the big box store will probably wrap around the corner early morning prior to store doors opening on 5pm Thanksgiving day.
Panasonic 50″ tv ($199)
Microsoft Surface ($299)
Macbook Air 11.9″ ($779.99)

Macy's
Who doesn't love all things Macy's?  From major designers like Michael Kors, Gucci and more plus all the housewares, electronics and beauty brands you can imagine, it's no wonder why Macy's has one of the best Black Friday Shopping sales of the year.  Macy's, NYC's classic department store has just released a 56-page Black Friday 2014 Ad that will keep you warm, cozy, properly furnished and well-dressed the whole winter long. Doors open 6pm Thursday Nov.27th to Friday Nov.28th at 10pm, and again Saturday from 7am-1pm. Check the Ad for Sunday and Monday sale hours as well!
Enjoy fabulous discounts on men's and women's pants, sweaters, coats, jackets and more. There's also tons of clothing to choose from for teens and kids. If looking great and feeling festive is your aim, then Macy's is the place to shop this Black Friday 2014. Check out a few of my favorite black Friday shopping deals and steals below.
JLA Home Reverisble Sherpa Comforters ($49.99)
International Concepts Jackets ($39.99)

KMart
Known as one of the deal-buster shopping destinations for Black Friday shoppers – KMart is where I can find exclusive deal for everything your home needs.  In the past I've scored huge money saving deals and this year should be no different.  Shoppers won't have too much time to be thankful on Thanksgiving with family since KMart will also open on Thankgiving Morning at 6AM for Thanksgiving Doorbusters in addition KMart will reopen  on Black Friday at 6AM for Black Friday Doorbusters.
Proctor Small Appliances ($4.99 Each)
Samsung Galaxy Tab 4 7-in Tablet w/ 8GB ($149.99)
Mach Speed Xtreme Play 7-inch Tablet ($29.99)

Target
Target has been synonymously known as the store to go to if you want the best selection of products and deals, especially when it comes to Black Friday.  With plenty of deals on electronics and gaming, you can be sure to find customers lining up early starting as soon as today.  Store opens at 6PM on Thanksgiving day with sales continuing into Black Friday and even Cyber Monday.
Element 40″ LED HDTV ($119.00)
GoPro HERO3+ w/ $50 Gift Card ($249.99)
Xbox One 500GB Console Bundle w/Assassins Creed Unity and Black Flag w/$50 Target Gift Card ($329.99)
WalMart
Walmart, one of the biggest Black Friday retailers of them all, has just released a 40-page Black Friday 2014 Ad jam-packed with doorbusters, discounts and deals that will light up your holiday with holiday cheer.  Choose from deep price cuts on the latest electronics, audio equipment, brand name kids' toys like Sesame Street, kids' clothes, video game consoles and games, home and backyard furnishings and accessories, bedding and bath accessories and so much more.
Walmart is kicking off its Black Friday Event on Thursday Nov.27th at 6pm with a one-hour guarantee (in-store only) on all front and back of items (while supplies last). It will be open for Black Friday Nov.28th from 6am on.  Walmart is really going all out this year with extra incentives too. For example, buy an iPhone 6 or iPhone 5s and get a $75 Walmart gift card. You can also trade-in your old smartphone and get up to $200 on a Walmart eGift Card!
Element 32″ 720p 60Hz Class LED HDTV ($98.00)
PlayStation 4 (w/ Free $50 Walmart Gift Card) ($399.00)
Canon Rebel T5i dSLR Camera 2-Lens Bundle ($699.00)
Customers are already camping out and lining up for super Black Friday deals this year.  Are you planning to brave the crowds with Black Friday shopping?  How do you battle the crowds for the best deals?  Share your holiday shopping tips and tricks below.
Comments