Why try to borrow the man cave when you can build a personal oasis of your own.  Say hello to a she shed!  Never heard of a she shed? It's sort of like a man cave, but totally different. The idea is simple. Take an old shed and transform it into an oasis of relaxation and rejuvenation—a place where women can leave stress and responsibility at the door, if only for a few hours. She sheds are?a relatively new idea, so the smart folks at Best Buy decided to show you just how easy it is to make one.
Design is one thing, but creating a smart space, filled with all the necessary technology you could need is another!  Check out how Best Buy can equip your She Shed with a few ultimate relaxation retreat tech upgrades below..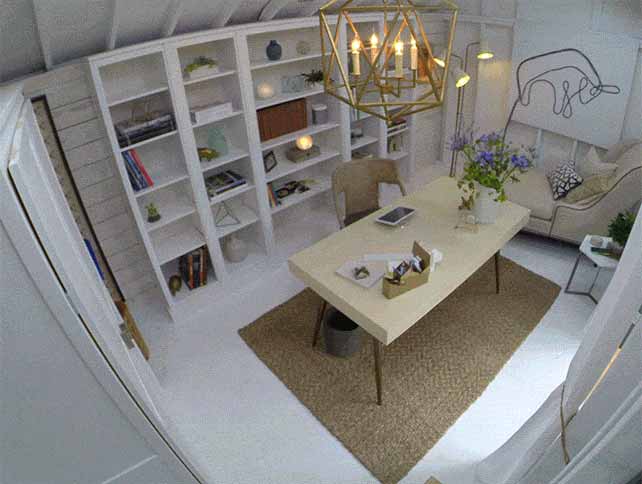 Extend the Wi-Fi for endless entertainment
Streaming music, movies and TV shows are great ways to unwind, but to stream successfully, you need strong Wi-Fi. Getting that signal out to the she shed in the backyard is often a challenge, so one of the first things the Best Buy team did actually didn't happen in the shed. They added a Wi-Fi range extender inside the home. A strategically placed extender boosts the range of your existing router so the wireless can reach more places. Once it's set up, you can enjoy movies on a tablet or music through a Sonos wireless speaker inside the shed.
Set the mood with your phone
The right lighting can make all the difference. The Best Buy team wanted maximum flexibility in our she shed, so they went with Philips hue. It has 16 million different colors, including presets like "Reading," "Relax" and "Energize." Everything is customizable and controllable via your phone. They used hue bulbs in our lamps and portable hue GO lights on the shelves. They even wanted phone-control for the chandelier, too, but since it uses standard lights, they plugged it into a Belkin WeMo switch instead. The switch lets you turn things on and off right from the WeMo app.
Create a hidden refreshment station
Coffee. Tea. Wine. I'm sure you would want them all at the ready in you ultimate she shed, but having too many small appliances in a small space could clutter things up and ruin the aesthetic. The solution is simple. Hide them. The Best Buy tucked an espresso maker, an electric tea kettle and a wine cooler inside a cabinet. (Be sure to cut the back open behind the cooler for adequate air circulation.) In the corner, they added a Dyson fan. It doubles as a heater to keep the shed warm on crisp, fall evenings.
Grant access without a key
The days of hiding a key under the mat are over. Now you can replace the old padlock with an August smart lock. Installation was pretty easy and it works with most standard deadbolts. Once it's set up, not only can you lock and unlock the shed from your phone, you can also send an invite to a friend so she can enter for specific periods of time.
Want to discover more ways to personalize you oasis with a few tech upgrades? Visit BestBuy.com!
Disclaimer: The reviewer has been compensated in the form of a Best Buy Gift Card and/or received the product/service at a reduced price or for free.
Comments