There are many ways to describe a hybrid driving experience.  This month I'm rolling along the #hybridsummer journey to discover the best hybrid drive auto brands have to offer.  From highly-charged to electronically subdued and several infused versions in between.  Not all hybrids can offer the right mix of useful technology inside a car that you'll enjoy driving .  The 2018 Ford Fusion Energi; however, offers a mix of the best features you can find in a hybrid with sophistication, power and style. If you are planning to get your first car, it's worth considering to buy used car which could be a hybrid vehicle. You should also inspect your garage to ensure your new car will be kept in a safe and secure space. Contact a garage door services contractor if you've been having issues with garage door.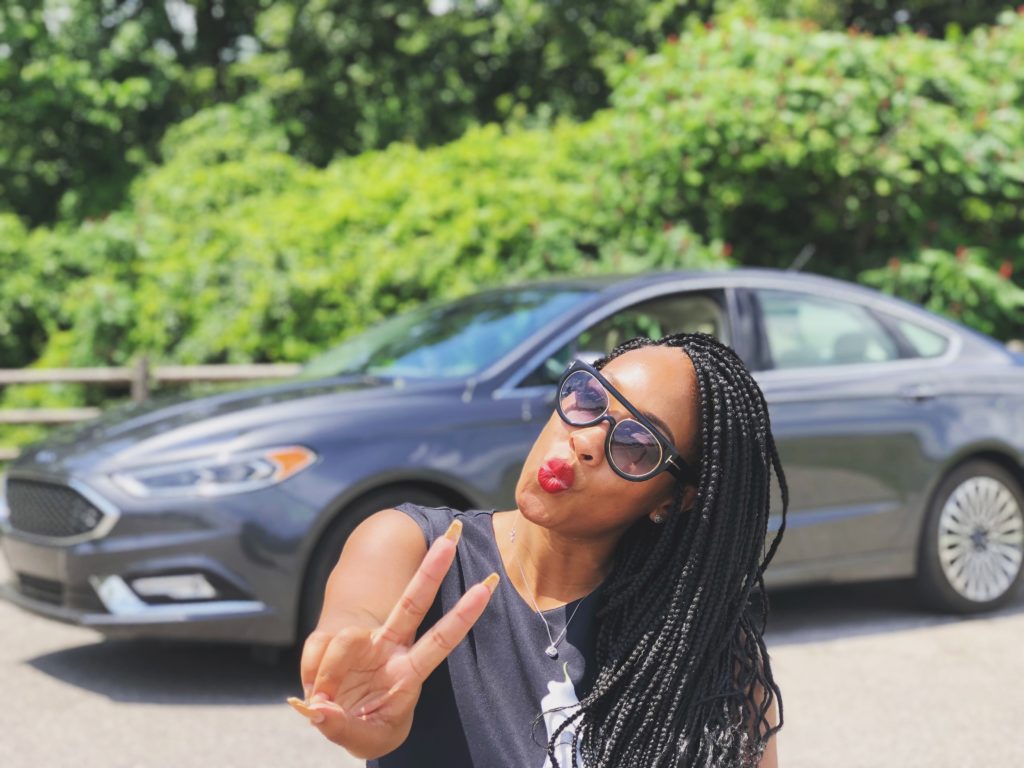 First Impressions.
At first glance, the Fusion Energi captures your curiosity as it doesn't come off as an intimidating nor docile drive.   There is a sporty aesthetic with sprinkles of luxe elements that elevate the hybrid comfort experience. But as a mid-sized family sedan, I was determined to discover if the Fusion Energi delivered more…and it definitely did! It's surprising performance on the road matched with luxurious interior touches such as premium leather, quilted stitching and chrome features make the Fusion a beautiful, sophisticated drive from the inside out.
`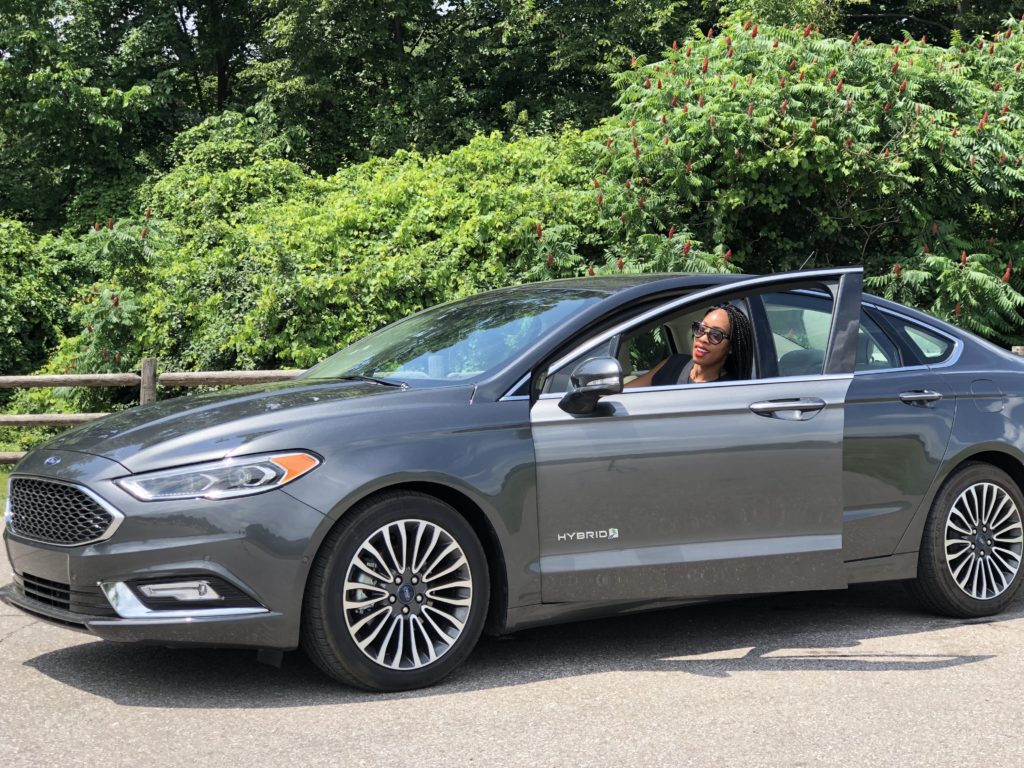 Sophisticated Smarts.
Ford's Sync 3 system is filled with features and pretty intuitive, however when it comes to the user interface, it's not my favorite feature to explore.  As far as infotainment goes, you'll find plenty of USB ports, Bluetooth connectivity, navigation, real-time traffic/weather and even the optional Android Auto and Apple Car Play option to make the drive entertaining along the journey.  One of my favorite features has to be the SmartGauge with EcoGuide – it's like a hybrid command center for your entire vehicle.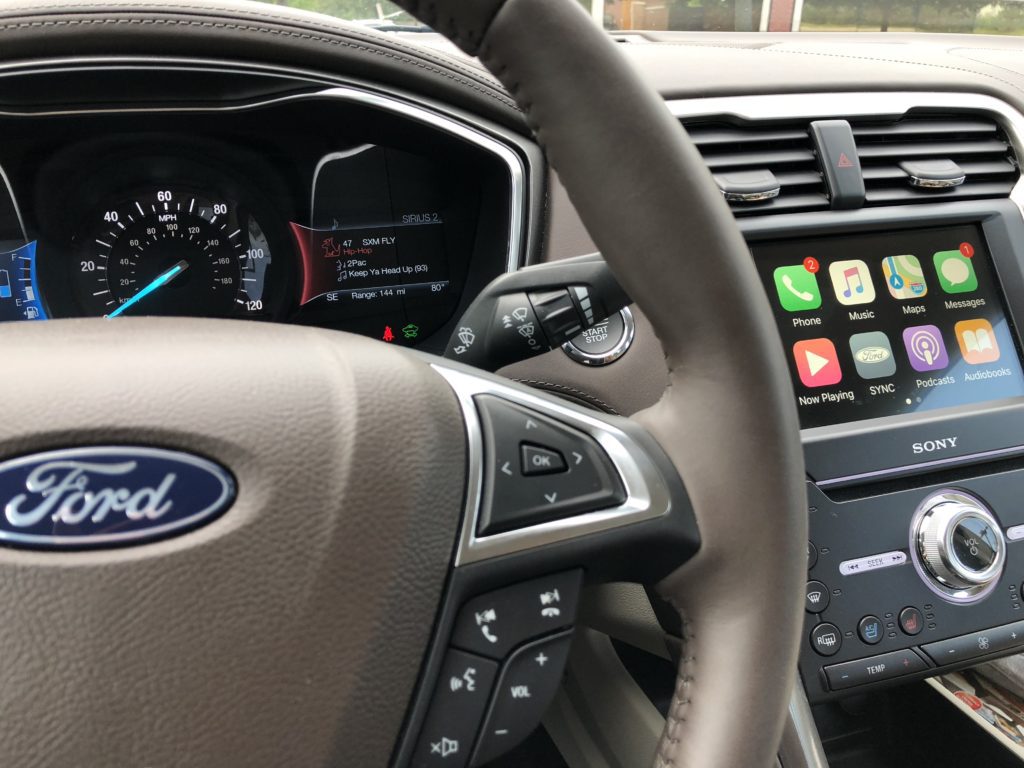 The SmartGauge with EcoGuide provides real-time information to help you stay in control of your drive. The MyView feature offers customizable screens such as Brake Coach to help you with efficient driving, plus display screens encouraging your good "green" driving efforts with blooming leaves and vines.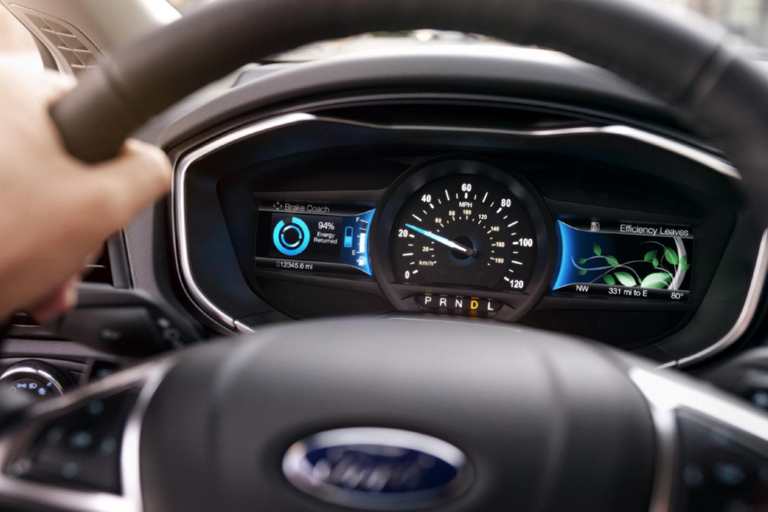 While driving the Fusion, I realized that I like the idea of being rewarded for efficient driving, but I think I prefer the reward as an enhanced driving experience like a power boost or unlocking an additional drive mode rather than visual gauge graphics.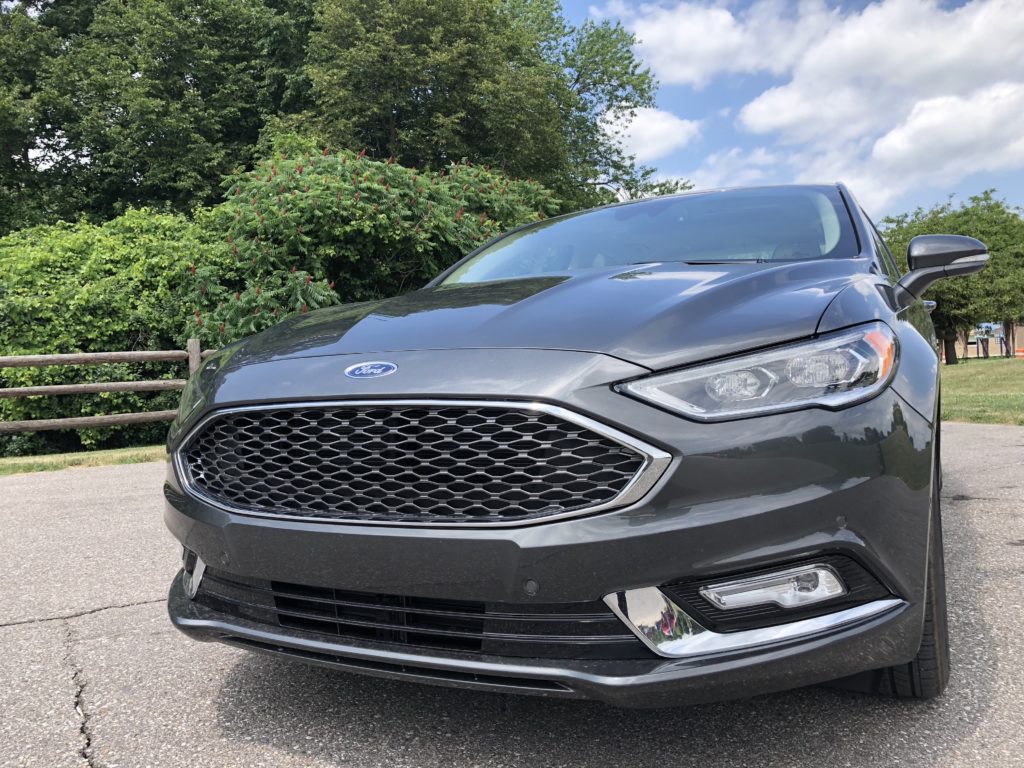 Interior & Exterior.
There's something about a distinctly crafted grille that makes a great first impression! The Ford Fusion introduces sporty sophistication in its carefully crafted lines and sedan silhouette  From the chrome grille and 18" wheels to the mesmerizing LED taillights, it's one of those rides that grabs your attention and makes you want to step inside to see what the Fusion is all about.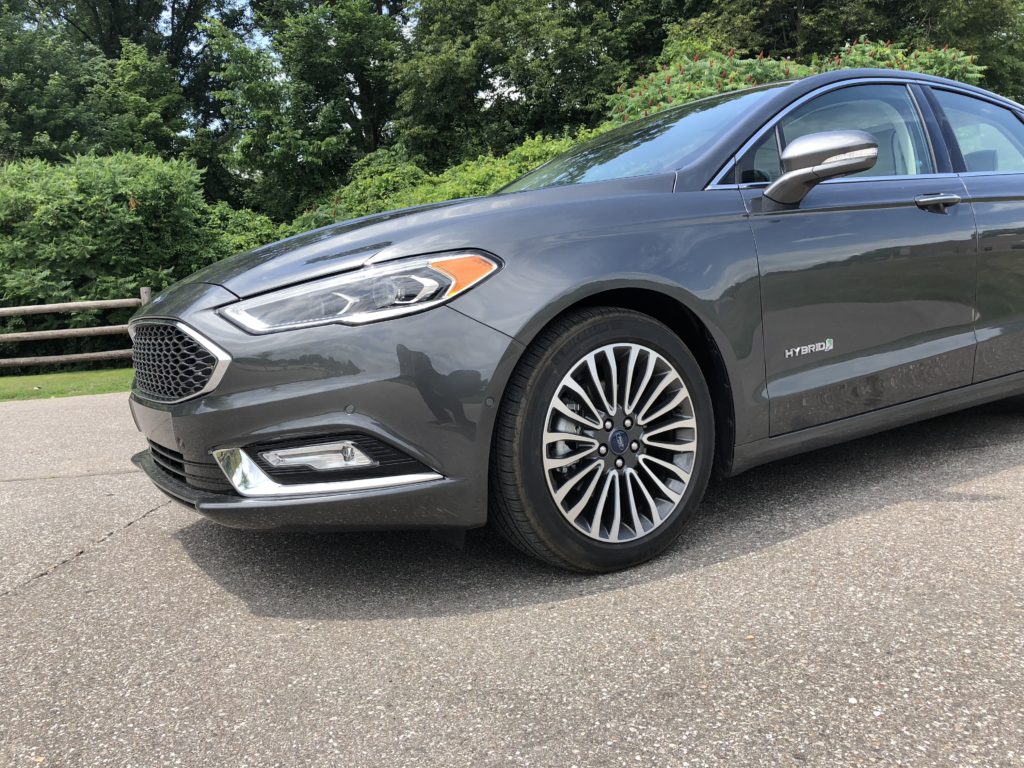 The premium leather seats in medium soft ceramic (white) offers a luxe classic touch to a seemingly smart and studious sedan. Equipped with heated seats, sport pedals and 2 smart charging USB ports, the Ford Fusion thrives on being fashionable yet functional.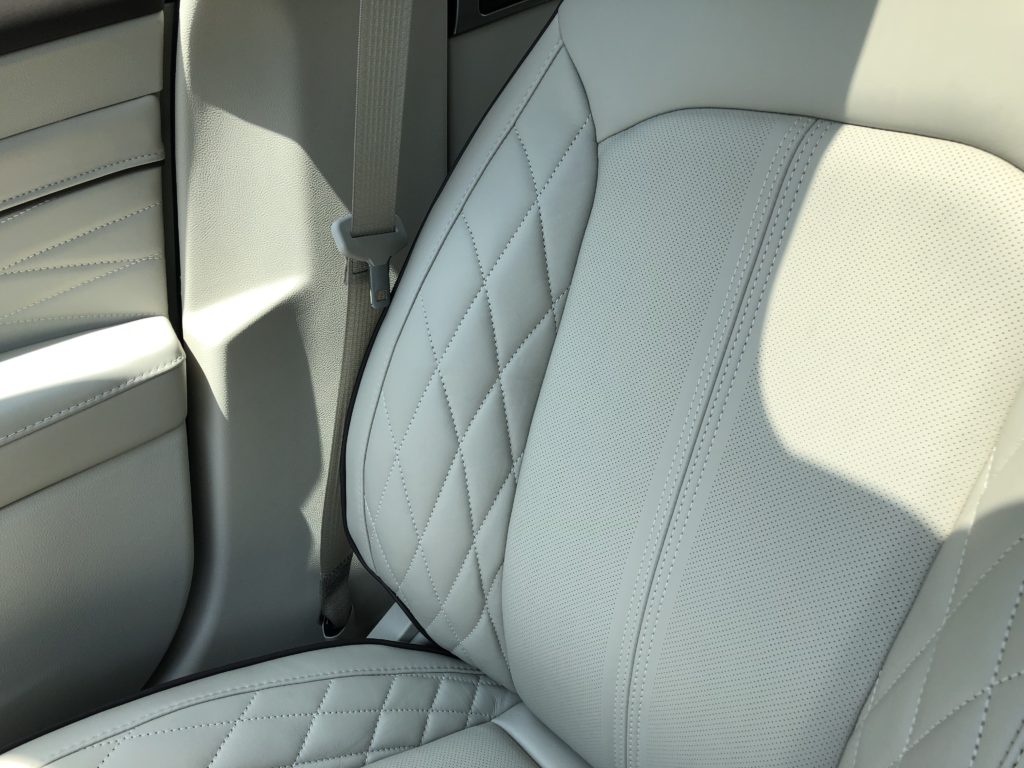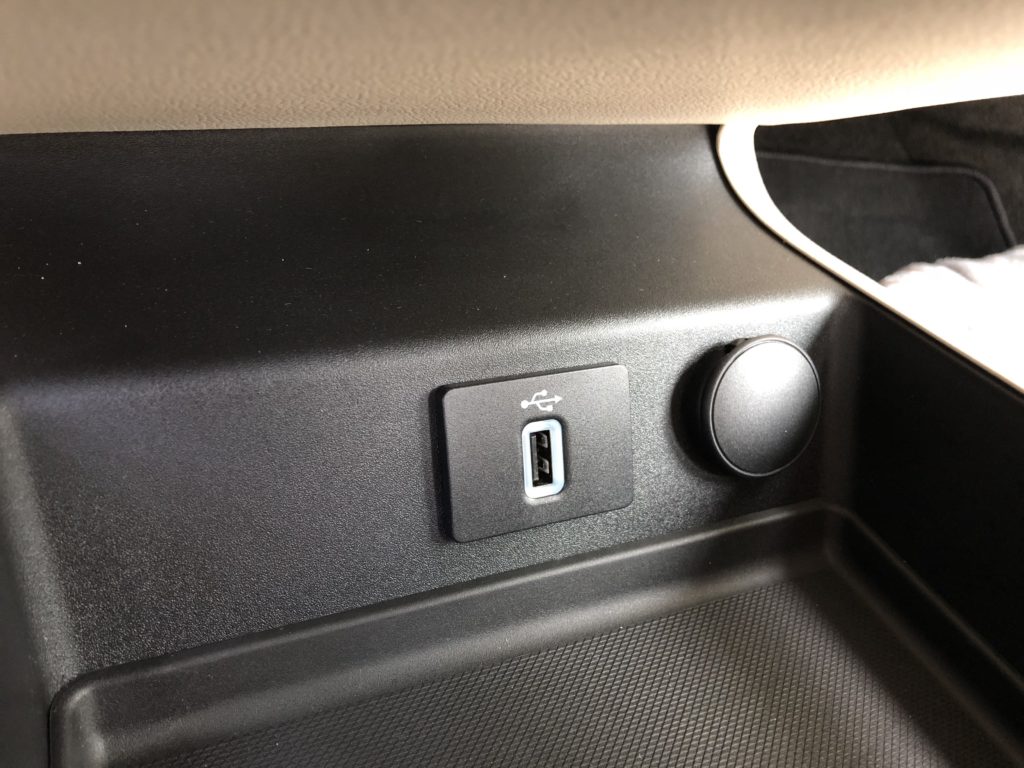 The Hybrid Drive
The Fusion Energi drive was stable and consistent.  While it didn't "scream push it to the limit!", it confidently relayed that it could keep up with the more sporty hybrid sedans, all while staying efficient on the road.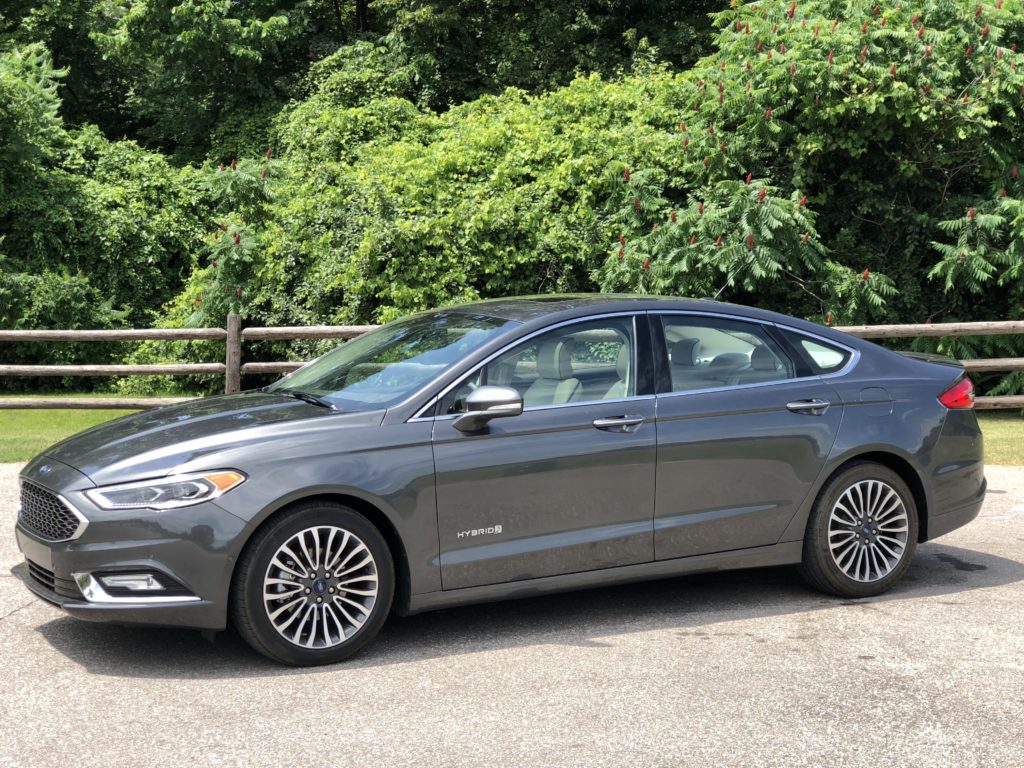 By now, I've come to the conclusion that I'm looking for a hybrid that's looks fun and feels fun to drive.  The Ford Fusion Energi definitely looks like it fits that category, however I think its more suited for hybrid/efficiency enthusiasts rather than those just looking to step foot into a hybrid drive (that is fun to drive and efficient) for the first time.  Overall, it's a great sedan filled with enough technology and sophistication to carry you down the road in style.
For more information on the 2018 Ford Fusion Energi (Platinum) visit Ford.com.