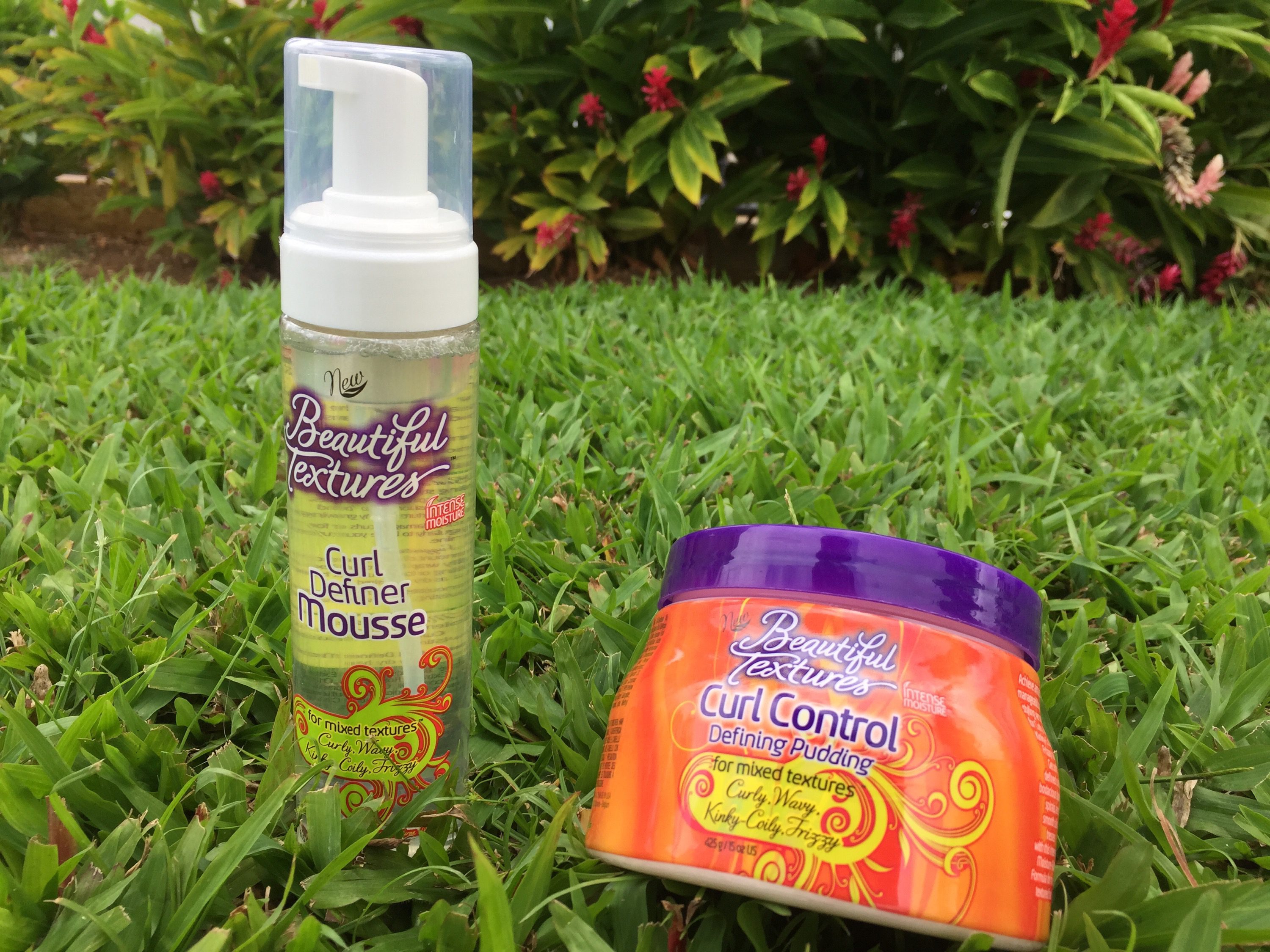 Planning an epic trip to the Caribbean soon?  There's much more to discover than just fun in the sun.  The island of Jamaica offers miles and miles of beautiful coastlines and exhilarating adventures.  You can discover all beauty the island has to offer just by spotting the simple pleasures that mother nature placed right before your eyes.  Thanks to the wonderful team at Visit Jamaica and Beautiful Textures, I recently got the opportunity to uncover 10 beautiful moments awaiting you in Jamaica and hopefully it'll inspire you to enjoy the Caribbean soon.
10. Eating fresh sugar cane picked from the earth.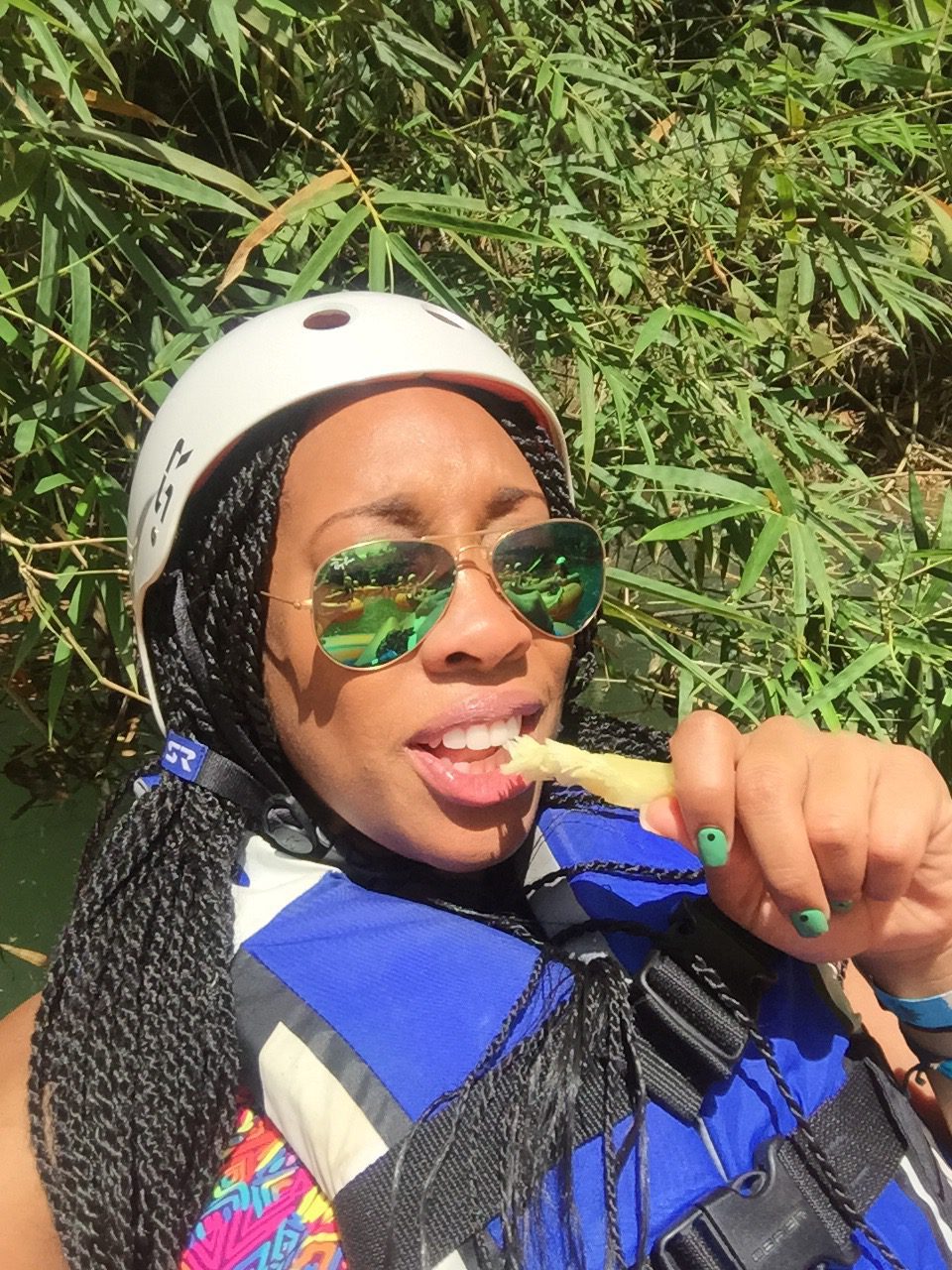 Jamaica is one of the largest exporters of sugar cane in the world.  During my visit, I had the chance to witness fresh sugar cane plucked from the earth, chopped, peeled and it was SWEET!
9. Partaking in authentic rum-inspired beverages.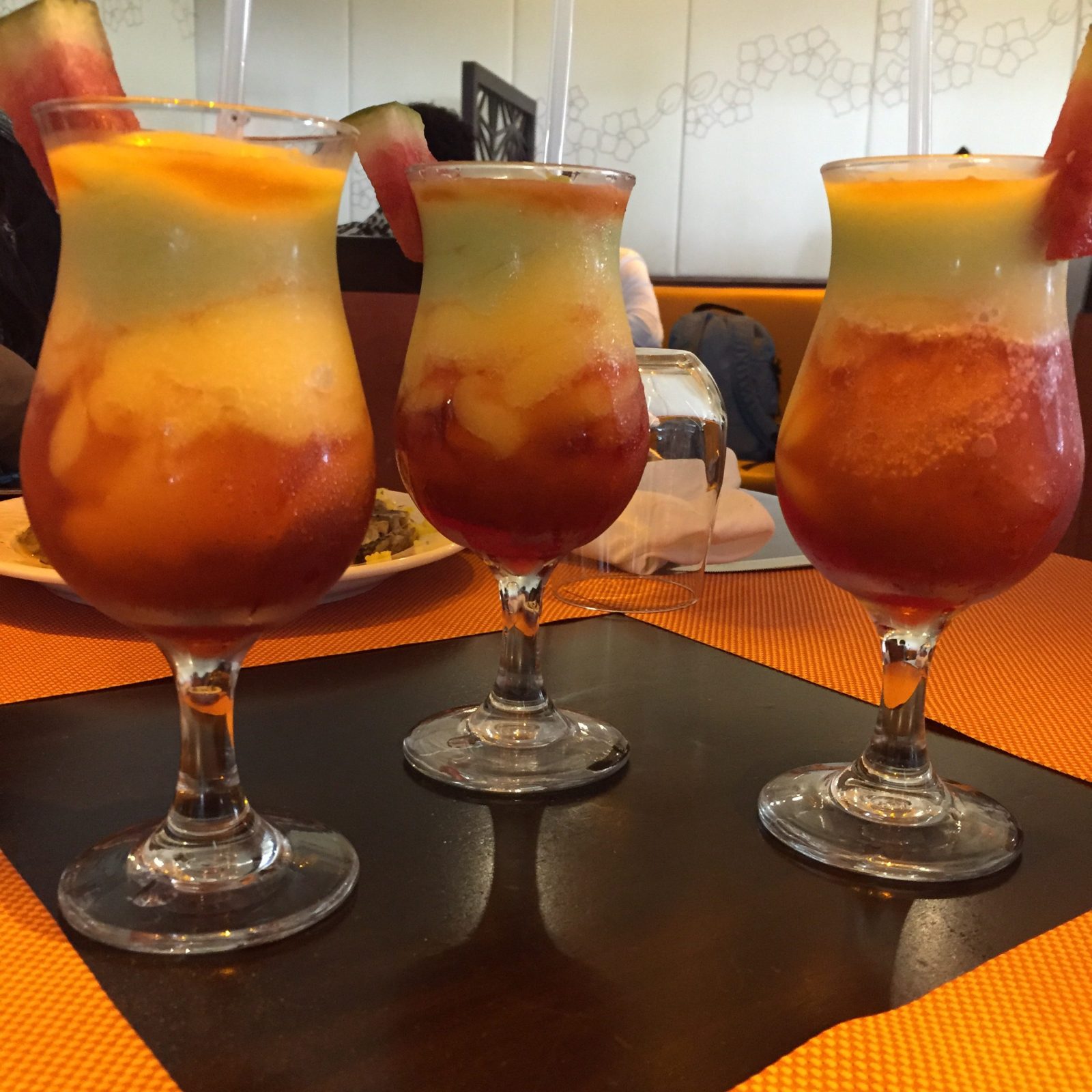 Of course with so much sugar cane being produced in Jamaica, it's no wonder that Jamaican rum is one of the most-celebrated beverages on the island.  During our island immersion, we had countless opportunities to indulge in an rum-infused frozen cocktail known as a "Bob Marley".   What's in a "Bob Marley"  you ask?  Check out the recipe described by our talented bartender below:
1 oz. Creme de Menthe, green
1/2 oz. Liqueur, banana
1/2 oz. Rum, overproof/151 proof
1 oz. Grenadine
Mixing Instructions
The true Bob Marley is grenadine at the bottom, creme de menthe in the middle, and 151 plus creme de bananna, so it makes the red, green and yellow of the celebrated Rastafarian colors. Drink and ENJOY!
 8. Charter the ocean in a jammin sea vessel.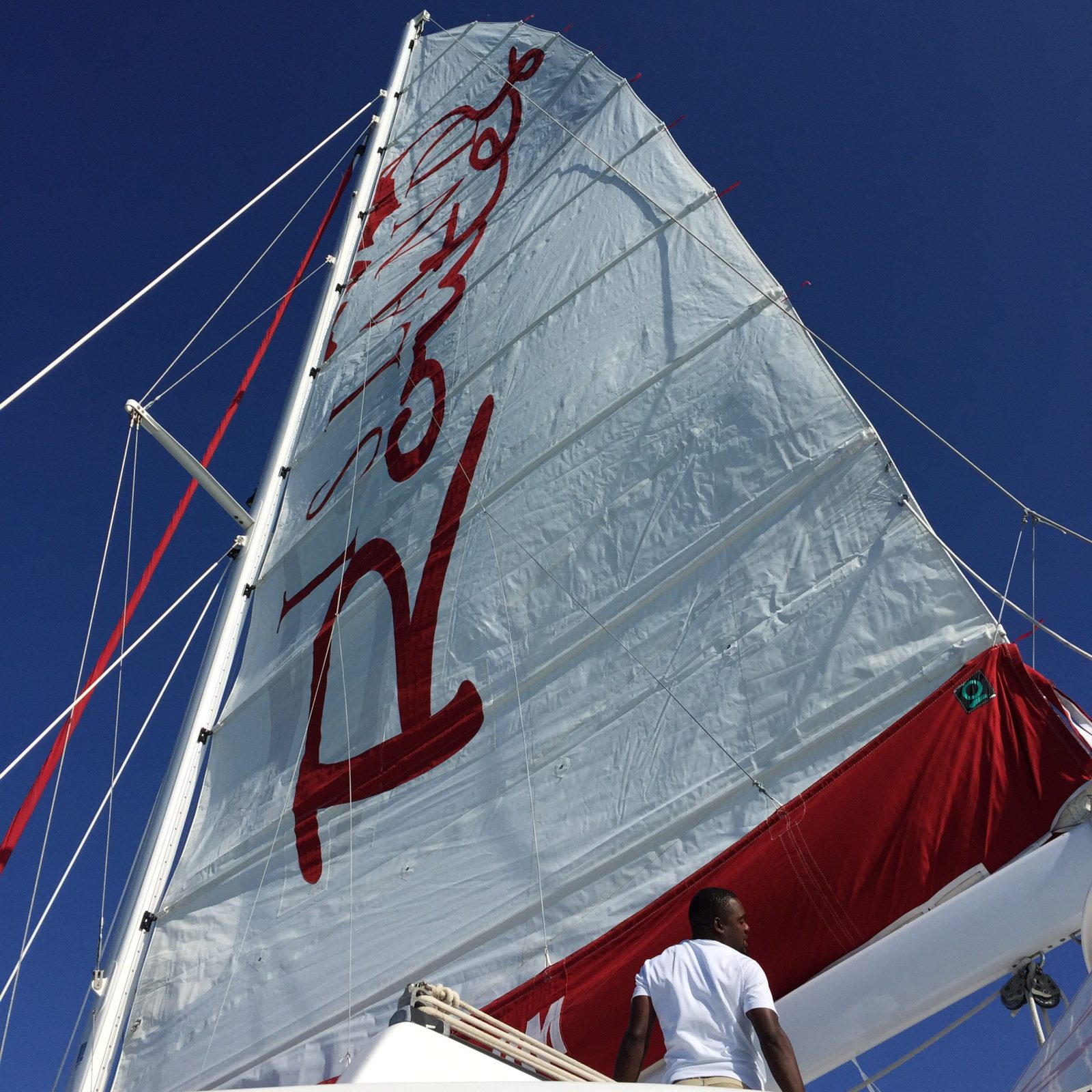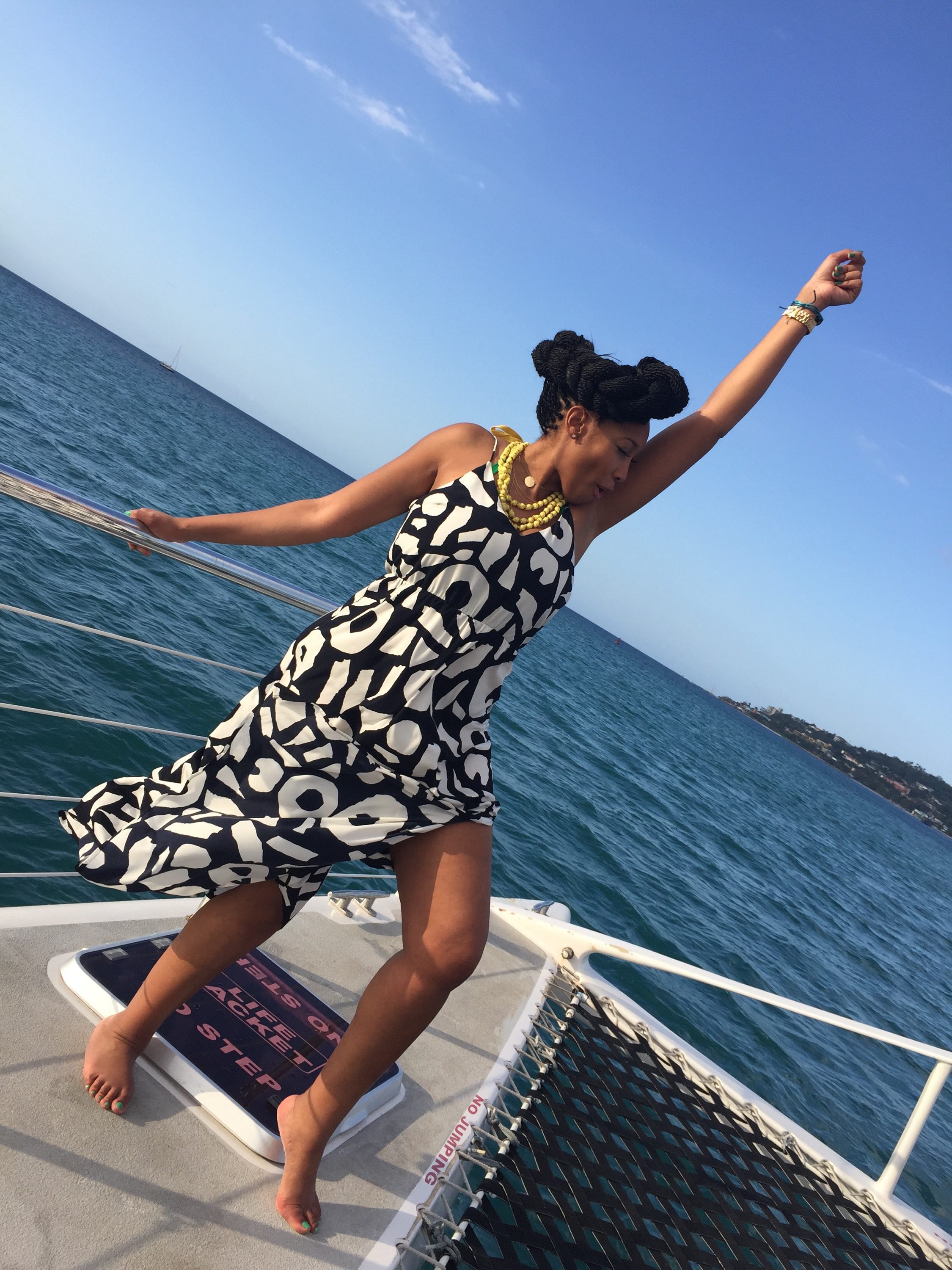 When planning on an Island Routes excursion you need only two things – an open mind and desire to have fun!  During our deep-ocean fun, we traveled throughout the nature lover's paradise, with its exploding waterscape of fluidic rivers, lush waterfalls, sea-green beaches and colorful culture.  We jammed on board with drinks and plenty of dancing and enjoyed the scenic beauty that only Jamaica could provide. 
7. Drinking fresh coconut water with a bamboo straw for a better body, skin and health!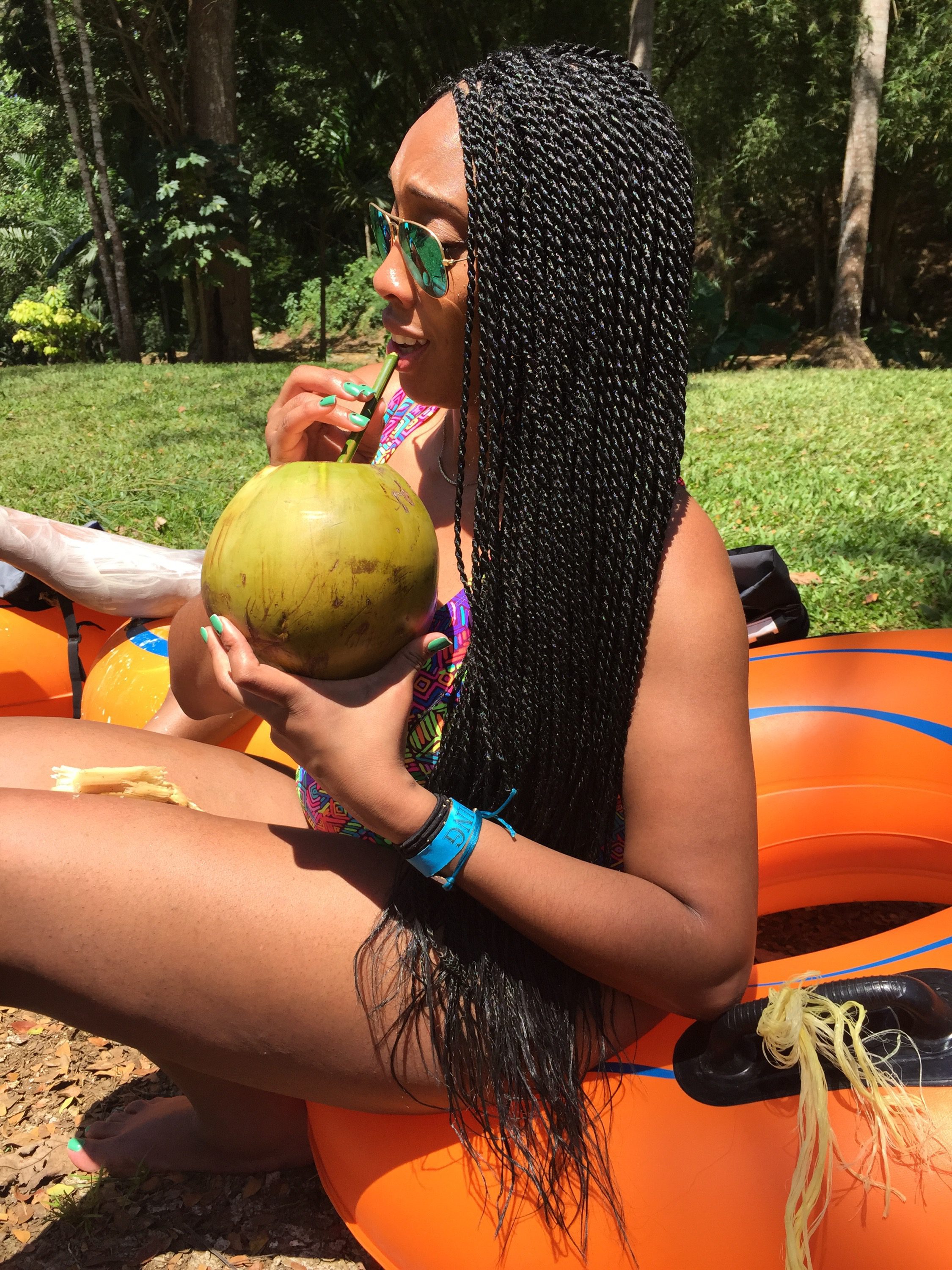 Coconut water is the ultimate thirst quencher and offers a tasty alternative to water. This pure liquid is packed with nutrients that yield an array of health benefits.  For example, did you know that drinking fresh coconut water helps aid weight loss, creates picture perfect skin and is the ultimate remedy for an island hangover?  It's true!  
The fat content in coconut water is extremely low, so generous quantities can be consumed without the fear of immediately packing on the pounds. It also suppresses the appetite and makes you feel full because of its rich nature.  
For those with acne or other blemishes on the surface of the skin, topical application of coconut water can go a great distance as it has the ability to clear up and subsequently tone the skin. It also moisturizes the skin from within if ingested orally and eliminates large amounts of oil. This explains why products such as facial creams, shampoos, conditioners and lotions that contain traces of coconut extract are more effective.
Next time you overdo it and drink more than your belly can handle, consume coconut water to settle your stomach. It will also replace those essential electrolytes that exit the body if you experience bouts of frequent urination and vomiting.
6. Discover the country-side of Jamaica with friends.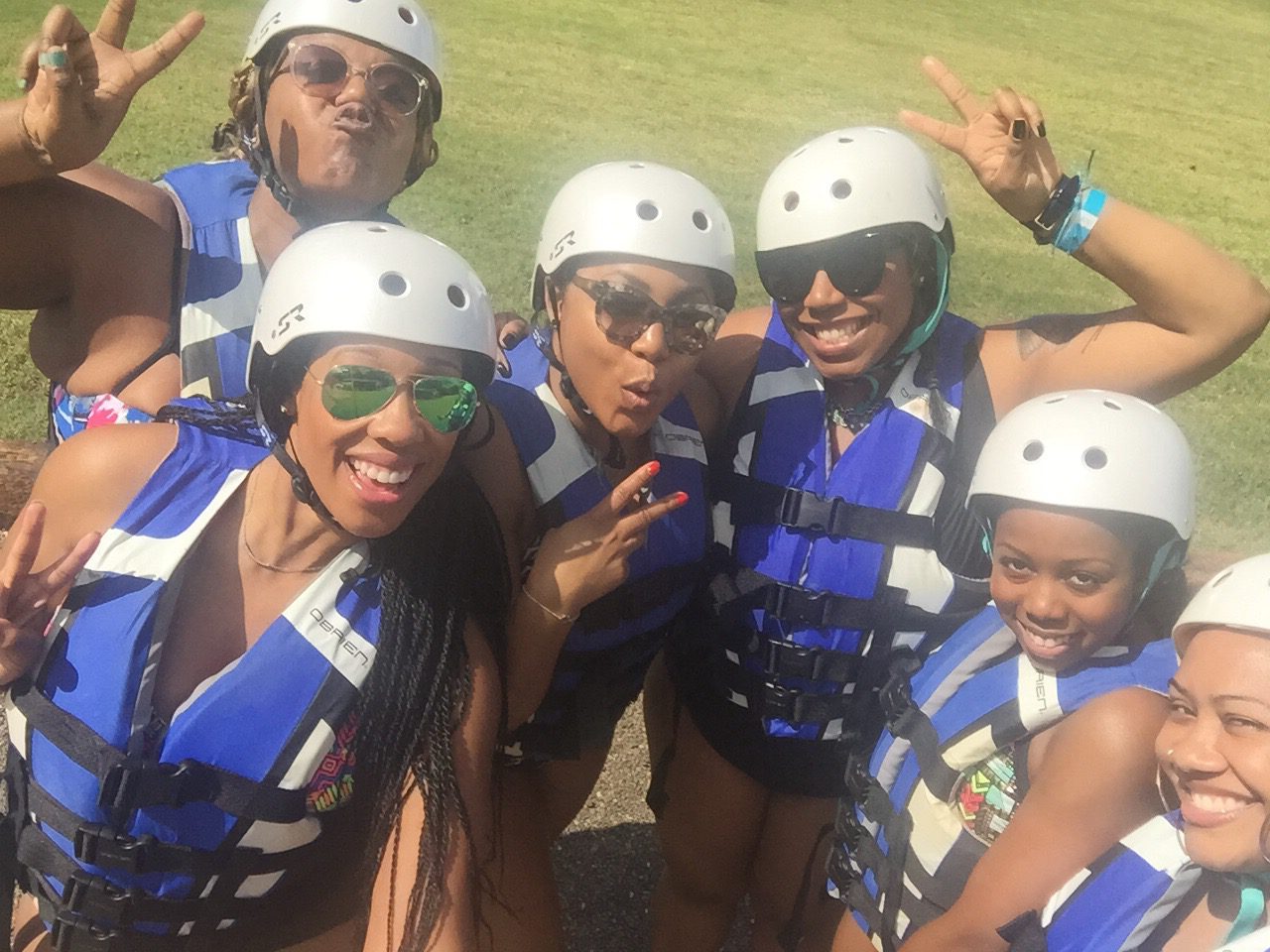 A pre-River Bumpkin usie with Danielle, Kela, Ty, Jacqueline and Brande FTW!
You've heard the phrase "country bumpkin" but you've never experienced the country-side of Jamaica until you visit Jamaica's River Bumpkin farm! Hidden away behind the lush Trelawny forests, this quaint plantation takes you off the beaten path to a site brimming with history and excitement.  From river tubing and kayaking down the gentle river's edge, to biking past some of the most beautiful landscape Jamaica has to offer, this natural gem is the perfect place to connect with nature.
5. Indulge in a limestone and olive oil foot massage.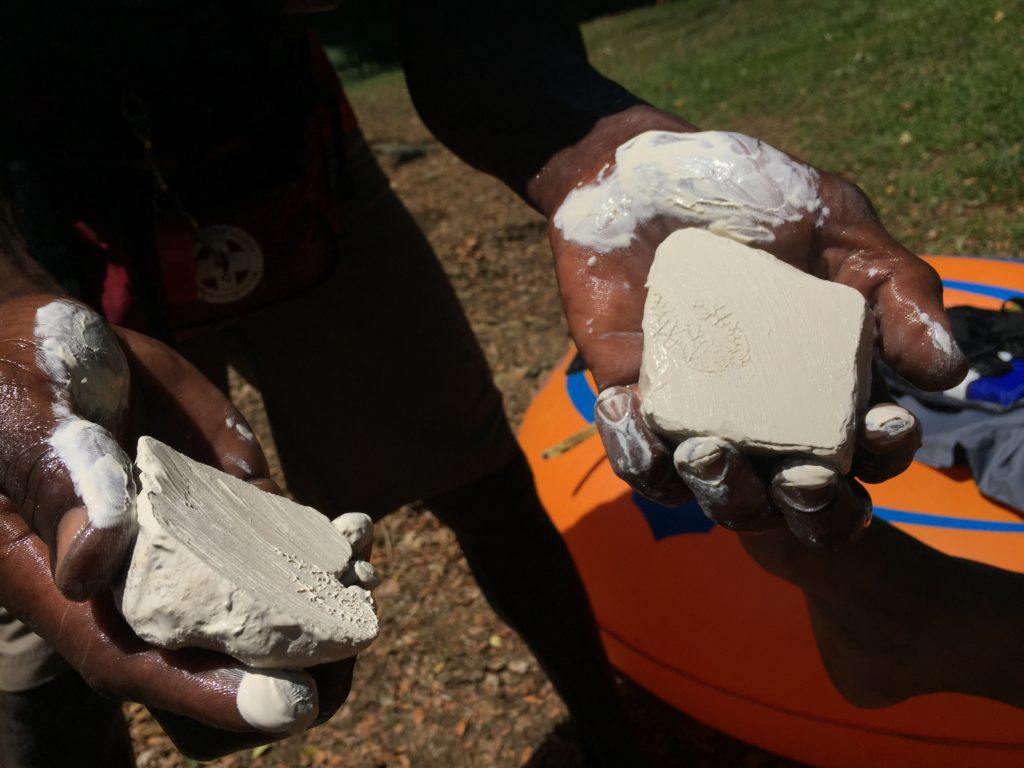 Preparation for the ultimate limestone foot massage.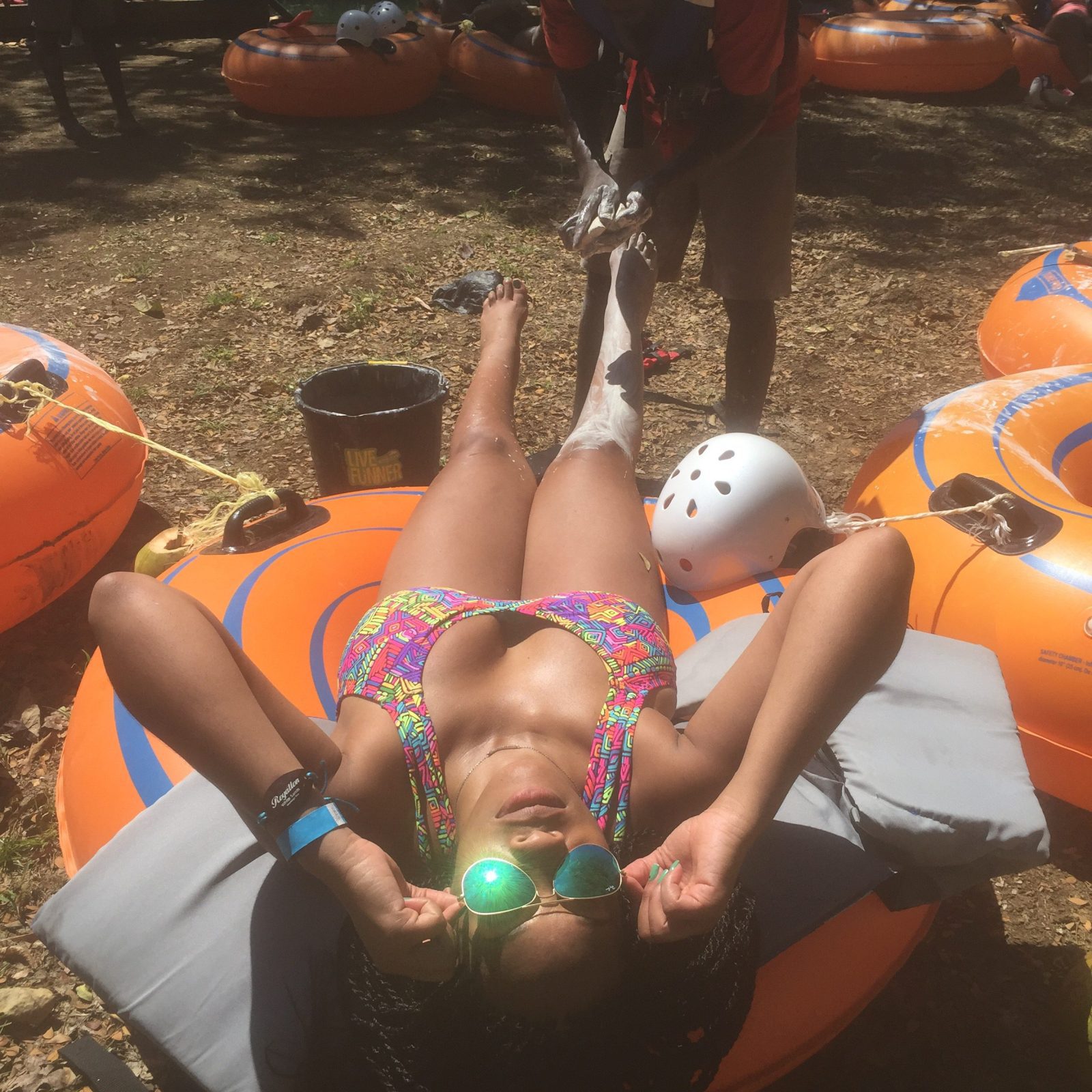 You haven't lived until you've had a limestone and olive oil foot massage in Jamaica.  After this exfoliating miracle massage, your skin feels soft, smooth and completely renewed!
4. Take in authentic Jamaican cuisine.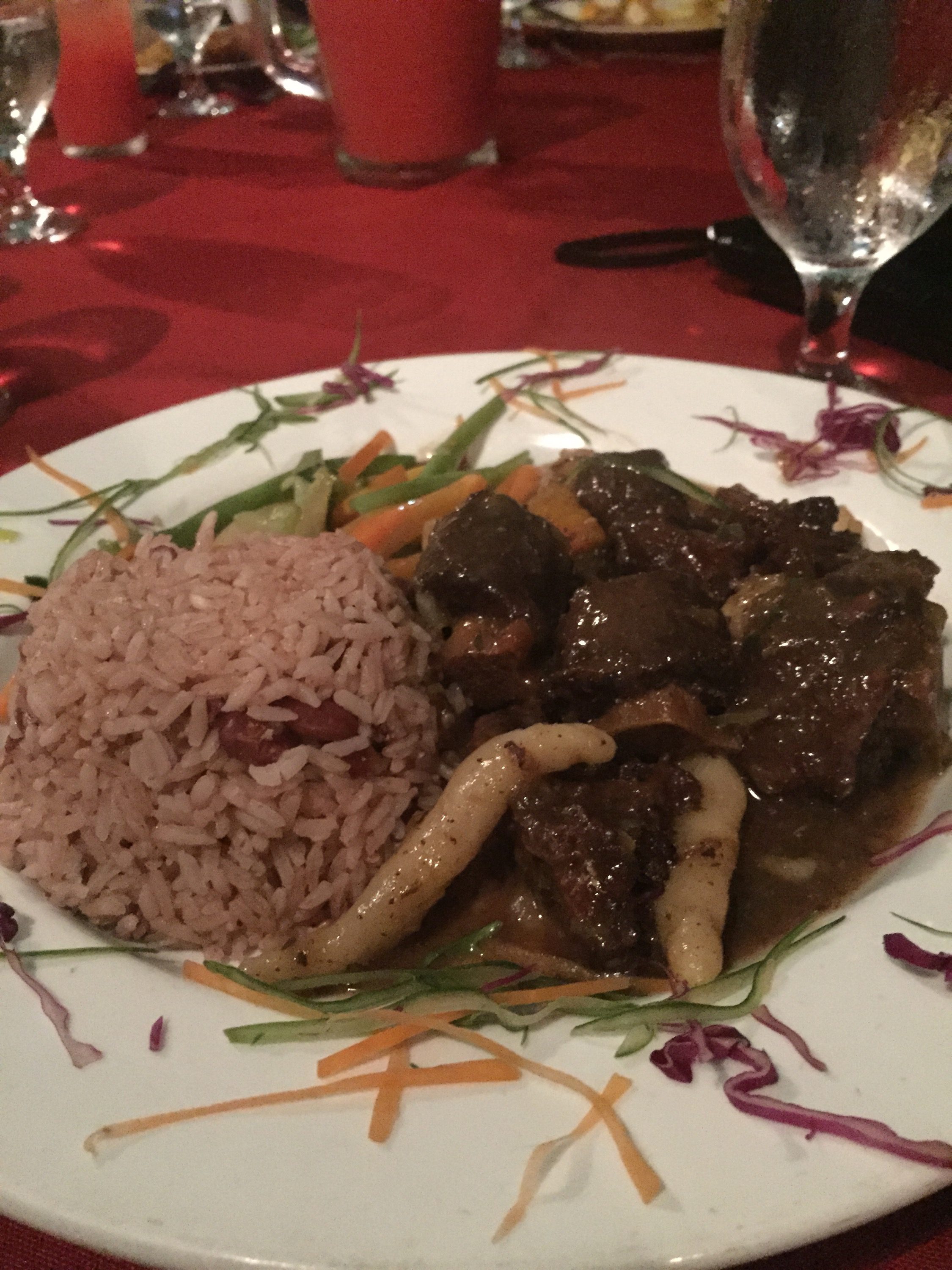 Jamaican cuisine at it's finest – Oxtail Rice and peas cuisine.
My Jamaican cuisine of choice consisted of oxtails rice and peas.  There are many delicious dishes of Jamaica, but my favorite by far is oxtails.  Oxtail is the culinary name for the tail of cattle. In Jamaica, it is most often stewed with butter beans and served with rice.  During dinner at Pier One, I indulged in an authentic dish of oxtails, rice, peas, vegetables and plantains.  
3. Cruise the calm Jamaican river with local tour guides.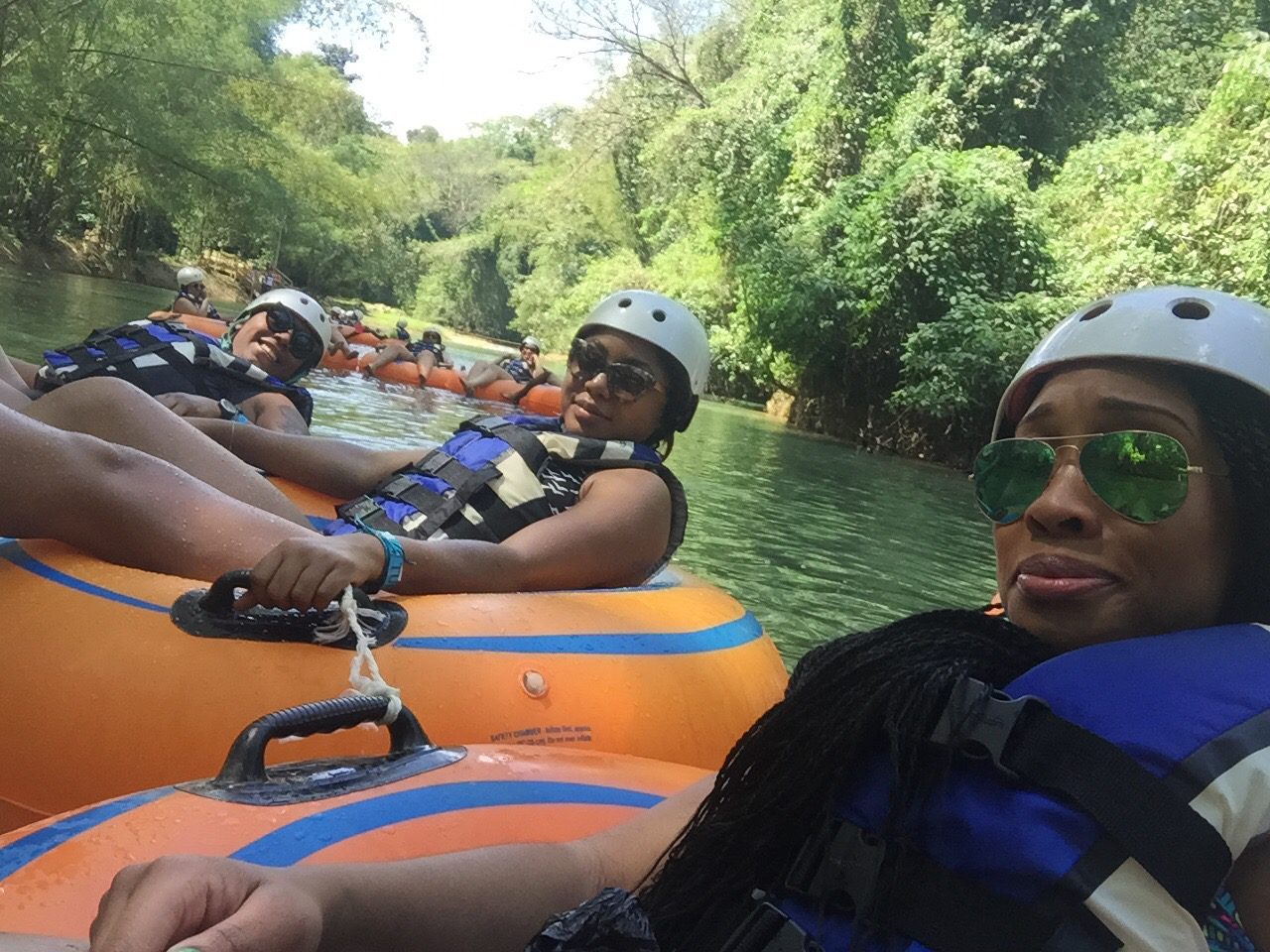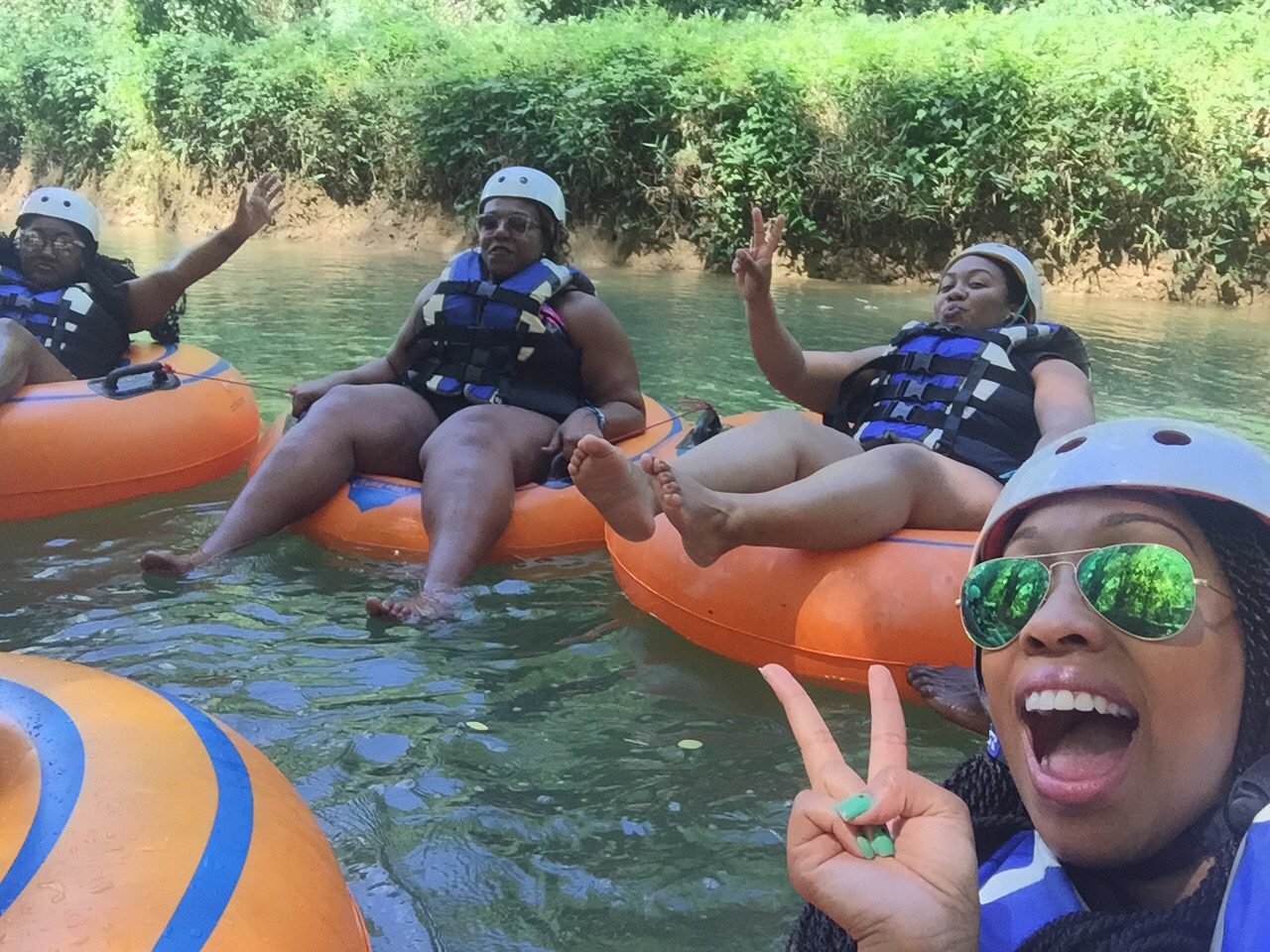 River photo-bombing with Kimberly Walker (screen writer), Danielle Young (HelloBeautiful) and Brande Victorian (MadameNoire)
 Experience the twists and turns brought on by the river and take-in the majestic scenery of Jamaica. The adventure starts the moment you board your tube at the water's edge. As you navigate the peaceful river, your knowledgeable guide will show you the ropes and introduce you to a seldom-seen side of Jamaica. 
2.  Share beauty tips and trends with local sisters-in-style.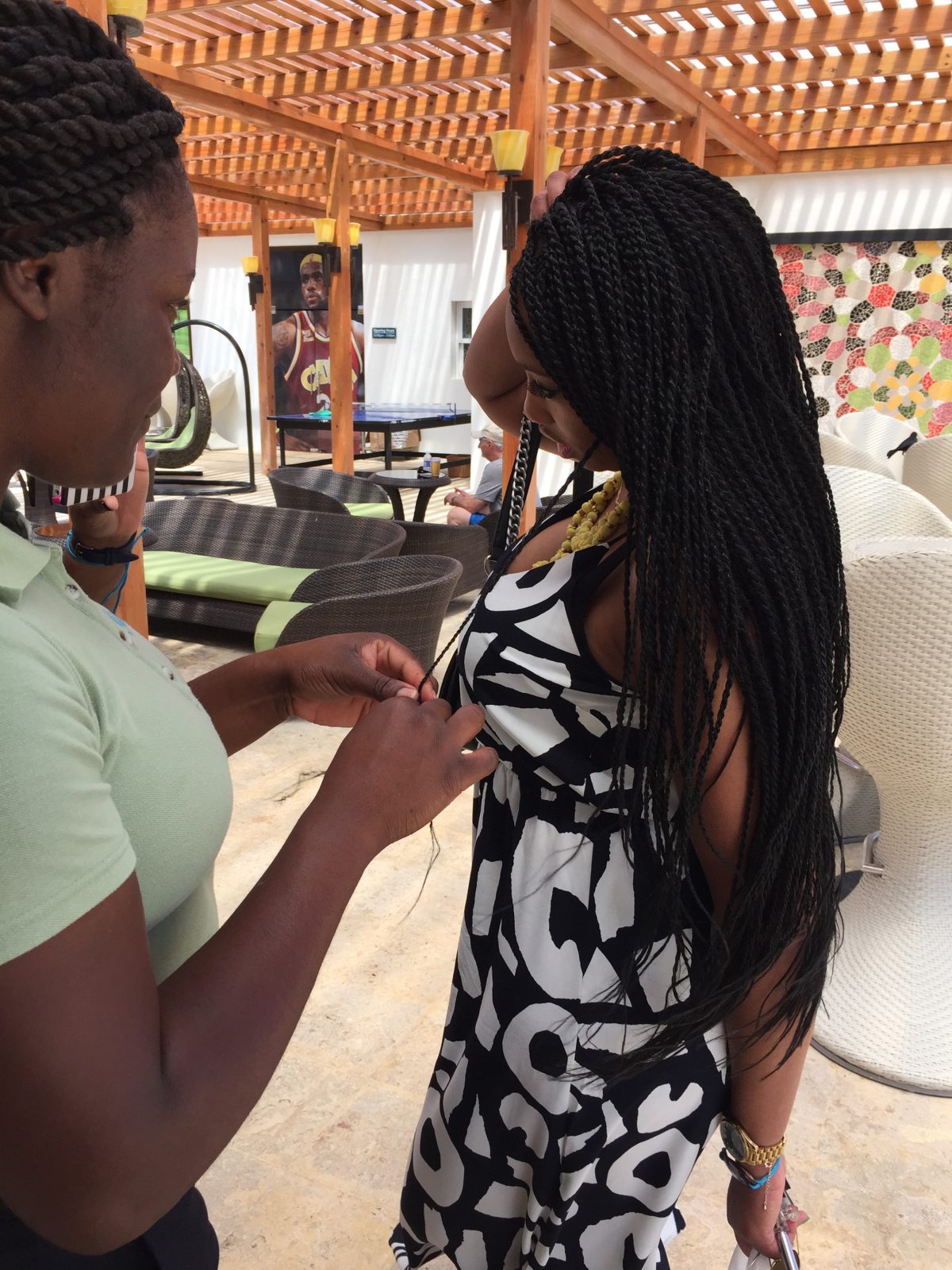 Jamaica not only has some of the most beautiful scenic views in the world, but it's also home of some of the most stylish sistas on the planet!  After complimenting one of the fab Royalton White Sands resort bartenders – Sharonda on her Senegalese twists, she volunteered to show me how to uniquely style my own twists similar to hers! Only in Jamaica can you find friendly folks that go from strangers to stylists in 2.3 seconds! (LOL)
1. Enjoy the breathtaking beauty of a Caribbean sunset from the Atlantic Ocean.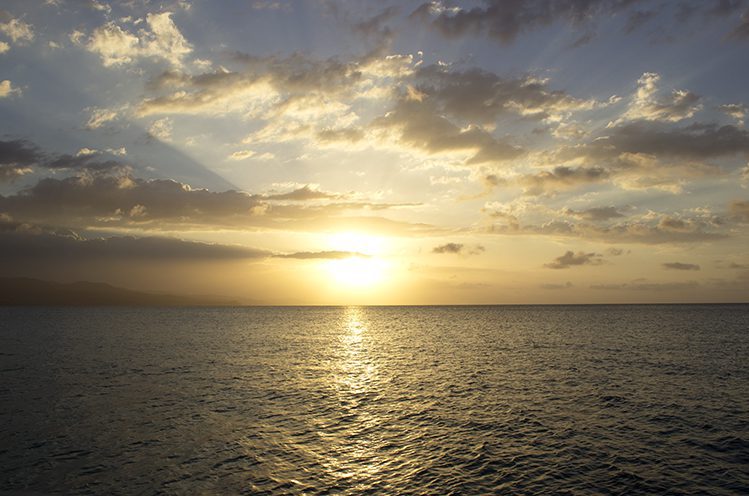 While in route aboard the Reggae Catamaran cruise with Island Routes, I experienced one of the most breathtaking moments in nature.  The sky couldn't have been more perfect while the waves framed a picture perfect sunset moment that I'll never forget.
While these are just a few beautiful moments I experience in Jamaica last week, there are plenty of more beautiful moments awaiting you in Jamaica this season.  For more information on how to create your memorable Jamaican getaway visit Royalton White Sands Resort, Island Routes and VisitJamaica.com.
Comments